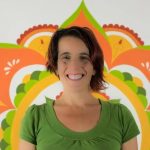 Profiles in Recovery
Esther Nagle
About:
Nagle overcame a 20-year alcohol addiction by training intensely as a yoga teacher. The 13-month preparation transformed her life in other ways: she quit smoking, beat insomnia and markedly improved her physical and mental health.
"Yoga, as a way of life – so much more than an exercise class – taught me to be with myself, to be content with my life," Nagle says. She became more grateful and forgiving through the practice of restorative yoga, and found the resilience that eluded her for two decades.
"Yoga helped me let go of regret, resentment, blame and rage, and helped me to see a better future for myself that didn't involve alcohol," Nagle says. She's been sober since October 2014. "I realized that life was SO much easier, happier, and more joyful with my new resilience and without alcohol, and I haven't looked back since!"
Day Job:
Author of "Bent Back Into Shape: Beating Addiction Through Yoga"; Recovery through Yoga Coach, single Mom
What I lost to addiction:
I had little self respect and self love before I started drinking alcoholically. Indeed, if I'd had these things, I might have lived a different life, but I lost what little self esteem I had to 20 years of alcoholism.
My resilience to stress, while not good to start with, deteriorated drastically over the years as I only had one coping strategy in moments of stress . . . numb it out with alcohol, drugs, sex, or a combination of all 3!
What worked for me:
I had a breakdown, quit my job, and trained to be a Yoga teacher.
Advice to my younger self:
What other people think of you really doesn't matter. You are an incredible person with so much to give to the world.
Don't let worrying about what other people think hold you back – the people you imagine criticizing you aren't even anything to do with your life. They are not the people who care about you, who support you, or who you are here to help, so let it go, and shine your brilliant light into the world. I believe in you and I love you.
Rules I live by:
Don't judge, don't compare, don't beat yourself up. These rules were given to me on the first day of my Yoga teacher training, and they became my yoga and recovery motto.
When cravings come:
I rarely get cravings for alcohol or cigarettes, but in the few moments I do, I breathe deeply and remind myself how much I love being sober, and imagine waking up the next day with a hangover and that old sense of shame returning. And the craving passes.
Best advice for newbies:
Learn to breathe well and relax properly. It will be so helpful when you are dealing with stressful moments. Also, spend time every day in 'free writing', just sit and write, with pen and paper, for about 15-20 minutes – you will be amazed at the things you learn about yourself!
What I value most in recovery:
That my youngest son has no recollection of seeing me drunk, and associates the word recovery with me. Also, I love that sharing my experiences is able to help and inspire others.
Stigma I faced:
I was terrified of asking for help for years because I was a single mother and sure that if I reached out for help, I would face losing my children.
I get inspired by:
All the recovery bloggers out there who are standing up and being proud in their recovery. There is an amazing community of really supportive people out there . . . I am really inspired by music. Queens of the Stone Age, whose last album triggered the breakdown which led me to recovery, has released another album that seems to be about recovery in so many ways. George Harrison, who experienced a spiritual recovery in his lifetime, has inspired me through my entire life and still does to this day.
On my bucket list:
Travel the world, live in France, be a best-selling author, own a motorbike, a camper van and a purple convertible car. Fall passionately in love and be loved passionately in return, meet Russell Brand, run a rehab retreat center somewhere beautiful, swim in a warm blue sea, climb more mountains, be a powerful motivational speaker and write more books.
Follow Nagle at Balance and Breathe; on Twitter @Balance_Breathe‬‬
SHED THE STIGMA:
If you're a person in long-term recovery who wants to share your insights, please contact us at [email protected].
Previous
Next