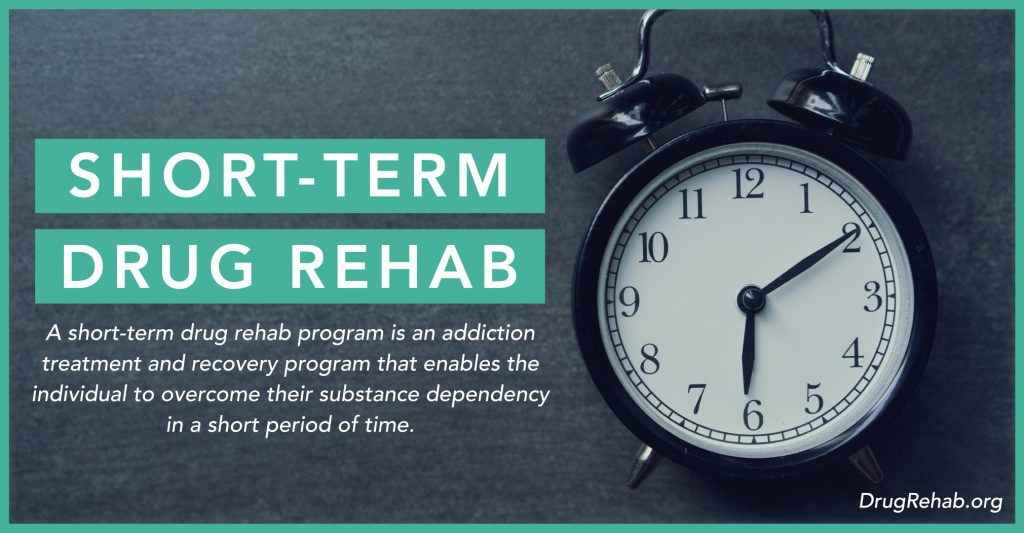 Having options when exploring substance abuse treatment programs is extremely important. Only about ten percent of the 21.7 million people in need of drug rehab actually received services. Offering different options, such as therapies utilized, specialized treatment facilities, and length of treatment, can help people determine what drug rehab is the best choice.
For those seeking substance abuse treatment, time, cost, and successful outcomes are often the three key factors looked for at a treatment facility. Every person's individual needs are different, and finding a substance abuse treatment center that meets their needs can be critical.
While some addiction counselors encourage a long-term program (six months or more), it may not be an option for everyone. Short-term programs can provide structure and support, in a residential-type setting, and can be an option for some people that struggle with addiction.
Short-term substance abuse treatment ranges an average of two to six weeks, with a 28- or 30-day inpatient program being the most common.
Short-Term Drug Rehabs Expectations
A short-term inpatient drug rehab program typically provides housing accommodations for residents as they progress through the different stages of treatment.
Intake Assessment is generally completed during the initial meeting. This assessment consists of a physical examination and a detailed history of medical, mental health, personal, and substance use. A treatment plan is developed and used by professional staff while in treatment and also includes aftercare planning.
Detoxification occurs at the onset of treatment, allowing residents to clear toxic substances, like drugs and alcohol, from their system while being supervised by medical staff. The doctors and nurses in the detox unit are able to prescribe medications to help ease the withdrawal symptoms that often occur with alcohol, barbiturate, stimulant, and opioid addiction.
Unsupervised or unassisted withdrawal is strongly discouraged. Several different substances of abuse require a tapering method that slowly reduces the amount of the substance in the body over a period of time. In some cases, withdrawal can be fatal.
Substance Abuse Treatment includes both individual and group therapy sessions. Workshops and educational sessions may also be included as well. These intervention methods intend to teach coping skills, explore the nature of their addiction, and prevent relapse.
During group therapy, those in recovery can work together to share experiences and problem solve. One on one sessions are more specific and focus on the needs of the individual. Therapy is also helpful when addressing co-occurring mental health problems as well. Many short term rehabs also offer a twelve step program in addition to traditional therapeutic interventions.
Drug rehab centers that offer holistic treatment may also include yoga, acupuncture, massage, chiropractic care, and meditation. Some locations may offer demographic specific treatment, such as women, veterans, or LBGTQ.
What To Look For In A Short-Term Drug Rehab
There are multiple factors to think about when choosing a short-term drug rehab. Every person has a different list of considerations, but the following are some of the common considerations:
Location – If a person has a strong support network at home, they may choose to remain close to home. Conversely, if a person would benefit from the distance, they may want to choose a program in another town or state.
Cost – Cost of treatment can dramatically affect a person's decision to attend treatment. Similarly, if a person is insured, if the drug rehab accepts their insurance certainly effects that decision. Short term drug rehab is covered by many insurances, as long as criteria is met.
Success Rate – Even if all other criteria seems to be met, if the facility does not have a high rate of success, a person is less likely to choose their location. After all, if the treatment is not successful, attending the rehab program may not be a good idea. Some facilities offer statistics, or even connect potential residents with graduates from the program at their location.
Staff – Quality staff with extensive expertise, experience, and credentials of the staff can make a short term drug rehab a top choice. Especially if the staff-patient ratio is low, and there are medical staff available to provide medical staff and medication on an as-needed basis.
Modes Of Treatment – Addressing all the areas that are affected by addiction can improve outcomes for those in short-term inpatient rehab. In addition to substance abuse, treating co-occurring disorders, addressing interpersonal issues, relationship problems, and the other negative ways that addiction impacts a person's life are all ways to help achieve and maintain sobriety.
Aftercare Planning – A successful short-term substance abuse treatment location makes all attempts to help plan for life after rehab for their residents. In this way, they may offer additional aftercare services like outpatient therapy, intensive outpatient programs, or twelve-step programs.
In some cases, people are encouraged to continue treatment at a sober living house, which can provide a transitional home for a person after treatment, but who may not be ready to return home.
Advantages Of Short-Term Drug Rehab
One of the biggest advantages of short term rehab is that it can be a solid stepping stone for someone seeking sobriety. Sometimes it can be difficult for a person to see the benefit of leaving their home behind to receive substance abuse treatment. In addition, short-term drug rehab has the following advantages:
covered by many insurance policies
more affordable than long-term substance abuse treatment programs
quick, monitored detoxification
effective with those who are not struggling with long-term addiction
intensive support in short term rehabilitation
How To Pay For Short-Term Drug Rehab
While it is location specific, the cost of substance abuse treatment can cost a thousand dollars a week. This number may change based on insurance, amenities, treatments, and location of the facility. There may be locations that offer free drug rehab, in certain circumstances.
Some payment options for drug rehab include:
self-pay
scholarships (must meet qualifications)
loans
How To Find A Short-Term Drug Rehab
Being able to admit the need for treatment is difficult enough. Sorting through all the short-term treatment options don't need to add to the stress of an already complicated situation. We have professionals ready to use the information you provide to find a location that meets the needs of you or your loved one.
With your help and our expertise, we can work together to start the journey into recovery.
Sources