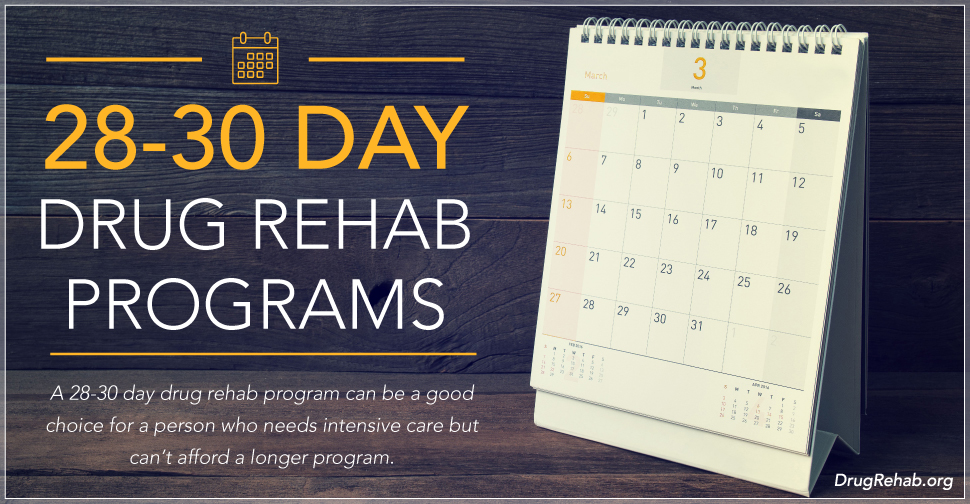 Inpatient drug rehab provides individualized, residential care to you and your family. Treatment lengths vary and are dependent on the drug of abuse, the severity of addiction, and a person's financial ability, among other circumstances. A 28-30 day drug rehab program can be a good choice for a person who needs intensive care but can't afford a longer program. These programs are also good for people who need to get back on track after a relapse.
Addiction can take everything you value and hold it out of reach. Your health, relationships, and job can all suffer. Eventually, the damage to these things becomes so great that you might continue drinking or using just to numb the pain. Far too many people are caught up in what seems like a hopeless cycle. You don't have to be without hope. Inpatient drug rehab can help you to get back on your feet so you can start living a drug-free life.
What Is Inpatient Drug Rehab?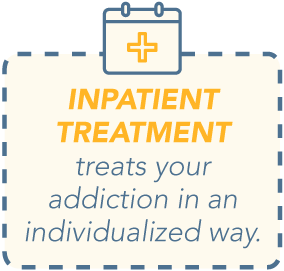 While outpatient treatment may work for more mild concerns of substance abuse, more serious concerns of addiction often require inpatient care. Inpatient treatment treats your addiction in an individualized way. These personalize programs include:
Executive
Non 12 Step
12 Step
Teen
Men Only
Women Only
During inpatient treatment you actually live at the facility. This allows you to commit all your time and energy into building a successful recovery.
Why Is Inpatient Drug Rehab Beneficial?
When a person uses drugs or alcohol to the point of addiction, their life and health become depleted. Important commitments, responsibilities, and relationships often slip to the wayside as the person compulsively tries to find and use the drug. Quite commonly, these activities center around people and/or situations linked to drug abuse.
Inpatient treatment takes you away from these temptations and negative influences and surrounds you with compassionate support. Should you begin to falter or crave the drug, treatment staff will guide you towards more positive behaviors and remind you of the power of sobriety. Every day of inpatient treatment focuses on building a drug-free life. After the unpredictable lifestyle of addiction, many people are often grateful for this structure and begin to thrive under it.
How Long Should I Go To Treatment For?
Treatment is shown to be more effective when it's longer. However, some people may not be able to commit that much time to treatment. This could be because of financial restrictions and/or family or job obligations.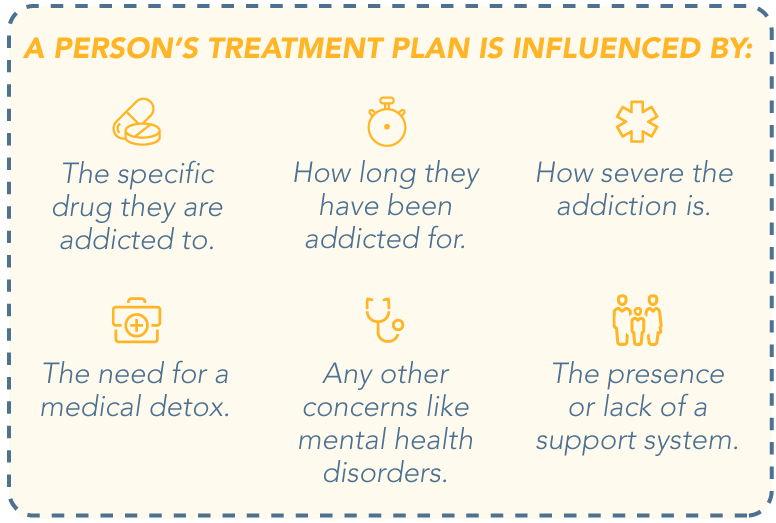 A person's treatment plan is also influenced by:
The specific drug they are addicted to
How long they have been addicted for
How severe the addiction is
The need for a medical detox
Any other concerns like co-occurring mental health disorders
The presence or lack of a support system
Remember, any length of treatment is a positive step in the right direction. Trying to treat addiction on your own isn't a wise move. Not only does this limit your chance of success, but it can also be dangerous.
What Are The Benefits Of 28-30 Day Treatment?
Some people may be quick to think about outpatient treatment for accelerating drug abuse or for the early stages of addiction. Others may consider it if they're worried about relapse or trying to get back on track after it's already happened. While outpatient treatment may work for some in these situations, a 28-30 treatment program may be your better option. These programs can give you or your loved one much needed time away from the pressures and negative influences which trigger drug abuse.
Relapse is a very real possibility during recovery, and according to the National Institute on Drug Abuse, it is quite likely. They also write that "recovery from drug addiction is a long-term process and frequently requires multiple episodes of treatment." A 28-30 treatment program can be helpful for a person who is seeking to prevent or overcome relapse. These shorter programs can help you to brush up on your coping skills, while building your recovery confidence back up again.
Some people with more intense addictions can't leave the responsibilities of their life or afford to go to treatment for that long. A 28-30 day program gives these people the opportunity to receive intense and compassionate care in a shorter amount of time.
What Treatment Methods Are Used Within These Programs?
During a 28-30 day treatment program you will experience a combination of treatment modalities. These methods vary depending on your unique needs and the drug of abuse. Every good treatment program should teach you coping, interpersonal, and life skills. In addition to these, they should help you to build both a relapse prevention and aftercare plan.
Addiction affects an individual on many levels. A personalized treatment program treats a person from a physical, mental, and emotional standpoint. Medications and behavioral therapies are two of the most important components in treating these factors. They are often used together within medication-assisted treatment.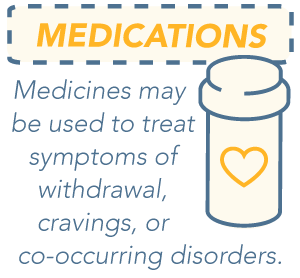 Medications: Various medicines may be used to treat symptoms of withdrawal, cravings, or co-occurring disorders. These may be used during detox and treatment.
Medical Detox: Certain drugs are highly addictive and may need a medical detox. This process rids your body of the drug and any harmful chemicals it burdened your brain and body with. Some people think detox is all you need to become sober. This couldn't be farther from the truth. Detox is just the first step on the path towards a drug-free life.
Behavioral Therapies And Counseling: These may include:
Motivational interviewing
Cognitive behavioral therapy
Dialectical behavioral therapy
Treatment for co-occurring mental health disorders
Family therapy and support
Individual and/or group sessions
Peer Support: Being able to interact with and learn from your peers is one of the biggest benefits of inpatient treatment. For this reason, many programs also utilize peer support groups such as Alcoholics Anonymous.
Additional Modalities: Addiction can strip the self-confidence from your life. When drugs or alcohol take the main focus in your life, things you previously enjoyed often begin to seem less important. A critical part of treatment is learning how to regain these things. Various other modalities may be used to support your treatment goals and enhance these factors, including:
Adventure or wilderness therapy
Art therapy (dance, music, or painting)
Exercise therapy
Holistic therapies (acupuncture, massage, or yoga)
Nutrition support (organic diets, personalized meal plans, or cooking classes)
Pet therapy
Is There Help To Pay For Treatment?
Treatment can become expensive, but fortunately there are many financial options to help you fund your treatment needs. These include family assistance, insurance coverage, personal loans, and scholarships and grants. Certain treatment facilities may even offer financing options, reduced fees, or a sliding fee scale.
Take Control Over Your Addiction Today

A drug or alcohol addiction doesn't have to rule your life. Facing these things alone may seem impossible, and that's exactly why we're here. DrugRehab.org wants you to start living a fulfilling, balanced, and healthy life. We can help you make a plan to become sober and reach these goals. Take the first step and contact us today.
For More Information Related to "28-30 Day Drug Rehab Programs" Be Sure To Check Out These Additional Resources From DrugRehab.org: