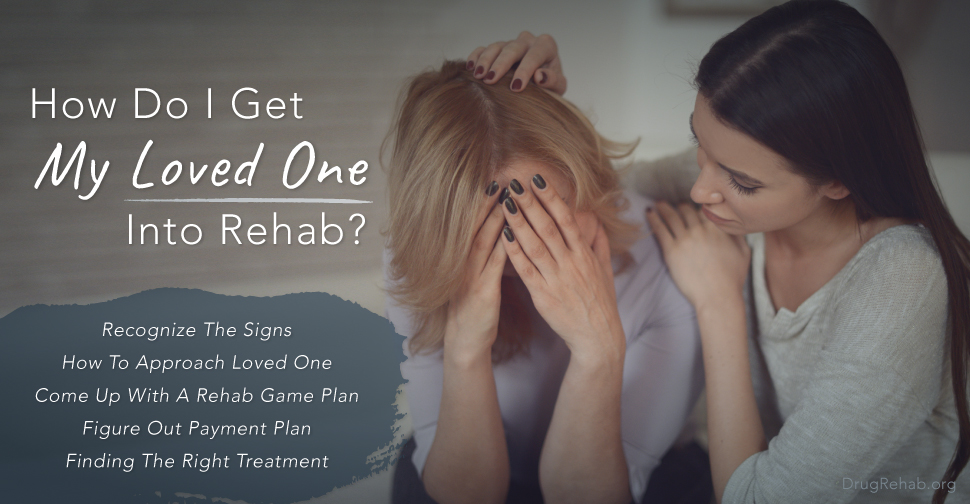 Hundreds of thousands of people die each year from drug and alcohol overdose–and a tiny percent of people suffering from an addiction ever get the treatment they need and deserve. Those suffering from an addiction might not admit that there is a problem in the first place, because their brain tells them that they are okay as long as they aren't having withdrawals. Convincing your loved one that they have a problem is the first step, and then you can locate a rehab center. With approximately 15,000 rehab centers in the United States, there is one that's right for you and your family…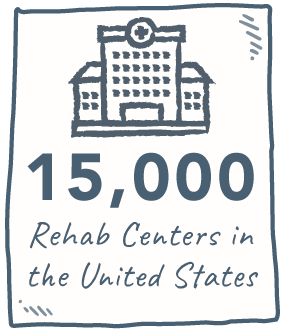 Addiction can be terrifying to watch a loved one deal with, and you might not know how to help them get out of it. You certainly don't want to offend anyone by telling them that they have a drug problem, but you also don't want to make them believe that there isn't a problem either. It can be a real catch twenty-two trying to get a person you care about into rehab. The truth is, when someone is in the grips of an addiction, they can feel like the whole world is against them–so it's important to remember that they are powerless over a substance, but they are still a person. Also remember that they might not be able to singlehandedly stop using drugs.
Once they are free from that bondage of addiction, they will thank you for never leaving their side and for guiding them towards the road to recovery.
Remember That Addiction Is A Disease
Sometimes it can be hard to remember that addiction is a disease, and that when our loved ones are suffering from it, they are not in control. This happens because "repeated drug use changes the brain, including parts of the brain that give a person self-control," (National Institute on Drug Abuse). Try to keep this in mind if you are considering approaching someone about rehab–they will invariably lie about the problem at first, but if you are persistent, caring, and approach them as a friend and not a judge, they might just listen to you.
The first step of recovery is admitting that there is a problem, so if you can softly convince your loved one that they might have a problem–your chances of getting them into a rehab program will be better.
How Do I Know If My Loved One Has A Substance Abuse Problem?
You would think that if someone has a problem–they will automatically seek help for it. This is usually not the case with a person dealing with substance dependence, because in their mind they're weak which can cause shame or guilt.. If they still do not admit that they have a problem–sometimes you just have to wait, but don't ever give up on them; be persistent.
First things first, you must find out if your friend has a substance abuse problem (or addiction). Here are some questions you can ask yourself or your loved one, from the National Institute on Drug Abuse:
Does the person take the drug in larger amounts or for longer than intended?
Do they want to cut down or stop using the drug but can't?
Do they spend a lot of time getting, using, or recovering from the drug?
Do they have cravings and urges to use the drug?
Are they unable to manage responsibilities at work, home, or school because of drug use?
Do they continue to use a drug, even when it causes problems in relationships?
Do they give up important social, recreational, or work-related activities because of drug use?
Do they use drugs again and again, even when it puts them in danger?
Do they continue to use, even while knowing that a physical or mental problem could have been caused or made worse by the drug?
Do they take more of the drug to get the wanted effect?
Have they developed withdrawal symptoms, which can be relieved by taking more of the drug? (Some withdrawal symptoms can be obvious, but others can be more subtle—like irritability or nervousness.)
So What If My Loved One Doesn't Want To Admit A Problem?
It's hard for anyone to admit a weakness, and we're all sensitive to criticism. So what happens if our loved one simply does not budge, and stands firm that there is no drug problem? It is best to approach a person suffering an addiction with understanding and not do it forcibly. One step might be to have a drug intervention with your loved one to show them that you "love them, but hate their addiction."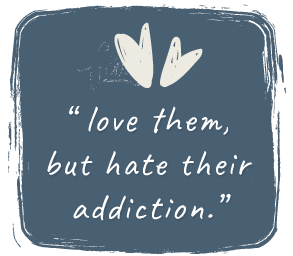 How To Successfully Complete An Intervention
Interventions can show a person suffering from an addiction that a lot of people are worried about them, and boost their self worth. Drug interventions can also give family members, friends, teachers, coworkers, and even the family doctor an opportunity to remind a person (who's sick with addiction) what they used to be like. Keep in mind that they are suffering from a mental disorder. You may even want to have a group meeting before intervening–to go over some ground rules.
Be sure to leave all of your judgement at the door, because our friend is probably insecure and sensitive–you don't want to spark any triggers and cause them to use drugs to cope.
A person suffering from addiction can feel pretty hopeless, and to them, nobody understands what they are going through. Sometimes having another former drug user there can be helpful, and can let your loved one know that there is hope for them. The person you choose should ultimately be someone who has successfully completed rehab (and is currently in recovery); maybe they're a family member, or someone else that your loved one looks up to. Now that you have instilled a support system, the next step is to provide them with information about recovery, and to make them feel safe and fully supported.
You Have Planted The Seed, And Your Loved One Is Ready For Rehab… Now What?
If you have successfully helped your loved one to better see their problem with drugs, it is important to come up with a game plan. A good plan involves research and weighing out the options. Here's a list of things (from the National Institute on Drug Abuse) to remember when you are considering drug treatment:
Drug addiction can be treated, but it's not simple. Addiction treatment must help the person do the following:
Stop using drugs
Stay drug-free
Be productive in the family, at work, and in society
Successful treatment has several steps:
Medications can be used to manage withdrawal symptoms, prevent relapse, and treat co-occurring conditions.
Behavioral therapies can help patients:
Modify their attitudes and behaviors related to drug use
Increase healthy life skills
Persist with other forms of treatment, such as medication
People within the criminal justice system may need additional treatment services to treat drug use disorders effectively. However, many offenders don't have access to the types of services they need.
Isn't Rehab Expensive?
Paying for Drug Rehab can seem overwhelming, and most people don't have a pile of extra money laying around. The plus side? A lot of health insurance plans offer behavioral health treatment (for drug and alcohol addiction). Another option is to apply for a government grant to fund your treatment. "SAMHSA makes grant funds available through the Center for Substance Abuse Prevention, the Center for Substance Abuse Treatment, and the Center for Mental Health Services," (Substance Abuse and Mental Health Services Administration).
Because of the cost of professional treatment, a lot of people end up trying to self medicate–which can be dangerous and often lead to relapse and continued drug use.
We're Ready For Drug Treatment And Rehab!
Alright so you (and your loved one) have decided that rehab is the right choice. This was not an easy choice to make, but it just might save a life–both physically and mentally. Finding the right treatment facility can be just as difficult–but don't sweat it. With approximately 15,000 drug treatment facilities nationwide, there's a good chance that you have an appropriate and affordable option nearby.
You probably have more questions about locating a rehab center, and you may even still have difficulty convincing a loved one that they need treatment. With questions about locating a rehab center, or how to get your loved one into rehab–contact us at Drugrehab.org Rehab is always a safer bet than living with an addiction… or worse, dying with an addiction.

For More Information Related to " How Do I Get My Loved One Into Drug Rehab?" Be Sure To Check Out These Additional Resources From DrugRehab.org:
---
Sources
National Institute on Drug Abuse – What to Do If Your Adult Friend or Loved One Has a Problem with Drugs
National Institute on Drug Abuse – Treatment Approaches for Drug Addiction
Substance Abuse and Mental Health Services Administration – Grants