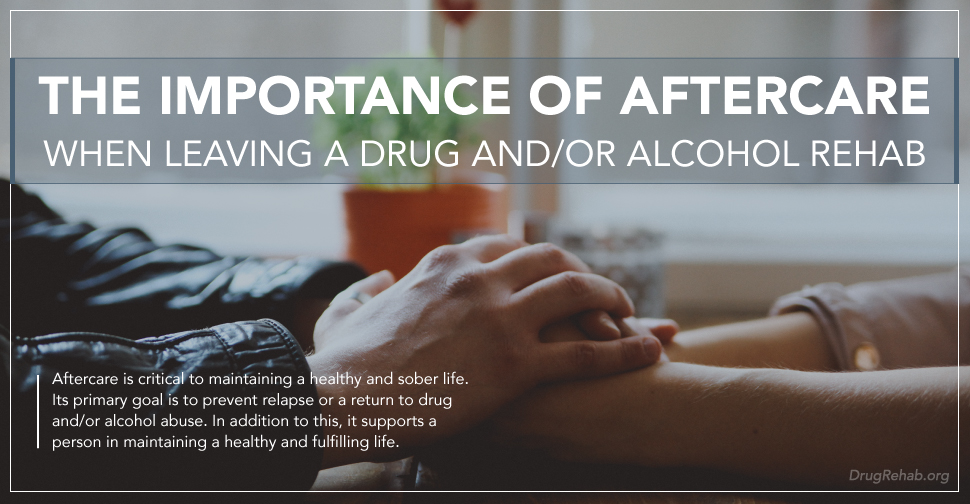 An aftercare plan is critical to maintaining continued sobriety when leaving an addiction treatment facility . Its primary goal is to prevent relapse or a return to drug and/or alcohol abuse. In addition to this, it supports a person in maintaining a healthy and fulfilling life.
During recovery it's important to stay engaged, informed, and optimistic. We know this can be hard. That's why proper support, accountability, and resources are important. Staying involved in aftercare is one way to make these things happen. Even though this may seem obvious to some, the exact way to do this might not seem so clear. Aftercare includes a variety of components which together create a safety net within recovery. Aftercare is especially important for those newly out of treatment. Relapse is more common with these individuals.
Why Is Relapse Prevention Important?
It's important to be aware of the people, places, or events that could push you back to substance abuse. Sometimes, however, you can't avoid every cue or trigger. When this happens, you need to be prepared. Having a solid relapse prevention plan will give you the tools, coping skills, and strength to make healthy choices and to say no.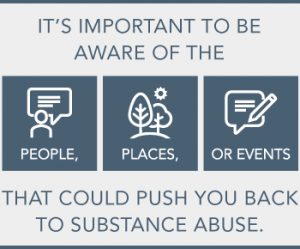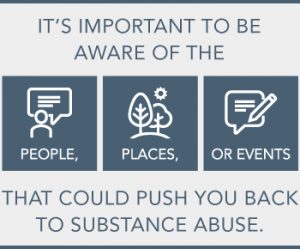 Beyond this, it will help you to fill your life with positive influences, behaviors, people, activities, and self-care. Uprooting the negative thoughts, emotions, and behaviors of a drug abusing lifestyle was hard. Now it's important to put the work in to keep these things out of your life. Aftercare is a dynamic form of relapse prevention.
What Is Aftercare?
Addiction is a lonely road. Isolation, fear, and other negative emotions that often accompany this disease can be crippling. One of the most powerful, and important, components of recovery is support. Just like treatment, you can't do this on your own. While aftercare definitely consists of self-care and other very personal endeavors, having a support system is a vital and crucial part of recovery. Without this, it can be far too tempting and easy to return to drug abuse. Friends and family members are an important part of aftercare. But this support comes in many other ways as well.
Some people may need more intensive aftercare directly following inpatient treatment. This depends on the individual, their support system or lack thereof, and other factors. Options include:
In addition to or instead of these, aftercare may include: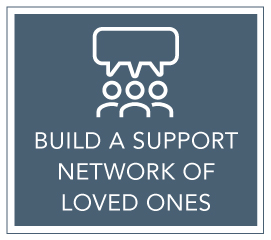 The best aftercare and relapse prevention plans are those which are individualized and address a person's specific needs.
What Are The Benefits Of Aftercare?
Avoiding relapse and staying sober is the goal and greatest benefit of aftercare. But beyond this, aftercare helps to reestablish you within your life. A sober life is very different from one clouded by the negativity of addiction. While this is by far a good thing, it can at times be overwhelming and confusing. Aftercare gives you a plan when things get tough. It also connects you to resources and outreach that can help to carry you through these times. The benefits include:
Though we might know when something is good for us, sometimes it is still hard to put it into practice. Reaching out to others who understand your struggles and hopes, such as people within your peer support program can be transformative. These relationships can offer you many of these aftercare benefits, while also supporting you in other positive endeavors.
How Do I Create An Aftercare Plan?
Aftercare methods vary depending on the drug of abuse and/or if any co-occurring disorders are present. These components influence what, if any, pharmacotherapies are used within recovery. During recovery, pharmacotherapies are used to prevent relapse or for opioid maintenance. These might also include medications to treat co-occurring disorders. Medications should always be recommended, prescribed, and overseen by a trained medical professional or addictions specialist.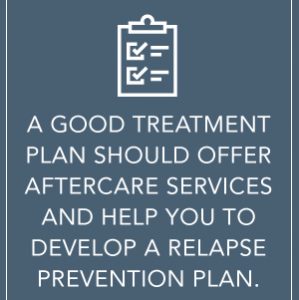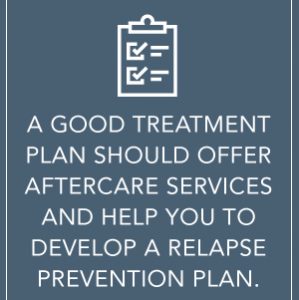 A good treatment plan should offer aftercare services and help you to develop a relapse prevention plan. If you're just now at the point of looking into treatment, these elements are important to consider. But, if your program didn't offer these, you've still got options. First, sit down with yourself and/or a loved one. Grab a notebook and a pad of paper. Now think about how you want to live each day. Where do you want to be in five years? Ten? How can you avoid the negative while taking positive steps to achieve your goals? A counselor who specializes in addiction treatment can help you to develop a customized aftercare plan and connect you to resources.
What Are Some Good Relapse Prevention Techniques?
First and foremost, take care of yourself. Self-care is one of the most important elements of aftercare. In addition to this, surround yourself with positive influences and loved ones. Remember: drug addiction influenced you on a physical, mental, emotional, and spiritual level. Because of this, you should be mindful of addressing the same components within relapse prevention. Useful relapse prevention techniques include:
Try to integrate these things on a regular basis. If you're concerned that you're going to relapse, avoid the risk and ask for help. If you think a loved one is close to relapsing, reach out to them. Enlist the aid of other people who care about them to help.
We Can Help You To Better Care For Yourself Or A Loved One
We can help you to stay focused on the positive and on track towards a sustainable drug-free life. Our compassionate and highly-trained staff can help you to create or maintain a relapse prevention plan and connect you to aftercare services. Aftercare matters. The pursuit for sobriety doesn't stop when you leave treatment. DrugRehab.org is a great resource for you and your family as you begin, or continue, this journey. Contact us today!

For More Information Related to "The Importance of Aftercare When Leaving A Drug And/Or Alcohol Rehab Program" Be Sure To Check Out These Additional Resources From DrugRehab.org: