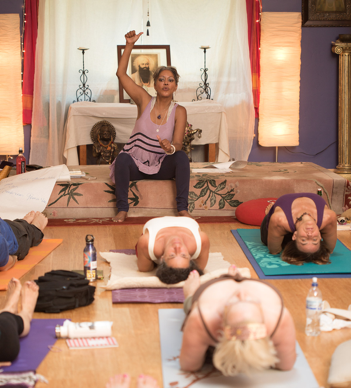 Left:  Nikki Myers (seated), founder of Yoga of 12-Step Recovery. 
Photography credits: Left: Savannah Wishart Photography; Right: Stacey Newgent
A painful past can often take cover in the deep recesses of the mind.  Bad memories are suppressed so they can't torment our psyche.  But the body remembers it all, and keeps the "issues in our tissues."
That's a key tenet of Yoga of 12-Step Recovery, or Y12SR – a growing movement that aligns the practice of yoga with the work of addiction recovery.  Donation-based Y12SR classes meet in church basements, rehab centers and yoga studios nationwide; an estimated 900 leaders have been trained as facilitators, according to the organization.
"Y12SR connects the dots between yoga philosophy and practices, the 12-step programs, and breakthroughs in neuroscience and trauma healing," says founder Nikki Myers, who launched Y12SR in 2004 at her CITYOGA School of Yoga and Health in Indianapolis.
Myers' own remarkable path to recovery inspired the program.  Today she is 17 years sober – the survivor of a traumatic past that includes childhood sexual abuse, crack cocaine addiction and prostitution.
"The 12-step program and Yoga saved my life," Myers writes on her website.  "One is my lifeboat, the other my launching pad."
Energy in Motion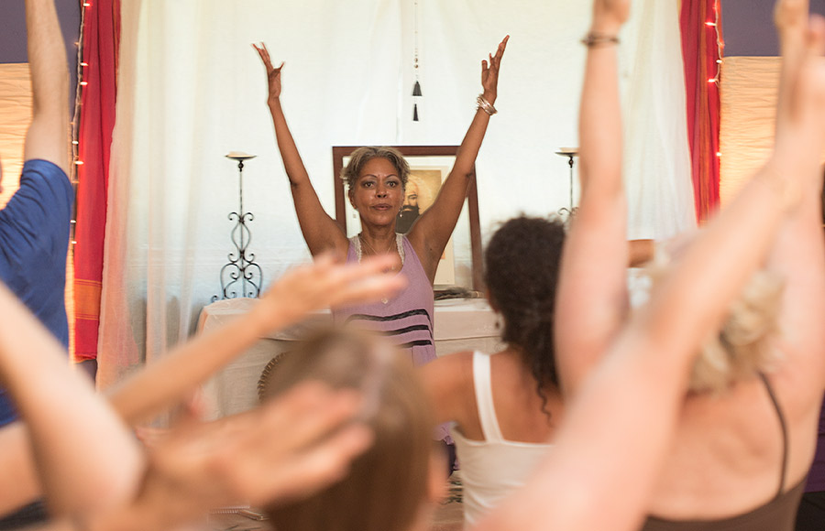 Savannah Wishart Photography
Y12SR is not a substitute for 12-step programs such as Alcoholics Anonymous, Myers says, but another tool in the recovery arsenal.
A typical meeting includes a group discussion around topics rooted in 12-step culture – such as surrender, gratitude or acceptance.  The other half of class is devoted to a trauma-informed yoga practice, designed to unleash stifled energy on the mat.  Timeworn recovery slogans such as "keep coming back" are turned into yoga affirmations that can be felt – as in, keep coming back to the mountain pose to quiet the mind when stressed.
"I have found personally – and with the thousands of folks I've worked with –
that there's a level of release held in the body, that may not even be associated with anything you can get at in talk therapy," says Myers, who is certified as a yoga teacher, addictions counselor and somatic trauma therapist.
Releasing our pain at the cognitive or intellectual level is not enough, Myers says.
"Your body knows everything," Myers says.  "Emotions are energy and actually energy in motion.  When energy doesn't move – when it's held or repressed or denied and it can't move – it becomes something else.  For example, anger will turn into rage."
"There's nothing good or bad or right or wrong about energy," Myers adds.   "Energy is energy.  The idea is that energy we allow to move is a gift.  Anger that's allowed to move can become strength and motivation.  Fear not allowed to move can become panic and paranoia, but fear allowed to move can become protection and wisdom."
Today there are an estimated 250 weekly Y12SR meetings worldwide; it's difficult to know exact numbers, since facilitators are independent and many meetings are anonymous.  Through a partnership with the nonprofit Give Back Yoga Foundation, Y12SR reaches underserved communities, and classes are held in the United States, Canada, Sweden, United Kingdom and Nicaragua.
The rise of Y12SR coincides with the worst addiction crisis in U.S. history.  Drug overdoses claimed the lives of 52,404 people in 2015 – more than car accidents or gun deaths, according to the Centers for Disease Control.  That number is projected to reach another all-time high when overdose fatalities for 2016 are released in December.
Myers calls addiction "the disease of the lost self."  Users turn to drugs and alcohol to fill a void or numb their anguish, but healing can only come from the inside, she notes.  Y12SR helps people re-integrate all the parts of themselves, Myers says, and combining yoga and 12-step work "gives us a much broader and deeper set of tools to address the physical, mental and spiritual problem of addiction."
Body Work:  The Missing Piece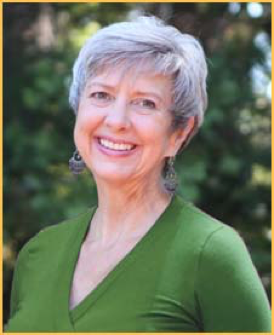 Shelley Richanbach, a woman in long-term recovery and the founder of Next Steps for Women, adopted a Y12SR practice in 2013.
"For me, the largest missing piece in the 12-step program is the body, our home," says Richanbach, a certified alcohol and drug counselor and peer facilitator in California.
"The body is the center for where all of our feelings originate, beginning with sensations.  These sensations we are often unaware of because we are often living completely outside of our bodies and our minds," Richanbach says.  "While the 12-step program offers community and story sharing, there is but a brief "moment of silence" offered, if at all."
Richanbach says Y12SR helps people tap into deep inner wisdom and "find the revelation that perhaps my higher power is right here inside of me."
"The time on the mat offers the body the potential to release trapped memories and trauma," she adds.  "The asanas (poses) offer metaphors for re-inhabiting our bodies, allowing us to recreate and embody the lives we want to live."
Yoga and wellness practices have "profoundly" benefitted Brian Aubin, a 25-year-old native of Long Island, New York.  Diagnosed with Asperger syndrome in his late teens, Aubin struggled with anxiety, depression, drug and alcohol addiction and suicidal tendencies.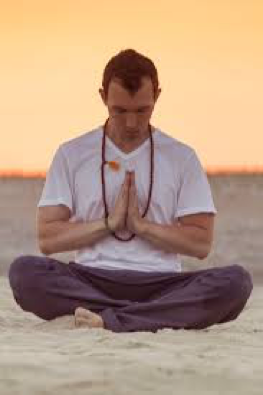 He began to explore holistic health practices such as Ayurvedic diets, meditation and yoga, which he credits for helping him feel "more grounded, and much less anxious and depressed."  Today Aubin is sober and certified in many forms of yoga; he teaches Y12SR classes at two locations in Long Island.
"I love the way Nikki teaches and presents," Aubin says.  "I'm grateful I discovered her training so I can use the methods she teaches and help people in recovery."  One of Aubin's students describes Y12SR as "a stretching of the mind, body, and soul spirit – where insanity was transformed into serenity and peace."
That sense of calm – feeling centered and grounded – creates a space, Myers says, that allows people to stop and consider their choices.  She remembers a young mother who had been taking Y12SR classes after she was released from prison and had regained custody of her children.
"She shared that she had a really stressful, crazy week and one day in particular was more stressful," Myers recalled.  "She had gone to pick up her kids and they were super hyperactive, a little wild.  She said, 'I felt this anger coming up from the bottom of my feet, I could feel the heat in my body.'"
That's when the mother paused to tap her insights from Y12SR.   Myers recalls: "She said, 'I stopped.  I heard this voice in my ears say, 'let's stop and ground and take a big deep breath with Mary Jo (her Y12SR instructor).  And then I took the breath, and then I didn't beat my kids.'"
The Gift of Recovery 

Myers does not try to shed her past – despite its stark contrast to her life today.

A great-grandmother, she is a business owner with an MBA degree, a former software industry professional, a certified yoga teacher, addictions counselor and trauma therapist who studied with Dr. Peter Levine, the acclaimed somatic therapy master.  As the founder of Y12SR, Myers travels internationally, training others in the method three weekends each month.
But Myers is quick to mesh those parts of herself with the rest of her identity.
She is a survivor of domestic violence, a victim of childhood sexual abuse, a woman who was addicted to crack cocaine, alcohol and other drugs.  She worked in the commercial sex industry and once lost custody of her children while in the throes of addiction.
Finding herself "absolutely tired of being sick and tired," Myers sought help in her early 30s, and was introduced to the 12-step program at a treatment center.  She achieved eight years of sobriety before her first relapse.
Myers found her way back to the 12 steps and immersed herself in the practice of yoga, starting an Ashtanga practice and studying everything she could find about yoga philosophy.  She stopped her 12-step work after deciding that yoga was all she needed for recovery.  Myers relapsed again four years later.
It was that second relapse that convinced Myers she needed to unite the cognitive approach of 12-step programs with the somatic (body-based) healing that yoga can provide.
"The ancients, the yogis say that we are not one body," Myers says.  "Really there are five bodies – our physical, emotional, our thinking, our character or personality, and the spiritual heart.  And I assert that sustainable addiction recovery has to address all five of those."
Today it's been 17 years since Myers' last relapse, and she continues her renewal.
"The gift of recovery for me has been developing a deep relationship with myself and with the spirit and other people in my life," Myers says.  "The environment has been beyond anything I could have ever imagined."
* * * * *