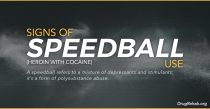 When a person mixes heroin with cocaine, they may seem anxious, uncoordinated, stupored, and drowsy. This mixture of depressant and stimulant is referred to as a speedball. A lot of people concurrently use heroin and cocaine to counter any side-effects from either drug, but it can also result in consequences such as respiratory failure, overdose, and coma.
What Is A Speedball And Why Is It Dangerous?

A speedball refers to a mixture of depressants and stimulants; it's a form of polysubstance abuse. A few examples of a speedballing are alprazolam with methamphetamine, alcohol with amphetamines, or the most common speedball, heroin with cocaine.
People may use heroin with cocaine for the intense rush, or to minimize the negative side-effects or "come-down." But the reality is the effect that mixing heroin with cocaine has on the body is unpredictable, and can be fatal.
How Cocaine Works

Cocaine works by stimulating a person's central nervous system. It causes a flush of dopamine in a their brain, and increases their heart rate. The euphoric effect makes the user feel energetic, extremely happy, and often sleepless. Cocaine also acts on the parasympathetic nervous system which is responsible for regulating a person's fight or flight response.
How Heroin Works

Heroin, on the other hand, works by depressing the central nervous system. Once it's in the blood stream, heroin rushes to the brain and binds to opioid receptors—these are responsible for feelings of pain and pleasure, but also affect breathing, sleeping, and heart rate. Unlike cocaine, heroin affects the sympathetic nervous system, which is responsible for the body's rest and digestion.
Mixing Heroin With Cocaine

When cocaine and heroin are mixed, their opposite effects can create a system debacle. This is because when both the sympathetic and parasympathetic systems mentioned above, are attacked, the brain responds by sending a mixed signal of what to do. Another, perhaps more practical danger is that the effects of cocaine wear off much faster than heroin, which can easily result in respiratory failure.

Most of the time heroin and cocaine are diluted with non mood altering substances such as starch, sugar, flour, powdered milk, talcum powder, or even rat poisoning. So there isn't always a way to tell what either drug has been cut with, thus the purity of each drug isn't always clear. An amount that proved to be "safe" last time someone mixed heroin and cocaine, could be a fatal dose this time.
In 2015, heroin alone killed 12,989 people. That same year, cocaine killed 6,784 people. From 2010-2015, heroin and cocaine related deaths more than doubled with a combined total that escalated from 8,408 deaths in 2010 up to 21,823 deaths in 2015.
Mixing cocaine and heroin isn't only dangerous, it's part of a growing epidemic in the United States. Without a serious change, and the right help, a lot more lives may be lost to addiction.
Signs Of Speedball Use
Some of the signs of speedballing will be harder to point out than others, but it may help to be able to recognize the signs of heroin and cocaine abuse.
That's because many of the side-effects of heroin and cocaine are, "associated with the abuse of either one individually," (NIDA for Teens).
The side-effects of speedballing heroin and cocaine may include:
anxiety
high blood pressure
strong or irregular heartbeat
drowsiness
suppression of breathing
general confusion
incoherence
blurred vision
stupor
drowsiness
paranoia
mental impairment
uncontrolled and uncoordinated motor skills
risk of death from:

stroke
heart attack
aneurysm
respiratory failure
Why Mix Heroin With Cocaine?
The reasons that someone mixes heroin with cocaine can vary, but there are a lot of people who inject a mixture of the two to chase the perfect euphoria. Others may combine the heroin with cocaine to counter the drug side-effects like anxiety, depression, or even a crash.
Heroin is a mentally and physically addictive drug that can be extremely difficult to quit cold turkey. A lot of people are met with the challenge of intense mental and physical withdrawals when they finally do stop using heroin.

Everybody's different, and there so there's no clear-cut reason that people will mix depressants and stimulants. There are also people who use cocaine as a sort self-medication for heroin withdrawal.
Heroin withdrawal can include the following symptoms:
restlessness
severe muscle and bone pain
sleep problems
diarrhea and vomiting
cold flashes with goose bumps
uncontrollable leg movements
severe heroin cravings
(NIDA)
Treatment For Addiction To Heroin And Cocaine
Finding an evidence-based inpatient rehab center is the usually the best first step to get help for someone struggling with an addiction to heroin and/or cocaine.
Some of the unique treatment programs offered at rehab centers include:
Evalulation
Detoxification
Medication-Assisted Therapy
Cognitive Behavioral Therapy
Dialectical Behavior Therapy
Contingency Management
Individual and Group Therapy
Find An Addiction Treatment Program That Works
If you or someone you love is struggling with an addiction to cocaine and heroin, contact DrugRehab.org to speak to an addiction treatment specialist about how to get help. Your recovery is important to us, and your call will be completely confidential.

For More Information Related to "Signs of Speedball (Heroin with Cocaine) Use" Be Sure To Check Out These Additional Resources From DrugRehab.org:
---
Sources
National Institute on Drug Abuse: National Center for Health Statistics – Overdose Death Rates
National Institute on Drug Abuse – Cocaine
National Institute on Drug Abuse – Heroin
National Institute on Drug Abuse – How Effective is Drug Addiction Treatment?
NIDA for Teens – Real Teens Ask About Speedballs