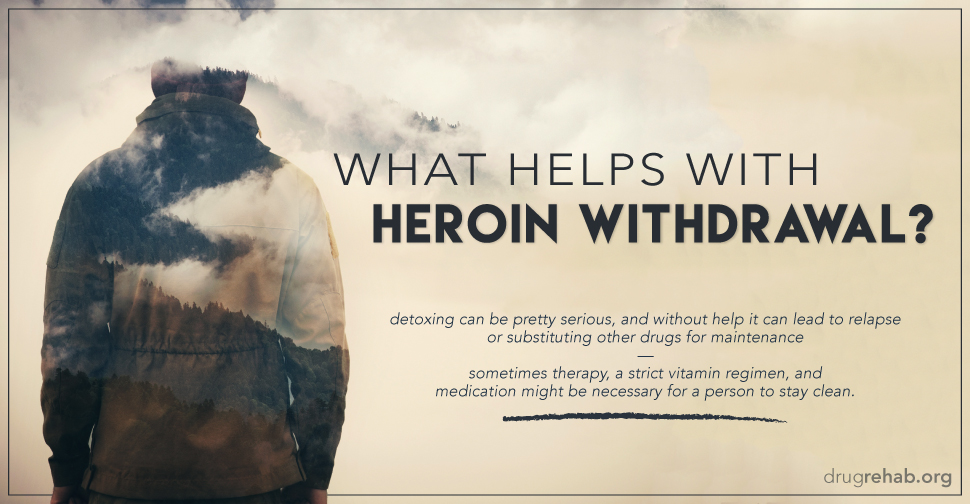 Heroin withdrawals are painful and can feel like a bad case of the flu. Such withdrawals can be worse based on the amount of a drug that a person is using and how long they have been using the drug for. Drug withdrawals are a period of time when your body is not only craving a drug, but also trying to push the last of it out; this is also known as the detoxification period. Detoxing from heroin is serious and without help can lead to relapse and/or overdose.
If you abuse drugs, then you might have experienced withdrawals—the fact is, drug abuse and withdrawals pretty much go hand in hand. Some of the drugs well known for their withdrawal symptoms are alcohol, cocaine, and heroin. Withdrawals can be anything from a headache to nausea or diarrhea. Heroin can be dangerous; because people suffering from an addiction will sometimes do things, or commit crimes that seem out of character—just to get the drug.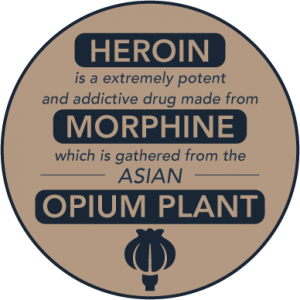 It isn't only dangerous in the way of addiction, but also because of the withdrawals that come with quitting, stopping, or running out of the "fix." During a withdrawal period, a person might seem irritable, short tempered, and dangerously hostile—this is pretty normal behavior for a person experiencing withdrawal from a drug.
What Is Heroin And How Can It Be Used?
Heroin is an extremely potent and addictive drug made from Morphine which is gathered from the Asian opium plant. In its purest form, heroin is a white or brown chalky substance which can be snorted, smoked, or injected. Heroin also comes in the form of a black substance which is usually injected—after it has been diluted with water or another fluid. A couple of other lesser known ways to use heroin is by suppository, or transdermal patch.
Heroin abuse often leads to addiction, and sometimes overdose and death. According to the Center for Disease Control and Prevention, nearly 13,000 people died from heroin in 2015—which was a 20.6 percent increase from the previous year. Before they even have a chance to reconsider or regret a decision, heroin has people hooked both mentally and physically.
How Does Heroin Affect The Brain?
Most drugs will affect the user more than just physically, but also mentally—mental disorders and other serious conditions can arise from prolonged use of drugs like heroin. How does heroin affect the brain? According to the National Institute on Drug Abuse, "Heroin enters the brain rapidly and changes back into morphine. It binds to opioid receptors on cells located in many areas of the brain, especially those involved in feelings of pain and pleasure. Opioid receptors are also located in the brainstem, which controls important processes, such as blood pressure, arousal, and breathing."

Once a person's brain has become used to having the substance around, they are more likely to get addicted to the drug, and then without it, they don't feel like they can function normally. A heroin high can last for up to 4 to 6 hours, and a person might use heroin anywhere from 2 to 4 times per day in order to keep from experiencing withdrawals.
High From Heroin—Then Withdrawal
Once heroin has hijacked the opioid receptors in the brain, a person experiences the high from the drug—which is likely to be a numbing euphoria, and is often characterized at first by a tingling feeling. This feeling is followed by a clouded mental state, dry mouth, and feeling of heavy extremities. After the initial high, a person will normally slip or "nod" in and out of consciousness and partial consciousness.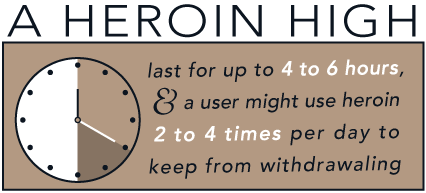 As a person becomes more comfortable using heroin, the more of the drug they will need to use to achieve the same buzz as before. Then as heroin is removed or taken away, a person is likely to experience the withdrawals—which can be one of the largest factors as to why a person doesn't seek help. They might fight it, or put off quitting drug use altogether. Heroin withdrawal "symptoms usually start within 12 hours of last usage and within 30 hours of last methadone exposure" (U.S. Library of Medicine).
Heroin Withdrawal Symptoms
The withdrawal symptoms from most drugs start out mild to moderate and even though they typically don't start for an average of 8 hours, with heroin, they can feel sick even sooner. "With physical dependence, the body adapts to the presence of the drug and withdrawal symptoms occur if use is reduced abruptly. Withdrawal may occur within a few hours after the last time the drug is taken" (National Institute on Drug Abuse).
There are different stages of opiate withdrawal, each can depend on how long a person used and how much they used as well as other factors. Heroin and other opioid withdrawals can feel like a bad case of the flu, and the short-term and long-term symptoms of heroin withdrawal can include:
Short-Term:
Agitation
Muscle aches
Increased tearing
Insomnia
Runny nose
Sweating
Yawning
Long-Term:
How Long Do Heroin Withdrawals Last?
The heroin withdrawal timeline will be longer or shorter based on the amount or length that a person repeatedly used the drug. Heroin is considered a short-acting opioid and the first withdrawal symptoms will show up 8 to 24 hours after last use and can last for 4 to10 days (this is frequently considered to be the worst of the withdrawal period). When a person tries to quit cold turkey, the symptoms can last up to like two weeks. Long-acting opioids like methadone begins 12 to 48 hours after use and can last for 10 to 20 days (National Center for Biotechnology Information – NCBI).
Though they last significantly longer, heroin withdrawals will peak (or be most intense) around 2 days since last use. This period of withdrawals is also known as detoxification.
Detoxification From Heroin
After a person decides to stop using heroin, the next step will be enduring the detoxification period. Detoxification is essentially the act of cleaning a drug out of the system. The withdrawal process is the body's natural reaction to a system's detox. It's advised to take on a clean food regimen, along with lots of fluids and vitamins C and B.
As far as the professionals are concerned, "patients should drink at least 2-3 litres of water per day during withdrawal to replace fluids lost through perspiration and diarrhea." (NCBI). Quitting heroin and facing withdrawals can be pretty terrifying and it's not going to be easy. Let's face it, withdrawals can be painful and unbearable, but the end result of recovery and sobriety will be worth it.
Managing Opiate And Heroin Withdrawal
Possibly one of the most important things to remember about detoxing is that professional treatment, therapy, or guidance is essential to a successful early stage of recovery. Trying to self medicate or manage your own opiate withdrawals can lead to neural damage, or even more intense withdrawals—which can lead to a relapse or substitution of another drug. Heroin withdrawals are serious and must be treated as such…
For instance, along with lots of fluids and a healthy diet, in some cases there was a need for medicine to help deal with the withdrawals from heroin; this is also known as a medication-assisted therapy. Some of the medications used for opiate treatment can include clonidine or opioid medications such as buprenorphine, methadone or codeine phosphate. There are also other over the counter medicines like ibuprofen, aspirin, pepto bismol (for nausea), and others that can be purchased at a reasonable price.
Sometimes, a person must go through a strict detoxification before starting a medication, or behavioral therapy, and these are by no means the end all for addiction—they are simply the beginning. Recovery can sometimes need daily maintenance to be successful.
Addictive Opioids Besides Heroin
Heroin is not the only opioid drug that can cause serious withdrawals. Even prescription opioid drugs can lead to an addiction and eventually painful withdrawals. "In 2014 in the US, about 435,000 people used heroin. In the same year, about 4.3 million people were nonmedical users of narcotic pain relievers. This means they were taking narcotics that were not prescribed to them. Narcotic pain relievers include:
How To Get Help For A Heroin And Other Opioid Addiction
Opiate addictions can come in a lot of shapes and sizes, and some are worse than others, but the fact of the matter is that all of them can cause serious withdrawals and can even lead to an untimely death. If you're worried about a person you love and their drug use, or maybe your own drug use has gotten out of control; you might need help. We have a solution and can help you find the treatment you need—so don't give up. Contact Us today to get the tools for a successful recovery. Heroin addiction kills thousands of people per year—you don't have to be one of them.
For More Information Related to "What Helps With Heroin Withdrawal?" Be Sure To Check Out These Additional Resources From DrugRehab.org:
---
Sources
National Highway Safety Administration – Drug and Human Performance Fact Sheets
National Institute on Drug Abuse – What are the long-term effects of heroin use?
National Institute on Drug Abuse – Heroin
National Center for Biotechnology Information – Clinical Guidelines for Withdrawal Management and Treatment of Drug Dependence in Closed Settings
U.S. National Library of Medicine – Opiate and Opioid Withdrawal