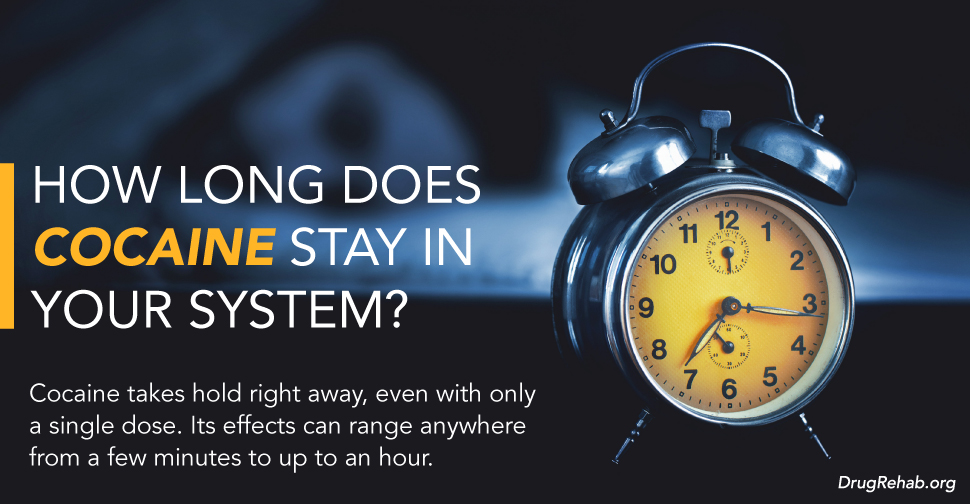 Cocaine is a drug that comes in two types of forms, in a powder (cocaine) and a crystal (crack). Formulated from the coca plant, cocaine creates a short-term "high," that for some, may turn into the extreme opposite, such as depression, edginess, and an intense craving for a new fix. Snorted as powder, changed into a liquid for injection with needles, or turned into a crystal to be smoked, cocaine abuse takes on many forms, all of which are dangerous for people.
Cocaine starts to disrupt the way your brain processes the "feel good" chemicals in your body, so that you need more of the drug to feel relatively normal. Those who become addicted to cocaine oftentimes end up losing interest with other important aspects of their life, such as family, friends, or activities they used to enjoy.
How Fast Does Cocaine Work?
Cocaine takes hold right away, even with only a single dose. Its effects can range anywhere from a few minutes to up to an hour. When people use it in small amounts, the individual may feel more talkative or alert, feeling greater amounts of energy, a sense of euphoria, and increased sensitivities to sight, touch, and sound.
How a person feels when using cocaine is usually dependant on how they use it. The quicker the drug goes into someone's system, the stronger the high becomes—but in turn, they also experience a shorter amount of time feeling the effects. Smoking coke yields quicker results, which only last five to ten minutes, whereas snorting it produces a slower effect, with the feelings present longer, at 15 to 30 minutes, as explained by the National Institute on Drug Abuse (NIDA).
How Long Does It Stay In The Body?
Mental Health Daily reports "Upon cessation of usage, cocaine is known to stay in your system between 3.3 and 5.5 hours. However, the primary active metabolite within cocaine known as "benzoylecgonine" takes considerably longer (between 1 and 2 days) to get fully eliminated from the body."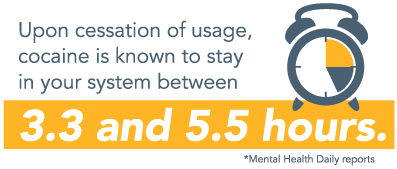 Despite this, the Substance Abuse and Mental Health Services Administration's Treatment Improvement Protocols tells us that cocaine stays in the urine one to three days for those who use on a daily basis; however, a single use will only be witnessed for a day or less. Cocaine may be detected in sweat longer. There has been manufacturers who developed a sweat patch approved by the FDA, that is worn for about a week. Hair also can detect illicit substance. Small amounts of metabolites in the bloodstream flow into the hair and then are trapped in the hair strands. When a substance is used for about a week, the hair follicles start to absorb it. Most hair grows at about ½ inch per month, so a strand can hold a record of someone's substance use for longer periods of time.
Cocaine's Dangers And Damage To The Body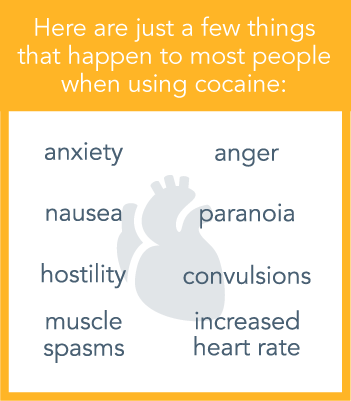 Cocaine is damaging while you use it, however, even after the drug leaves your body the hazards of abuse and addiction may continue to affect you. Individuals who use cocaine tend to not sleep consistently. Those who use cocaine chronically also tend to not want to eat, so they are often times malnourished, which can lead to other problems in the body. Here are just a few things that happen to most people when using cocaine: nausea, constricted blood vessels, increased heart rate, muscle spasms, convulsions, paranoia, anger, hostility, or anxiety.
Though some individuals may use cocaine sporadically, many times an individual who abuses cocaine will use it in a binge-like fashion, and each time they tend to up the dosage for greater results. Doing so can increase restlessness, panic attacks, irritability, paranoia, and sometimes full-force psychosis—which can cause the person to completely be consumed with non-reality experiences and hallucinations, to the extent their safety is jeopardized.
People who abuse cocaine will have different results and a variety of problems, depending on the way they choose to use it. When someone constantly snorts cocaine, for example, this can lead to nosebleeds, a person no longer being able to smell, swallowing problems, the voice becoming hoarse, a constant inflamed, runny nose, and permanently damaged nasal tissue. Those who smoke cocaine may harm their lungs and aggrevate existing asthma. Users who inject the drug develop track marks and increase their risk of contracting a disease such as HIV/AIDS or hepatitis C. Those who inject may also have allergic reactions, which can result in death in some cases.
The organs in the body can get damaged by repetitive cocaine usage, as explained by NIDA. Blood flow into the gastrointestinal tract can be impaired, creating a risk of tears and ulcerations or a person may also encounter severe bowel decay. The heart and cardiovascular system is also greatly affected, leading to chest pain, a greater risk of stroke, inflammation to the heart muscle, and even heart attacks.

Beyond stroke, neurological problems are also a significant risk when using cocaine for extended periods of time. The National Institute on Drug Abuse tells us an individual may suffer cognitive impairment, with reduced functioning in: memory, motor skills, prolonged attention, impulse control, or decision making concerning rewards or punishments. More severe risks occur as well, including seizures, and in some cases there has been intracerebral hemorrhage (bleeding in the brain), and disorders such as Parkinson's disease can also be a concern with long-term use. In addition to all these risk, a person can overdose on cocaine, which can lead to death.
Reach Out And Get Help

The body is a beautiful thing, but when impacted with drug abuse it can become severely damaged. If you or a loved one is walking down the road of cocaine abuse or addiction, there is help for you today. No one deserves to face these challenges alone—that's why we are here to support you.
Please reach out and contact us at Drugrehab.org. We are here to help uplift you, help you, and give you more information.
For More Information Related to "How Long Does Cocaine Stay In Your System?" Be Sure To Check Out These Additional Resources From DrugRehab.org:
---
Sources
National Institute on Drug Abuse — Cocaine: Research Report Series
The National Center for Biotechnology Information — Appendix B. Urine Collection and Testing Procedures and Alternative Methods for Monitoring Drug Use
Mental Health Daily — How Long Does Cocaine Stay In Your System?