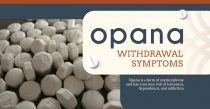 Opana is a form of oxymorphone and classified as an opioid. It has a serious risk of tolerance, dependence, and addiction. For some, stopping use abruptly can intensify withdrawal symptoms like nausea, loss of appetite, sleeplessness, anxiety, and irritability. For some people, quitting opioids may require more than willpower alone.

It should be well known that the United States is in the midst of an opioid epidemic. In fact, in 2014, there were about 4.3 million people who were nonmedical users of narcotic pain relievers; a number that grows larger every year. Prescription opioids continue to threaten society with overdose, withdrawal symptoms, and death tolls.
The withdrawal symptoms of Opana are part of the reason that 1,000 patients check into emergency rooms every day for opioid misuse. These symptoms can be both daunting and dangerous to try to beat alone.
Prescribed as a painkiller, Opana hasn't been around very long, but in the last decade, it has been the underlying factor for serious health issues like HIV and Hepatitis C.
What Is Opana?

Opana is a semi synthetic opioid that works on a the part of the brain responsible for pain as well as pleasure. For most people, it's the effect that Opana on the nucleus accumbens (or pleasure center) that makes them want to keep using it.
Opioid abuse can result in dangerous side-effects, physical dependence, and withdrawals that can make it more difficult to stop using it.
Opana belongs to a class of drugs known as oxymorphone and is similar to OxyContin and other potent opioids. Generally it's used to treat moderate to severe pain. Opana is classified as a Schedule II drug because of its great potential for abuse, dependence, and diversion.
How Do People Abuse Opana?
The most common and riskiest way to abuse Opana is to inject it, but the drug could also be administered intranasally or taken orally as well. An individual might even take part in other risky behaviors such as mixing Opana with alcohol, or other drugs.
"Taking broken, chewed, dissolved, or crushed Opana ER Tablets leads to rapid release and absorption of a potentially fatal dose of oxymorphone" (U.S. National Library of Medicine).
Opana Withdrawal Symptoms
When someone who is suffering from Opana dependence stops taking them abruptly, they may experience these withdrawal symptoms:
Restlessness
Watery eyes
Runny nose yawning
Sweating
Chills
Muscle, joint, or back pain
Enlarged pupils (black circles in the centers of the eyes)
Irritability
Anxiety
Weakness
Stomach cramps
Difficulty falling asleep or staying asleep
Nausea
Vomiting
Diarrhea
Loss of appetite
Fast heartbeat
Fast breathing
Even though not everybody will have the same experience with Opana, it's vital to recognize that opioid withdrawal symptoms can be serious. For some people, withdrawal symptoms can result in permanent brain damage. For others these symptoms can be avoided by decreasing a dose gradually.
Treatment For Opana Addiction
The fact of the matter is that for a person who suffers from a opioid use disorder, addiction, or dual diagnosis, quitting Opana usually requires more than gradual reduction of dosage.
So what do they do? For some, a Medication-Assisted Treatment of buprenorphine can help with the most painful withdrawals and detoxification while treating the physical addiction.

Once a person successfully completes the detoxification process, a behavioral treatment program can treat the mental addiction. Even though most people feel blissful after detoxification, as if a major weight has been lifted, it does not fix the whole problem. It's crucial not to overlook treatment of the mental addiction, because of the potential complications that can arise.
From the U.S. National Library of Medicine:"The biggest complication is returning to drug use. Most opiate overdose deaths occur in people who have just detoxed. Withdrawal reduces the person's tolerance to the drug, so those who have just gone through withdrawal can overdose on a much smaller dose than they used to take."
A behavioral therapy at inpatient treatment can include anything from Individual to Group therapy, Mindfulness and Stress Management, Motivational Interviewing, Religious or Nonreligious Therapy, or Contingency Management. Over the past several decades Cognitive Behavior Therapy (CBT) and Dialectical Behavior Therapy (DBT) have become the gold standards for addiction treatment.
Cognitive Behavior Therapy (CBT) can help a person see that their negative thinking and unhealthy behaviors may have fueled their addiction, but also things they have control over. CBT helps a person to recognize their unhealthy behaviors and use newly learned behaviors outside of treatment to avoid a relapse.
Dialectical Behavior Therapy (DBT) is a treatment modality that works by creating a controlled environment to overcome addiction and regulate emotions. DBT is intended to continue working a person's everyday life after rehab through mindfulness, distress tolerance, emotion regulation, and interpersonal effectiveness.
Get Help For An Opana Addiction Today
Contact a DrugRehab.org treatment specialist if you are struggling with an addiction to Opana or other opioids. We can help you find a treatment program that fits your individual needs. All calls are 100 percent confidential.

For More Information Related to "Opana Withdrawal Symptoms" Be Sure To Check Out These Additional Resources From DrugRehab.org:
Heroin and Opioid Addiction Statistics
Prescription Drug Overdose Symptoms
Understanding A Heroin Use Disorder
What Is A Relapse Prevention Plan?
Social Learning Theory Of Addiction Treatment
---
Sources
Center for Disease Control and Prevention – Prescription Opioid Overdose Data
National Public Radio – Dangers of Opana Opioid Painkiller Outweigh Benefits
U.S. National Library of Medicine – Opana