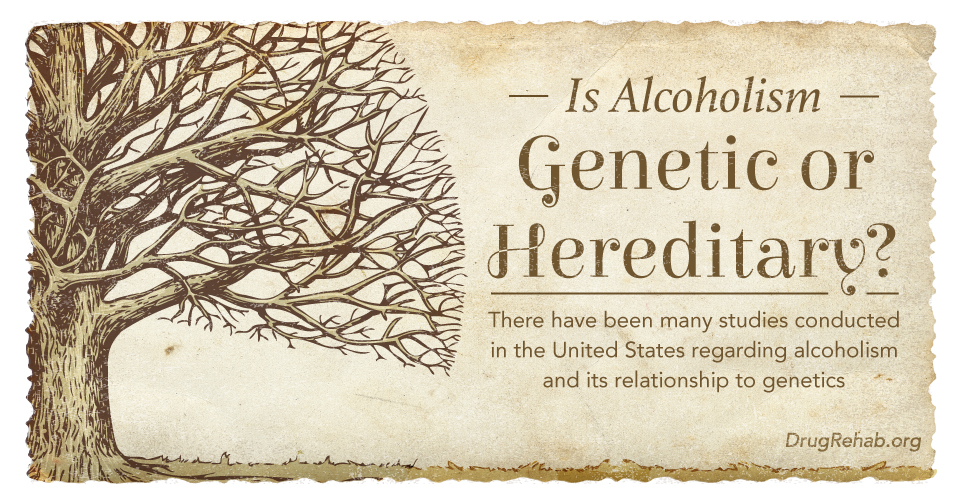 Affecting over 1.5 million adults in the United States, alcoholism is one of the most prevalent addictions in the country. Alcoholism can be a fatal disease, sometimes ending in liver disease or cancer of the mouth, esophagus, larynx, liver, and breast. The fatality of alcoholism claims close to 90,000 lives each year, making it the fourth preventable cause of death in the United States.
With statistics as grim as these, many individuals are left wondering what factors influenced their alcoholism in the first place. Like many drug addictions, alcohol abuse can be triggered by a traumatic life event or major stressor, as well as environmental factors and elements of habit. But what about genetics? Genetics do play a role in influencing alcoholism in the next generation, however it may not be as large of a role as you would think.
What Is Alcoholism?
Alcoholism is a serious disease that affects millions of Americans. It can be defined as addiction to alcohol, or the inability to control the amount or frequency of alcohol consumption. Generally stemming from a history of alcohol abuse, alcoholism is on the most severe end of the spectrum of alcohol use disorder, as defined by the National Institute of Alcohol Abuse and Alcoholism.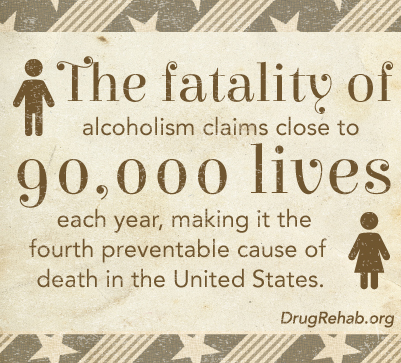 Alcohol abuse, which is generally a more manageable stage of alcohol use disorder, can lead into alcoholism if a lifestyle change or intervention is not taken at this point. Alcohol abuse is defined as reckless or risky behavior associated with drinking, heavy drinking or binge drinking, and planning events or activities around the consumption of alcohol. At this stage, a physical dependency may not be present, but a behavioral dependence and habitual addiction can quickly define your lifestyle. It is much easier to quit drinking at this stage than it is once alcoholism takes its toll.
Like alcohol abuse, alcoholism is not defined by the amount or frequency of an individual's alcohol consumption, but rather the behavior associated with it. People who suffer from alcoholism may find that they are unable to control how much and how often they consume alcohol, and they may feel withdrawal symptoms after they stop drinking for a short period of time.
It is not uncommon for alcoholics to lie to close friends and family regarding their alcohol use, and often times they are able to function very well in their lives, even while drinking heavily. Physical dependence will be present at this point, and alcoholics will often tailor their lives to work around their alcoholism. The destructive behaviors of an alcoholic will often present themselves before the physical side effects can take their toll on the body.
Alcoholism is considered a disease, and for good reason. It not just a bad habit or lack of willpower, but rather an illness that can completely consume an individual, leaving them little control over their own lives. It is seen more frequently in adults with a history of childhood abuse or trauma, however can affect an individual of any background, race, age, or gender. It is also seen more often in individuals with a family history of alcoholism or alcohol abuse, however this can be traced back to environmental influence as well as genetics.
The Four Symptoms Of Alcoholism
There are four main symptoms of alcoholism that define the boundary between alcohol abuse and alcoholism. While these symptoms can have varying levels of severity, they are indicative of a chemical dependency the body has developed to the drug. These four symptoms include:
Cravings
A craving is a strong urge or desire to do or consume something. With alcohol, this urge can become more intense during times of high stress or emotion. This type of craving would be considered a coping mechanism, which means your brain responds to certain triggers with a desire to drown them out with alcohol. Cravings can make alcoholism difficult to overcome, as many emotions are tied to them and it is usually not as simple as saying "no, I will not drink that".
Tolerance
Tolerance is generally a sign of the over consumption of any drug, as it indicates that the body has adjusted to a certain level of drugs in your system. When consuming alcohol for a period of time, your body will consider a certain level of alcohol to be the new 'norm', requiring more alcohol to reach a feeling of drunkenness. This can be a difficult cycle to break, as more alcohol is required to obtain the same feeling that brought an individual to drink alcohol in the first place.
Loss of Control
Loss of control can also be a sign of severe alcohol abuse, but is especially prevalent in alcoholism. With alcoholism, the chemical and behavioral dependency on alcohol is too great to overcome with willpower alone. It is not uncommon for alcoholics to report the inability to control their drinking despite a strong desire not to.
Physical Dependence
Last but certainly not least, alcohol is a physically addictive drug. It is so physically addictive that in some cases, withdrawal symptoms from stopping the consumption of alcohol can be severe enough to be fatal. While many aspects of alcoholism can be attributed to emotions and behavior, physical dependence is entirely chemical and cannot be helped through therapy or counseling. Often times, medical detox is recommended to help an individual detox from alcohol safely with as few health risks as possible.
Inheriting Genes vs Inheriting Habits
There have been many studies conducted in the United States regarding alcoholism and its relationship to genetics. While many of these results have been inconclusive, it has been established that alcoholism is indeed a genetic disease, but cannot be measured statistically like other genetic diseases because environmental, behavioral, and emotional factors play such a large role in the outcome of an individual.
According to a study done at the Indiana University School of Medicine, children with one or more alcoholic parents have a 2-4 fold higher chance of becoming an alcoholic as an adult. However, surveys performed by this same study indicate that less than half of these children actually develop alcoholism. According to Howard J. Edenburg who lead the study, the risk of alcoholism is shaped by two facts:
Risk is affected by genes
Risk is affected by choice
Arguably, the second fact is indicative of environmental factors chosen by the parent, as we agree that no one willingly chooses to become an alcoholic. Children of alcoholics not only share the same genes as their parents, but also the same environment. If a child sees a parent drinking openly and often, this can influence their perception of the role alcohol plays in the life of an individual.

It is not uncommon for children of alcoholics to come from a dysfunctional home, sometimes leading to abuse or emotional distress. These traumatic emotional triggers can contribute to the chances of developing a substance abuse issue or addiction down the road. Children of alcoholics are also more likely to partake in underage drinking, which can greatly increase the chance of developing alcoholism as an adult.
So is alcoholism genetic? The short answer is yes – to an extent. There has been a gene isolated that has a strong association with alcoholism. However, the effect of gene-environmental interactions must also be taken into account when considering the impact of alcoholism and genetics.
Get Help Today
If you are concerned for yourself or a loved one when it comes to alcohol abuse or alcoholism, the sooner you reach out for help the more likely you are to make a full recovery. Especially when taking a family history of alcoholism into account, professional intervention is often necessary to assist with safe detox from alcohol as well as inpatient therapy to treat the emotional and behavioral aspects of alcohol addiction.
Our addiction treatment specialists are experts when it comes to choosing an alcohol treatment program that fits your needs and expectations. Many of our programs can be custom tailored to fit you, which can lead to better outcomes and a full recovery. Our specialists are available to talk around the clock, and your call is always confidential. Call today and let us help you get started with your recovery.

For More Information Related to "Is Alcoholism Genetic or Hereditary?" Be Sure To Check Out These Additional Resources From DrugRehab.org:
---
Sources
DrugAbuse.gov – Genetics of Alcoholism
Journal of Molecular Psychiatry – Genetics and Epigenetics of Alcohol Dependence
National Institute on Alcohol Abuse and Alcoholism – A Family's History of Alcoholism
National Institute on Alcohol Abuse and Alcoholism – Drinking Levels Defined
National Institute of Health – Genetics and Alcoholism