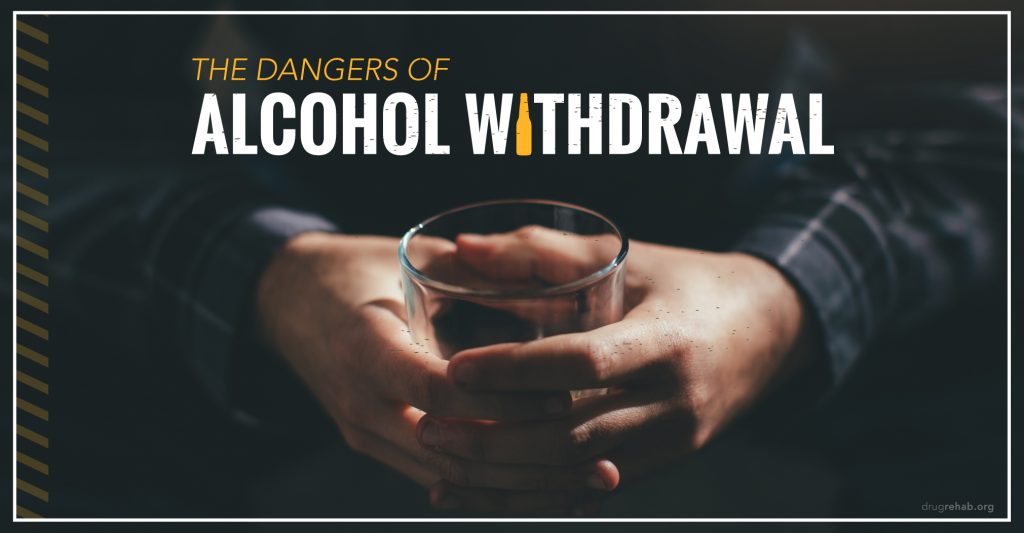 Nearly every adult in the United States has drunk alcohol at one point or another. In 2015 86.4 percent of people ages 18 and older report having tried alcohol. Granted not every person who tries alcohol will ever get drunk, experience a hangover, or alcohol withdrawal. However,those who suffer from an alcohol use disorder will be more likely to experience all of those things.
There are currently around 15.1 million Americans with an alcohol use disorder, which is briefly defined by the National Institute on Alcohol Abuse and Alcoholism as "a medical condition that doctors diagnose when a patient's drinking causes distress or harm."
The people suffering with an alcohol use disorder are actually among the minority. Most people are able to cease or moderate their drinking before it becomes a problem; others aren't so fortunate. When a heavy drinker quits drinking, they may experience withdrawal and delirium tremens.
How Is Alcohol Withdrawal Dangerous?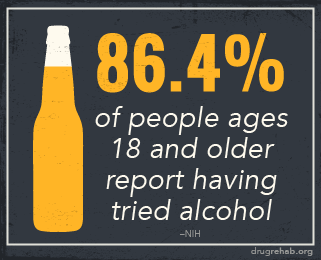 Alcohol withdrawals are essentially the body's way of removing chemicals and fighting against both the physical and mental addiction. Generally, alcohol withdrawal symptoms are a result of alcohol dependence, and become more intense based on the quantity and the duration of a person's drinking.
Alcohol dependence can result from social, physical, and psychological variables. For the most part, the greater a person's alcohol dependence becomes, the worse their withdrawal symptoms will be. Some of the other dangerous changes that can occur from alcohol withdrawal include cognitive function, and physical health.
Impaired Cognitive Function

As a person drinks heavily, the neurotransmitters in their brain (gamma-aminobutyric acid and glutamate), in an attempt to function properly, may take adaptive measures and actually go through changes to try to stay normal. When a heavy drinker stops drinking, these cognitive changes that have occurred are no longer adaptive, and may become largely responsible for alcohol withdrawals as they try to normalize.
Psychological withdrawals can also lead to seizures, and even greater complications with chronic memory disorders like Wernicke-Korsakoff syndrome
Impaired Physical Health

People don't usually intend to become physically dependent upon alcohol, but it can occur for a multitude of reasons and result in a variety of health complications as well. Some of determining factors include regularly binge drinking, or using alcohol to cope with other issues. Physical withdrawals can include loss of appetite, profuse sweating, restlessness, and insomnia.
Alcoholism and alcohol use disorders may be better understood when compared to other chronic relapse diseases such as diabetes, hypertension, and asthma. The truth is, like other diseases of this nature, alcohol withdrawal can actually increase the chances of relapse.
Relapse is the point when a person who has quit alcohol uses it again. The chronic nature of addiction "means that relapsing to drug abuse at some point is not only possible, but likely" (National Institute on Drug Abuse).
Alcohol Withdrawal Timeline
Withdrawal symptoms generally start as early as 8 hours after a the last drink.
Over the next 24 to 72 hours, the symptoms usually become a little less psychological and more physical. During this time, the symptoms can also become more intense, violent, and dangerous.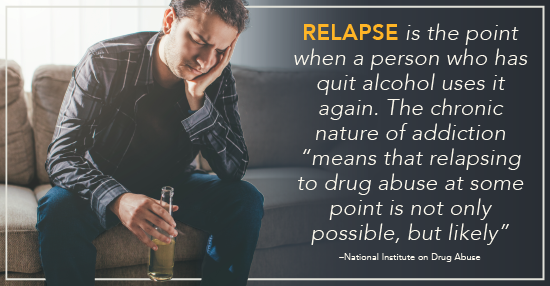 For the majority of people, withdrawal symptoms will be complete after about 7 days, and they will be able to move on with recovery from alcohol.
Psychological withdrawal symptoms may include:
anxiety or nervousness
depression
fatigue
irritability
jumpiness or shakiness
mood swings
nightmares
not thinking clearly
Physical withdrawal symptoms may include:
sweating, clammy skin
enlarged (dilated) pupils
headache
insomnia (sleeping difficulty)
loss of appetite
nausea and vomiting
pallor
rapid heart rate
tremor of the hands or other body parts
It's important to remember that withdrawal symptoms will vary from person to person, mostly due to the fact that not everyone's drinking patterns are the same. It's also important to note that alcohol addiction is a serious illness, and those suffering from it can greatly benefit from support and understanding.
What Is Delirium Tremens From Alcohol Withdrawal?
A person who's been abusing alcohol for several years is more likely to experience increased heart rate, breathing, blood pressure as well hallucinations or seizures. These hallucinations are part of the final and most severe stage of alcohol detoxification better known as acute alcoholic withdrawal, or delirium tremens.
Delirium tremens is considered the most severe form of alcohol withdrawal and can include:
agitation
fever
seeing or feeling things that aren't there (hallucinations)
seizures
severe confusion
"More than 90 percent of alcohol withdrawal seizures occur within 48 hours after the patient stops drinking. Fewer than 3 percent of such seizures may occur 5 to 20 days after the last drink" (NIAAA).
Delirium tremens is a medical emergency, and takes the lives of about 5 percent of patients who experience it. This number is significantly decreased with proper treatment, medications, and management of withdrawals.
How To Manage Alcohol Withdrawal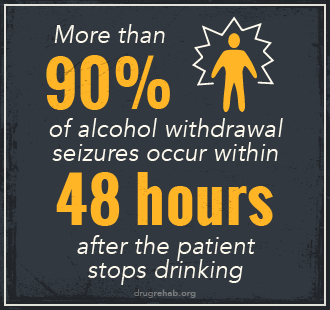 In summary, alcohol withdrawal is not only a result of a physical demand of the chemical, but also the cognitive function in trying to maintain normal function.
A lot of people will try to stop drinking abruptly, and even though their efforts have purpose and are no doubt with good intent, this method of quitting alcohol cold turkey can be dangerous, and can have unwanted results.
The act of flushing alcohol out of the system is known as detoxification, and there are trained professionals who understand how to do it safely. Whether it's done in a clinical setting or an inpatient rehab center, a medically supervised detoxification will most likely be safer than doing it alone at home.
Along with professional assistance, detoxification may also necessitate a medication-assisted treatment. This can include use of naltrexone, acamprosate, or disulfiram to help manage the symptoms of withdrawal.
Detoxification is used to treat the physical addiction to alcohol, but is not considered a full addiction treatment. In order to treat the mental addiction to alcohol, a behavioral therapy or other treatment program will almost always be necessary.
Alcoholism is a disease of chronic relapse that a person may fight for most of their life. Even if they've been sober for 10 years, the disease is still there, and so is the slight possibility of relapse.
Addiction is not curable but it is treatable. Recovery is a lifelong journey, and most people will greatly benefit from inpatient rehab followed by the aftercare support that they have to offer.
Start Your Recovery Journey Today
Anyone suffering from alcohol withdrawal should be detoxed under medical supervision . Contact DrugRehab.org today to speak to an addiction specialist who understands what you're going through, and knows how to get you the help you need to stop drinking today.

For More Information Related to "The Dangers of Alcohol Withdrawal" Be Sure To Check Out These Additional Resources From DrugRehab.org:
---
Sources
National Institute on Alcohol Abuse and Alcoholism – Alcohol Facts and Statistics
National Institute on Alcohol Abuse and Alcoholism – Complications of Alcohol Withdrawal
National Institute on Drug Abuse – Drugs, Brains, and Behavior: The Science of Addiction
U.S. National Library of Medicine – Alcohol Withdrawal