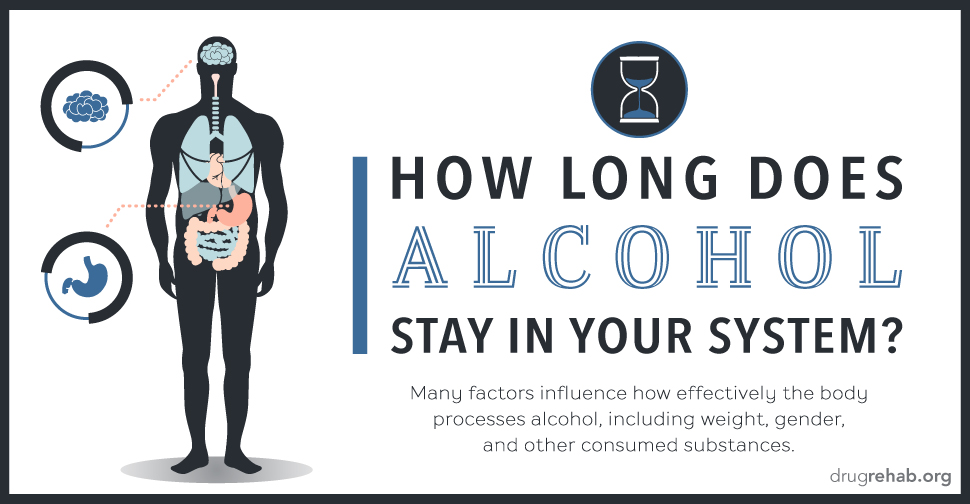 Alcohol moves through the body as does any substance: through a process called metabolism. Though this process works the same for everyone, many factors influence the rate (how fast it works) and effectiveness. When people abuse alcohol, they may build up a tolerance, or no longer feel the effects of it.
This is why it's important to know how long alcohol stays in your system. People who expose their bodies to prolonged abuse may not feel the effects of alcohol, but the amount consumed remains the same. The body can only break down alcohol at a certain pace; increasing drinking amounts also increases chances of adverse health effects.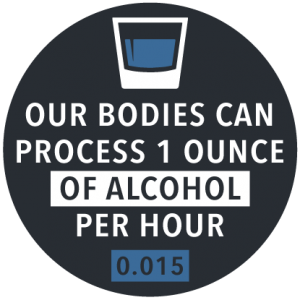 Our bodies can process one ounce of alcohol per hour. After consuming one ounce of alcohol, our bodies generally experience an increase in blood alcohol content (amount of alcohol in the blood) to 0.015. This means that with every passing hour, that amount of alcohol leaves the body.
To put it in perspective, if you drink four ounces of alcohol, it will take four hours to leave the body. This timeline may be different for those consuming large amounts of alcohol, though. Many factors influence how quickly alcohol is processed, including how much you drink at one time. When someone starts drinking heavily, the liver can't keep up, and breaking down alcohol becomes a difficult process.
In fact, after a certain point, your blood and tissues begin to absorb the extra alcohol. This is when you start to experience adverse effects, like confusion, depression, disorientation, memory gaps or loss, nausea, and vomiting.
Alcohol stays in the urine for 12 to 36 hours, though some tests can detect the presence of alcohol for up to 48 hours. Breath tests may detect it up to 24 hours after consuming the last drink.
How Is Alcohol Metabolized?
Our bodies metabolize alcohol in several ways, the largest of which involve enzymes. Enzymes are substances already in our bodies that help break things down. The two most common enzymes are called alcohol dehydrogenase (ADH) and aldehyde dehydrogenase (ALDH), according to the National Institute on Alcohol Abuse and Alcoholism (NIAAA).
Steps in the metabolic process:
ADH breaks down alcohol to a toxic byproduct/carcinogen called acetaldehyde.
Acetaldehyde breaks down to a further byproduct that is less active: acetate.
Acetate breaks down to water and carbon dioxide so the body can get rid of it.
Other enzymes may also play a role in metabolizing alcohol, but ADH and ALDH do the most work. The majority of the breakdown of alcohol occurs in the liver, though tissues, the pancreas, and the brain also aid in this process.
If the body has a specific process for breaking down any substance, including alcohol, you may wonder why alcohol can still be damaging to health. The answer lies in the toxic byproduct, acetaldehyde, as well as heavy drinking.

The NIAAA explains, "although acetaldehyde is short lived, usually existing in the body for only a brief time before it is further broken down to acetate, it has the potential to cause significant damage." Damage from this byproduct is found in the liver, and is also apparent in the gastrointestinal tract (digestive system).
Factors That Influence Metabolic Rate
Alcohol abuse may affect your health because even though your body can break it down, it can only metabolize so much per hour, no matter how much you drink. Drinking heavily or frequently can cause problems for your system, especially your liver.
One major factor that influences metabolic rate is genetics. Different people may have different variations of the ADH and ALDH enzymes. These variations account for difference in ability to break down alcohol: some enzymes work slowly, others quickly.
The way a person's enzymes work greatly affects metabolism. The NIAAA explains, "a fast ADH or a slow ALDH enzyme can cause toxic acetaldehyde to build up in the body, creating dangerous and unpleasant effects that may also affect an individual's risk for various alcohol-related problems—such as developing alcoholism."
Recognizing how your body responds to processing alcohol may help you understand your amount of risk of alcohol abuse or addiction.
Other factors include:
Food:

How much do you eat before, during, or after drinking
What do you eat?

Weight:

People who weigh more have more blood and water in their bodies, which helps them absorb alcohol

Medications:

Certain medications can react with alcohol in adverse ways

Gender:

Women tend to have less water and more fat in their body, so do not metabolize alcohol as fast as men
Hormone differences between women and men can affect metabolic rate; high hormone levels may affect the liver's ability to process alcohol
Are you or a loved one suffering from addiction?
Don't wait, get the best treatment options today
Call Now: (888) 352-0383
Health Effects Of Alcohol Abuse
Short-term effects of alcohol abuse can leave people sick with nausea and disorientation, or confused from blackouts (memory gaps). Prolonged abuse, and addiction, can be detrimental to your health.
Alcohol abuse and addiction increases your risk of developing many health complications, including:
Cancer: breast, colon or rectum, upper respiratory tract, liver
Liver disease: the NIAAA states that more than 90 percent of people who drink heavily develop fatty liver disease; others will develop the more severe alcoholic liver disease or liver cirrhosis
Pancreatitis: heavy drinking alone may not cause this, but can greatly contribute
Signs Of Alcohol Addiction (Alcoholism)
Alcohol abuse, or heavy drinking, may lead to addiction. What's the difference between abuse and addiction? Abuse of alcohol is characterized by developing habits associated with drinking, such as slipping in attendance at work or performance in school.
Abuse can cause a person to begin doing things he or she may not have done before. This can range from lying about drinking to driving while under the influence, though the person knows it is dangerous.
Addiction can result when the person's brain becomes addicted to the feelings experienced when drinking. Some signs of alcohol addiction, also called alcohol use disorder or alcoholism, are:
Inability to stop drinking, even if you want to and know the risks
Feeling a "need" to keep drinking
Tolerance: needing to drink more to get the same effect
Withdrawal: experiencing physical symptoms when quitting drinking, like nausea, headache, and anxiety
Shirking obligations and activities to drink
Continuing to drink, even if it causes problems in relationships, at work, school, or other social groups
Treatment For Alcohol Abuse
Alcohol abuse has been around for centuries, and treatment has improved immensely in recent decades. One challenging part of treatment is detoxification. To heal, your body must first rid itself of chemicals built up from prolonged abuse.

After that, healing can begin. Different forms of therapy can help addicted individuals learn to cope with the struggles of addiction. Counseling can help you work through the difficult emotions and thoughts. Dialectical Behavioral Therapy (DBT) can help people recognize their own capabilities, how to use them, and structure the environment around them to foster a life of sobriety.
Many rehab centers offer advanced, evidence-based approaches to treatment. New, effective ways to treat people struggling with alcohol abuse and addiction include gender-specific therapy, dual diagnosis treatment, alternative therapy such as wilderness and adventure therapy, and holistic therapy.
Whatever treatment you choose, the method should be comprehensive, targeting not just addiction symptoms but helping you achieve long-term success in sobriety.
Reach Out And Find Treatment Today
Alcohol remains one of the most commonly abused substances in the United States. If you abuse it for too long, you risk developing addiction. Years of abuse or addiction can lead to many damaging health effects.
Don't let addiction rule your life. Contact us today at DrugRehab.org and find out how you can find a treatment plan that is right for you at one of our renowned rehab centers.
For More Information Related to "How Long Does Alcohol Stay in Your System?" Be Sure To Check Out These Additional Resources From DrugRehab.org:
---
Sources
Brown University—How Does Alcohol Move Through The Body?
National Institute On Alcohol Abuse And Alcoholism—Alcohol Metabolism
National Institute On Alcohol Abuse And Alcoholism—Alcohol Use Disorder
University Of Minnesota—Blood Alcohol Concentration