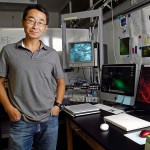 Expert
Hitoshi Morikawa, M.D., Ph.D. Associate Professor of Neuroscience, University of Texas at Austin
Dr. Morikawa is associate professor of neuroscience at the University of Texas at Austin, where he has established an active research laboratory and leads several studies on addiction for the National Institutes of Health. His current research focuses on the brain's role in reward-based conditioning and the development of drug addiction and alcoholism.
Dr. Morikawa earned a medical degree from Kyoto University in Japan and completed his clinical training in anesthesiology. He earned a Ph.D. in 1999 and has also studied brain circuits involved in addiction through his work at the Vollum Institute in Portland, Oregon.
Dr. Morikawa was promoted to Associate Professor at the University of Texas in 2008.