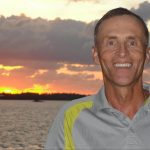 Dick Beardsley is a record-breaking marathon runner whose legendary career has been recognized by the National Distance Running Hall of Fame. He is best known for his incredibly close finish with Alberto Salazar in the 1982 Boston Marathon – one of the most memorable in marathon history. Both runners broke the course and American records that day, with Beardsley finishing just 1.6 seconds behind Salazar.
After retiring from competitive running, Beardsley had a series of near-fatal accidents and received prescription painkillers for his injuries. He became addicted to the narcotics and battled for his own survival – forging prescriptions for pain pills at the height of his addiction.
Today, Beardsley has been in recovery for two decades and shares his journey as an inspirational speaker. He's the author of Staying the Course, A Runners Toughest Race and the subject of the bestseller, Duel in the Sun: The Story of Alberto Salazar, Dick Beardsley, and America's Greatest Marathon. Despite chronic pain and multiple operations on his knees, back and neck, Beardsley still runs about 50 miles each week.