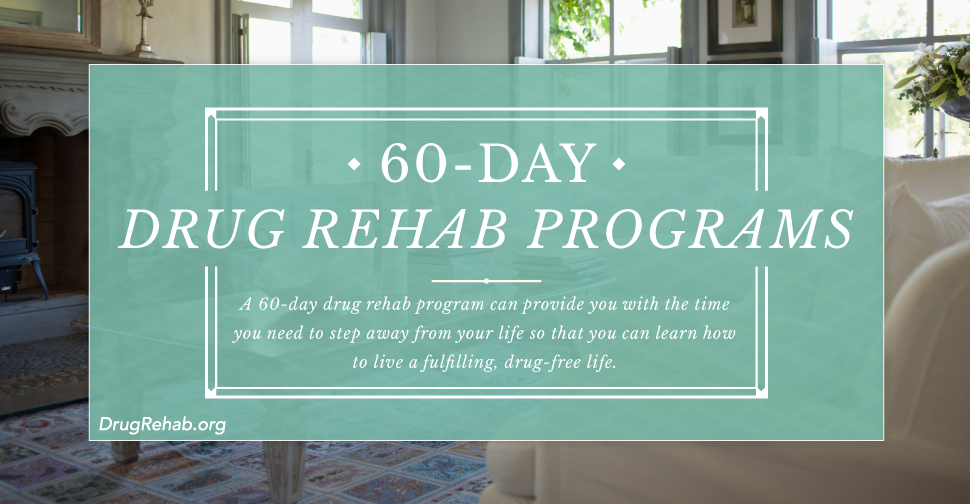 60-Day Inpatient Drug and Alcohol Rehab programs are available to help individuals struggling with substance abuse and mental health disorders that need more than just a typical 28-30 day stay at a treatment center. The first step in the treatment process for people who abuse alcohol, benzodiazepines, or opioids is to go through a supervised medical detoxification. This may take five to seven days. Once detoxed, the individual will then work an individualized treatment plan over the next fifty-something days to set them up for a successful life in recovery.
The Impact of Addiction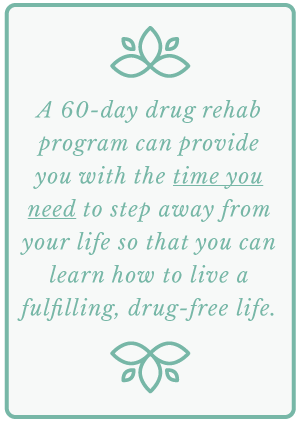 Drug and alcohol addiction is not a matter to be taken lightly. A person with addiction could lose their job, face extreme financial hardships, and experience physical and mental health problems. Unfortunately many people die each year from overdoses or complications relating to substance abuse before they ever seek treatment.
With that being said, it's never too late to get help whether it's for yourself or a loved one. Choosing to seek help and get treatment is a big decision. It isn't one you should jump into without researching your options. Achieving long lasting sobriety isn't an easy process but it is obtainable.
Statistics show that the longer an individual is in residential treatment, the higher chance they have for achieving long-term sobriety. A 60-day drug rehab program can provide an individual with the time they need to get away from the stresses of everyday life and focus solely on recovery.
What Is Inpatient Drug Rehab?
At an inpatient drug and alcohol rehab, a person stays on-site at a treatment facility 24 hours, seven days a week. These facilities usually have professional medical staff such as medical doctors, nurses, psychiatrists, counselors, and more. This differs from an Intensive Outpatient Therapy (IOP) program where individuals attend a treatment program during the day and go back home at night.
Below is a list of different types of inpatient drug and alcohol treatment programs:
Biophysical
Executive
Luxury
Men or Women Only
12-Step
Non 12-Step
Inpatient treatment removes individuals from the harmful temptations of having access to drugs and alcohol as well as whatever stressors they may have in their everyday life. Individuals will have constant access to highly-trained and caring staff members (many of which are in recovery themselves) that will provide both physical and emotional support. This environment and accountability is especially helpful for people who don't have strong social or family support or for those who are facing moderate to severe addiction.
Why Are 60-Day Treatment Programs Good For Some People?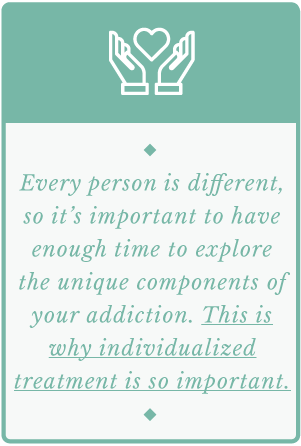 A 60-day program allows individuals more time in individual and group therapy to help them understand the root of their addiction. Every person is different, so it's important to have enough time to explore the unique components of your addiction. Choosing a rehab center that offers an individualized treatment plan is extremely important.
Staying in treatment longer means you can commit more time towards building your strength, developing effective coping skills, and learning about your recovery. Enrolling in a longer program gives you more time with highly-trained therapists and counselors who can guide you through these transitions.
How Do I Decide How Long I Should Go To Rehab For?
The National Institute on Drug Abuse writes that the "best outcomes occur with longer durations of treatment." While they do recommend 90 days for optimal results, the longer you're able to stay in treatment, the better. We understand that not everyone can commit to 90 days of treatment. For these people, 60 days might be a good middle ground. Within this period, you'll be able to step away from your life and commit an ample amount of time to creating a sober life.
The intensity and length of treatment varies person to person. These factors are shaped by an individual's:
Drug of abuse
Severity of addiction
Length of addiction
Need for detox
Struggles with co-occurring mental health disorders (if any)
Financial standing
Support system
Certain personal factors may also shape a person's treatment plan. Children, or certain job responsibilities, are just a few examples of why people can't go to treatment for long periods of time. Before letting things influence you or a loved one's decision, it's important to speak with a treatment specialist to look at all the options you have available.
Should I Travel To A Drug Rehab Program?
With residential inpatient programs, you can choose to enter a program close to home or farther away. If you're looking at a 60-day program, it might be a good time to consider the latter option. Longer treatment programs can become intense and some people get homesick. Choosing a treatment program out-of-state minimizes the risk that a person will leave treatment early against medical advice (AMA) to go get drugs or alcohol.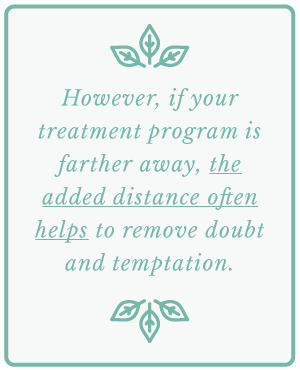 What Is The Treatment Process Within A 60-Day Program?
A 60-day program will give you more time to invest in the important steps of treatment. When you enter treatment, you will progress through these steps:
Intake and evaluation
Medical detox (when necessary)
Addressing and creating a treatment plan for any co-occurring disorders
Individual and/or group therapies
Addressing other issues which are linked to addiction (legal, medical, social, and vocational)
Participating in peer support groups (such as 12 step)
Designing a relapse prevention plan
Creating an aftercare plan
Treatment may use certain medications or behavioral therapies, or a combination of both (medication assisted treatment). Therapies may include motivational interviewing, cognitive behavioral therapy, dialectical behavioral therapy, and more.
Inpatient treatment may also give you an opportunity to experience dynamic and even fun treatment modalities. It's important to learn how to enjoy life without drugs and alcohol and regain self-confidence. These include:
Art therapy
Equine Therapy
Adventure Therapy
Wilderness Therapy
The goals of a good treatment program go beyond sobriety. Effective treatment should help you to become healthier physically, mentally, and emotionally. Treatment should teach you coping, interpersonal, and life skills so that you're prepared to conquer and maintain your recovery.
How Do I Pay For Treatment?
As we've said, financial concerns often shape a person's treatment plan. Private insurance can pay up to 100 percent of treatment costs. For those that don't have private insurance there are many other ways to get into a treatment facility. A few examples are:
Family assistance
Personal loans
Sliding fees
Health savings accounts (HSA)
Financing options
Medical credit cards
The best way to find out what treatment center would work best for you or a loved one is to speak with a treatment specialist.
Treatment Is Your Opportunity For A Better, Sober Life

Don't sit back and watch any longer while addiction controls your life or destroys someone close to you. We want to see you well. DrugRehab.org can answer any questions you have about addiction and treatment. We will help you design a treatment plan that is perfect for your needs. Contact us now.
For More Information Related to "60-Day Drug Rehab Programs" Be Sure To Check Out These Additional Resources From DrugRehab.org: