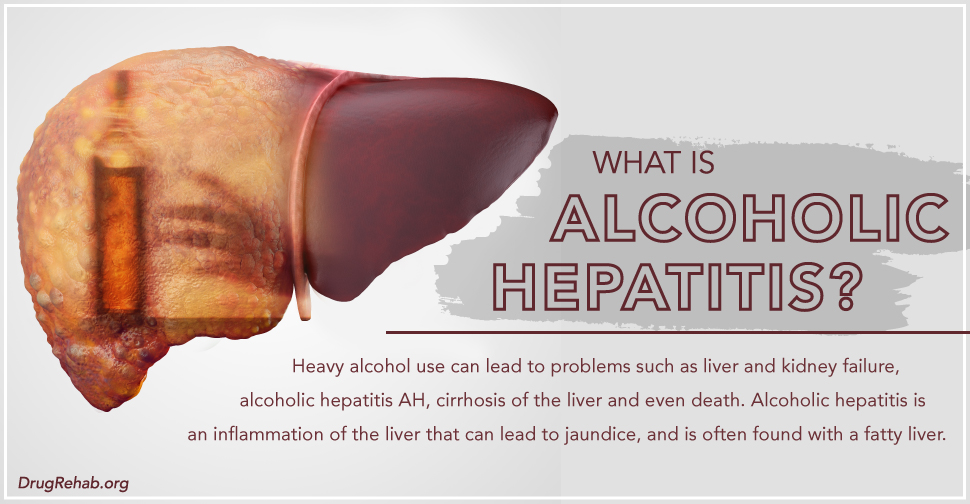 Heavy alcohol use can lead to problems such as liver and kidney failure, alcoholic hepatitis AH, cirrhosis of the liver and even death. Alcoholic hepatitis is an inflammation of the liver that can lead to jaundice, and is often found with a fatty liver. Over 19,000 people died in 2014 from liver diseases like alcoholic hepatitis—and in severe cases, up to 50 percent of people with AH die within 30 days of being diagnosed. Once diagnosed, quitting alcohol will be essential to recover from liver diseases like alcoholic hepatitis.
Have you ever seen a person with yellow eyes, or yellow skin and wondered why? Heavy alcohol consumption can lead to a variety of different diseases and conditions like cirrhosis of the liver, kidney failure, and hepatitis. Hepatitis of any kind can lead to jaundice; which is yellowing of the eyes or skin. Alcoholic hepatitis is an inflammation of the liver (National Institute on Drug Abuse) and can typically be found along with a fatty liver, and cirrhosis.
Alcoholic Hepatitis Definition
The full definition of alcoholic hepatitis, is "a distinct clinical syndrome caused by chronic alcohol abuse and (often) carries a particularly poor prognosis with a 28-day mortality ranging from 30 to 50 percent. Although alcoholic hepatitis is an acute condition, nearly 50 percent of patients with alcoholic hepatitis have established cirrhosis at the time of clinical presentation" (National Center for Biotechnology).
Alcoholic Hepatitis Prognosis
Since alcoholic hepatitis is an acute disease, the signs and symptoms appear suddenly. The short-term prognosis (or course of the disease) isn't usually very bad, however once the disease has really set in, the outcome can be worse. With alcoholic hepatitis, a thorough diagnosis and early treatment can be necessary for survival. "About 40% of the patients (with alcoholic hepatitis) are dead within the first 6 months after the detection" (U.S. National Institutes of Health).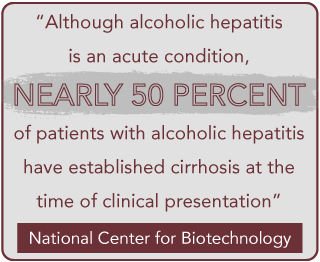 Symptoms of acute alcoholic hepatitis are similar to acute alcoholism and—though "in multiple studies, the strongest factor predictive of short-term mortality was hepatic encephalopathy" (Medscape). Hepatic encephalopathy essentially means swelling of the brain which can cause delirium and altered consciousness.
Symptoms Of Acute Alcoholism
By definition, acute alcoholism is—intoxication resulting from excessive consumption of alcoholic beverages. The syndrome is temporary and is characterized by:
Depression of the higher nerve centers
Impaired motor control
Stupor
Lack of coordination
Nausea
Dehydration
Headache
Other physical symptoms
(Medical Dictionary)
Signs And Symptoms Of Alcoholic Hepatitis
Alcoholic hepatitis is brought on by frequent excessive alcohol consumption, alcohol use disorders and acute alcoholism. It can lead to jaundice (yellowing of the skin) cirrhosis and even death. The problem with alcoholism is that it's characterized by a person lacking control of his or her alcohol intake—even when their physical and mental health is deteriorating. Alcoholic hepatitis can also lead to intensified hangovers and withdrawals…
Symptoms Of Alcoholic Hepatitis And Alcohol Withdrawals
Mild to moderate symptoms include:
Irritability
Headache
Sweating
Tachycardia
Hand tremors with clammy skin
Severe symptoms include:
Delirium tremens
Hallucinations
Agitation
Convulsions
Alcoholic Hepatitis Recovery Time
If the symptoms are found early enough, alcoholic hepatitis won't be fatal, however there's a 50 percent mortality rate for severe alcoholic hepatitis, which is usually anywhere from 30 to 180 days. There's hope for treatment, if the disease is discovered soon enough—but drastic changes must be made in a person's life to ensure that it doesn't get worse. Hospitalization might be necessary, but not always.

First and foremost, alcoholic beverages must be completely cut out of the diet, which can prove to be difficult for a person suffering from a disease like alcoholism. Detoxification, medication-assisted therapy, inpatient rehab, support groups, and other treatment methods might be necessary to keep a person sober.
According to the National Center for Biotechnology Information NCBI, after cutting out alcohol "many patients continue to have ascites and evidence of significant liver disease; (though) some patients show a dramatic improvement." So in conclusion—"Continuing alcohol consumption is a major factor that influences the survival of patients with alcoholic hepatitis" (NCBI).
Is Alcoholic Hepatitis Reversible?
"Fatty liver, the most common form of alcoholic liver disease, is reversible with abstinence. More serious alcoholic liver disease includes alcoholic hepatitis, characterized by persistent inflammation of the liver, and cirrhosis, characterized by progressive scarring of liver tissue. Either condition can be fatal, and treatment options are limited" (National Institute on Alcohol Abuse and Alcoholism). Recovery from alcoholic hepatitis is based on an individual basis, and though some people can recover, others have liver disease that's too advanced to cure. No matter which way you look at it, cutting out alcohol is an absolute necessity.
Alcoholic Hepatitis Vs Cirrhosis
Alcoholic liver disease was responsible for 19,388 deaths in the United States in 2014—which was about 10,000 more deaths than alcohol related fatal car accidents the same year. (Center for Disease Control and Prevention CDC). Both stemming from liver problems, alcoholic hepatitis and cirrhosis of the liver have similarities and differences.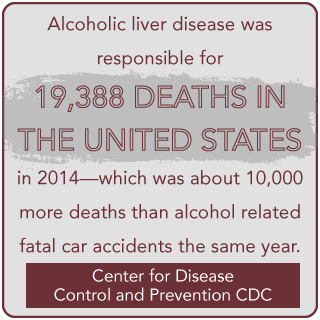 Alcoholic hepatitis is an inflammation of the liver—which is usually brought on by excessive drinking, and is considered to be a medical emergency. Cirrhosis of the liver can be more of a chronic disease, is also brought on by heavy drinking, but characterized by the scarring of the liver tissue. In 2014, cirrhosis of the liver was responsible for 38,170 deaths in 2014 (CDC). So where alcoholic hepatitis can happen more suddenly, cirrhosis is brought on by years of alcohol abuse.
Alcoholic Hepatitis Treatment
There are medical procedures that can aid in the recovery from alcoholic hepatitis. For example, someone with severe alcoholic hepatitis might be given an artificial liver, or a liver transplant to help with liver failure. "Patients with alcoholic hepatitis of mild to moderate severity can be treated in a primary care setting. In general, for patients with severe alcoholic hepatitis or cirrhosis, observation by a gastroenterologist or a hepatologist is desirable, particularly if the illness is of sufficient severity or complexity to require intensive care" (Medscape).
Alcoholic Hepatitis—How To Find Treatment
Sometimes quitting alcohol can be difficult to do on your own, and even if health complications like alcoholic hepatitis come up, you don't have to feel hopeless. Sometimes liver diseases don't have to be a death sentence, but quitting alcohol will be necessary for getting your health back. If you or someone you care about is having trouble quitting alcohol on your own, Contact Us today at 1-833-473-4227 to talk to someone about alcoholic hepatitis and treatment. Alcohol doesn't have to run your life anymore…

For More Information Related to "What is Alcoholic Hepatitis?" Be Sure To Check Out These Additional Resources From DrugRehab.org:
---
Sources
Center for Disease Control and Prevention – Chronic Liver Disease and Cirrhosis
Dictionary By Farlex – Medical Dictionary
Medscape – Alcoholic Hepatitis Treatment and Management
National Center for Biotechnology Information – Definition, epidemiology and magnitude of alcoholic hepatitis
National Institute on Alcohol Abuse and Alcoholism – Alcohol Alert
National Institute on Drug Abuse – Viral Hepatitis—A Very Real Consequence of Substance Use