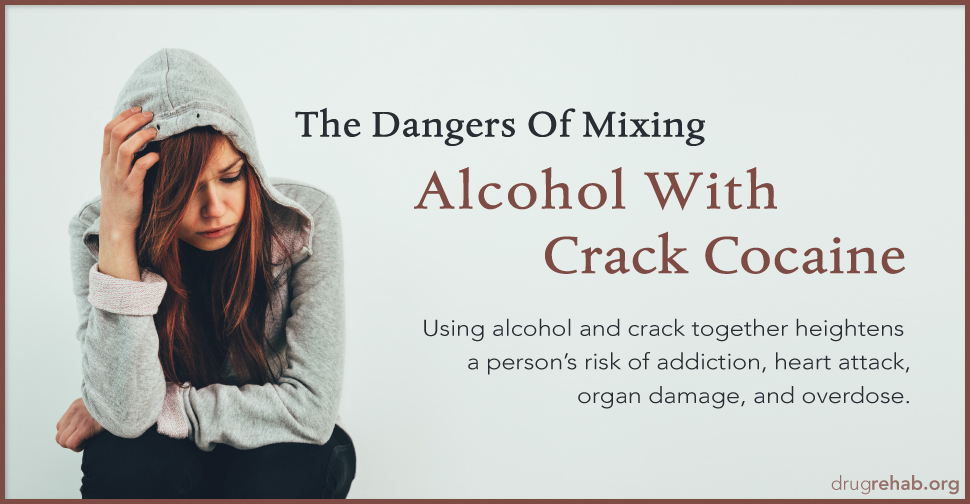 Alcohol decreases a person's fundamental ability to make sound decisions. As judgment, reasoning, and inhibition drop, a person is far more apt to make poor choices like using crack for the first time, or using large amounts within shorter periods of time.
Crack cocaine is intensely addictive, so much so, that according to CESAR a "A person can become addicted after his or her first time trying crack cocaine." With this toxic drug cocktail your risk of overdose will always be higher, as is the chance that your body will experience other harm.
What Does Alcohol Do To Your Body?
Even though alcohol may make people initially feel more energetic, it's actually a sedative or "downer."  When you consume alcohol it goes to work on your central nervous system (CNS) and begins to depress it or slow it down, hence why it's also referred to as a CNS depressant.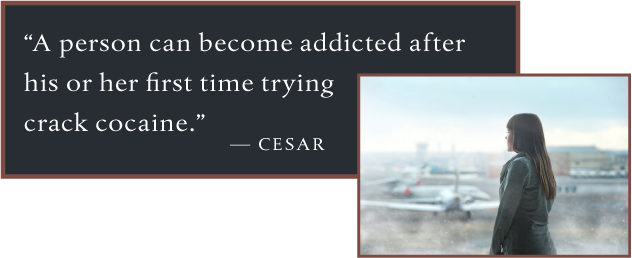 As this occurs, your heart, breathing, and blood pressure rates all start to decline. The more alcohol you use in a shorter period of time, the more pronounced these effects. Alcohol greatly taxes a person's liver and also affects their heart and brain.
How Does Crack Effect You?
Crack is a powerful stimulant. When a person uses crack their CNS speeds up (the opposite effect of alcohol) and their brain's chemistry is immediately altered. Here, two things happen. First, as the CNS quickens, a person's heart rate and other cardiac functions increase. Secondly, as their brain's chemistry changes, and because crack is so powerful, they quickly begin to crave the drug.
Crack is far more potent than powdered cocaine, and thereby carries an even greater risk when abused. Despite this intense effect, the high or "rush" from crack is relatively short-lived (only about five to ten minutes).

To counter this brief effect, crack, like powdered cocaine, is often used in binges. This means a person keeps using the drug in rapid succession after the first dose, a practice which increases the risk of addiction, heart damage, and overdose.
Why Do People Use Alcohol And Crack Together?
The reasons are similar to most which fuel polydrug abuse. Some users ingest both because alcohol intensifies the high associated with crack. On the other hand, alcohol is often used to moderate the come-down associated with a crack high, or certain unpleasant side effects of the high itself, like twitching, tremors, or anxiety. Regardless of why a person chooses to use these drugs together, they are placing their life and health in a precarious position.
What Happens When You Use An "Upper" And A "Downer" Together?
Due to the opposing nature of each drug's basic characteristics (one being a stimulant and the other a depressant) the drugs seem, at certain points, to cancel out the effects of the other.
This may lead a person to drink more because they don't feel the intoxicating effects of the alcohol as acutely. Or a person may use more crack because the alcohol seems to balance out the heightened states associated with it.
Many users take these to be positive effects, when in reality they are anything but. This does not at all mean that your body is immune from the effects of the additional alcohol or crack. While certain effects may wane, the impact on other parts of your body and brain remain.
When you use both your CNS is caught in the middle of a dangerous tug of war which overburdens this critical system, as well as your heart. As your body is pulled quite literally from one extreme to the next in this way, your life is in jeopardy.
Alcohol And Crack Increase Your Risk Of Death
Both alcohol and crack, can, alone, cause overdose. Using these two drugs together increases the risk. As a person uses crack more frequently to fulfill their cravings, their CNS system becomes even more taxed, increasing the risk of overdose. This hazard is high when a person is binging on the drug, behaviors which increases when alcohol is present.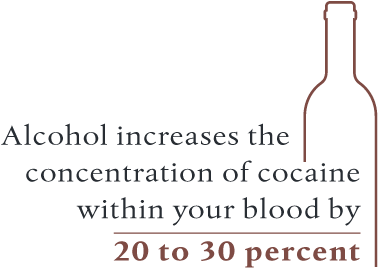 For individuals who aren't accustomed to consuming alcohol with crack, the potential for a fatal overdose skyrockets. Alcohol can actually make it easier for your body to absorb cocaine, which increases the concentration of cocaine within your blood by 20 to 30 percent. From this effect, a person could overdose if they take an amount they are typically used to when using the drug alone.
In the instances where crack seems to "cancel" out alcohol's effects, a person may continue to consume alcohol in pursuit of a buzz. The problem is that even though they don't feel the alcohol, their body is still taking large amounts of it in.
Once the crack begins to wear off a person may become very intoxicated quickly, to the extent they get severe alcohol poisoning.
Also, research shows that cocaine as a whole has been linked to an increased risk of suicide when used with alcohol.
What Is Cocaethylene And Why Is It So Toxic?
When alcohol and crack cocaine enter your system within the same period of time their chemical components begin to react together, forming a new chemical called cocaethylene.
Cocaethylene itself has psychoactive properties that many users seek out even if they don't realize it. This chemical has a longer half-life by three to five times compared to cocaine, which means it remains in your system longer, lengthening the euphoric state of the crack.
Cocaethylene has been associated with an increased risk of:
Cardiac complications: Various cardiac processes can malfunction from this chemical. The risk of heart attack climbs (especially in those under aged 40).
Liver damage: Since your liver metabolizes the two drugs to create cocaethylene, this organ can suffer substantial damage.
Seizures: Seizures can lead to bodily injury and head trauma, which could cause death.
Sudden death: Cocaethylene "carries an 18- to 25-fold increase over cocaine alone in risk for immediate death," according to the Journal of Addictive Diseases.
Immune system: A compromised immune system makes it harder for your body to fight disease and infection and maintain an altogether healthful state.
Even though a user may feel the pleasurable effects for a more substantial period of time, the longer cocaethylene is in your system, the greater the opportunity it has to damage your body.
It is possible to treat two addictions at once. In these instances, inpatient drug rehab is typically the best choice for treatment.
Get Help For Alcohol and Crack Cocaine Abuse Today
If you or a loved one is addicted to both alcohol and crack, or experimenting with one while addicted to the other, don't delay. Contact DrugRehab.org now to begin exploring your treatment options today.

For More Information Related to "The Dangers Of Mixing Alcohol With Crack Cocaine" Be Sure To Check Out These Additional Resources From DrugRehab.org:
---
Sources
US National Library of Medicine — Effects Of Concurrent Use Of Alcohol And Cocaine
Journal of Pharmacology and Experimental Therapeutics — Cocaine and Alcohol Interactions in Humans: Neuroendocrine Effects and Cocaethylene Metabolism