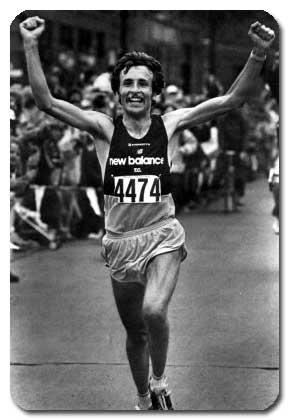 He is a titan among runners – an elite marathoner whose uncanny resolve produced one of the most thrilling races in history.
Dick Beardsley is blessed with epic endurance. He's weathered grueling competitions and surreal setbacks – including a horrific farm accident, multiple car crashes, near-fatal opiate addiction, a felony drug arrest, and chronic pain in the wake of 19 surgeries.
Beardsley doesn't give up easily. In fact, at age 60, he still runs 50 miles a week. He's rebuilt his life in recovery, one stride at a time.
"I can sum it up in one word: HOPE," Beardsley says of his ability to face hardship. "You can live 40 days without food, seven days without water, a few minutes without breathing, but you can't live one second without hope. I really believe that."
Beardsley is one of America's fastest-ever distance runners – known for his famous "Duel in the Sun" with world record holder Alberto Salazar at the 1982 Boston Marathon. The two men raced nearly side by side for 26.2 riveting miles – until Beardsley the underdog lost by a mere 1.6 seconds. To many fans, it remains one of the greatest finales in sports.
Only a few American athletes in the past 35 years have topped Beardsley's best marathon time: two hours, 8 minutes and 53 seconds. He also made the Guinness Book of World Records as the only person to run 13 consecutive personal bests in the marathon.
But a different kind of battle – one more common to his fellow Americans – would be the most daunting for Beardsley: addiction to prescription drugs.
First, the chronic pain arrived. After retiring from competitive racing in 1988, Beardsley survived not one but four life-threatening accidents.
Working on a Minnesota dairy farm in 1989, Beardsley got caught in the power auger on the back of a tractor. The spinning machinery pummeled his left leg and head, and broke his ribs and right arm. Five months of intensive rehabilitation followed. Three years later, Beardsley suffered spinal cord damage when his car was blindsided by a speeding motorist. In January 1993, while going for a run in a Fargo snowstorm, Beardsley was the victim of a truck driver's hit-and-run. Driving in a blizzard a month later, he further injured his neck and back when his car flipped several times and landed upside down.
Opiate painkillers were prescribed to dull the agony of his broken body. Beardsley buckled under their grip.
"I was taking upwards of 80 pills of Percocet, Demerol and Valium a day," he recalls. "I would have to take a bunch of Pepto Bismol to try and coat my stomach."
When he couldn't obtain more drugs, Beardsley began forging prescriptions. His desperation culminated in a very public arrest at a local pharmacy.
"I knew I needed help but was so ashamed to tell anyone," Beardsley says. "I really believe if I hadn't got caught when I did, I would have died within a few days." Instead, he was ordered to get treatment and did so well that the judge asked him to share his story with others fighting addiction. He's been doing that ever since – for 20 years now.
Today, Beardsley embraces life in recovery with his trademark optimism.  He's a popular Minnesota innkeeper and fishing guide, a best-selling author, motivational speaker and running coach.
We asked Beardsley to share his extraordinary journey, and his thoughts on overcoming adversity and breaking free from addiction.
10 Questions For Running Legend Dick Beardsley: Celebrating Two Decades of Recovery from Addiction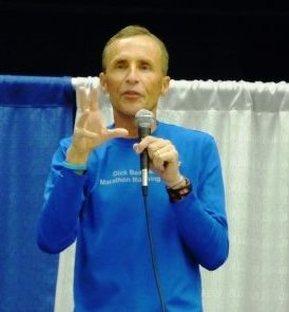 How did you become addicted to opiate painkillers?
After a bad car accident in 1992, I needed more and more pain meds. Over the next couple of years, I had more operations and the need for more meds. But by 1994, I was really not needing them for the pain but continued to use them.
I was very much in denial and made every reason under the sun on why I needed to continue taking them . . . I was very good at telling the doctors why I needed the drugs.
At the height of your addiction, you were arrested for forging prescriptions for narcotics. Did you face stigma after your arrest, and was this incident a turning point in your recovery?
Without doubt! Because of the runner I once was, my arrest made papers around the country. I'm from a small town in northern Minnesota where everyone knows everybody. So needless to say it was huge news in our town.
When I got caught, I knew I was in a lot of trouble but I was so thankful and blessed that I was still alive. I knew the only chance I had at that point was to take total responsibility and be truthful to everyone in what I was doing.
Did you experience drug cravings after entering recovery? How did you overcome these?
When I first got into the hospital after my arrest, the doctors put me on methadone and I became addicted to that – even under the care of doctors. When they tried to wean me off, the withdrawals were so bad that I asked God to either take me right then or please God help me through this.
Once I got over the withdrawals, the thought of going through that again made me almost sick to my stomach. I never craved the drugs after that. But saying all of that, I still with 20 years of sobriety can't for sure know that if I came across a bottle of Percocet that I wouldn't take them. That is very scary to me!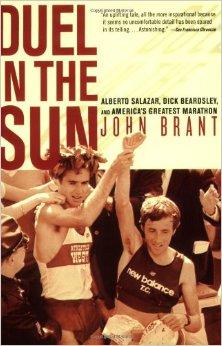 Have you been in touch with your former running rival, Alberto Salazar, since the famous "Duel in the Sun?" at the 1982 Boston Marathon?
Yes! Alberto and I have become good friends over the years and have done a number of engagements together over the years. He was one of the first people to reach out to me after my arrest.
What treatment and resources worked best for your recovery?
After I went through my initial treatment of about three months, I was in aftercare for a year. That really was a plus for me! I also went to a NA/AA meeting at least once a week for the following year. I had an incredible drug counselor who knew when to give me a hug and also when to call me out when she didn't think I was telling her everything. She had so much to do with my recovery!
Sharing my story also was very beneficial in my recovery and still is to this day. I never take my recovery for granted. The minute I think I have this disease of addiction whipped, I'm in big trouble and better seek immediate help!
Do you still experience physical pain from your near-death farming accident and auto accidents? How are you able to continue your running program despite multiple surgeries?
I still experience some pain but I've gotten so used to it that it really doesn't bother me anymore. I so love running and what it does for me! Even with two knee replacements, I still run about 50 miles a week but I'm slower than molasses in January now! But that doesn't bother me at all. Every day I'm out on a run, I feel so very blessed!
What advice can you give to people who want to conquer addiction, but are struggling with relapse or despair?
Never, ever give up. Take little baby steps. As you know, the saying is "One day at a time." There were moments I took it one minute at a time.

You do whatever you need to do to stay clean. I know at first it's very difficult, you felt better when you were on the drugs. But know that if you continue down the path of sobriety, you will see how much better you really feel and you will find no drug in the world can make you feel like that.
After I had a year of recovery under my belt, I would go back to my treatment center every few months to share my story. I would occasionally see people who were in my treatment group back in the room. Most tried to avoid me; I'm sure they were embarrassed that they were back. After my talk, I would always seek them out and tell them I was so proud of them that they were back getting help and if there was anything I could do to help, to let me know.
You have a marathon named after you. Tell us about this event.
The Dick Beardsley Half Marathon was started in my hometown of Detroit Lakes, Minnesota in 1995. In 2015, we also added a full marathon.
This past year, our 5k which is also part of our races was renamed the Andy Beardsley Memorial 5k. In October 2015, I lost my son Andy to suicide. He was an Iraqi war veteran and suffered from PTSD. He was 31 and was a wonderful young man who was so proud to have served his country. Needless to say I miss him very much!
Our next race is Saturday September 9th. It will be our 22nd race!
What is most valuable to you in recovery?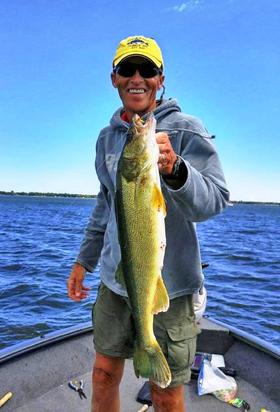 To be able to share my story with others – hoping that by telling my story, it perhaps might save some else's life! The good Lord gave me this incredible gift of being a good story teller.
I really believe that when I had my farm accident, it was a miracle I didn't die. At that time, there had been a rash of farm accidents around Minnesota.
Because of the runner I once was, my accident received a lot of media attention. The University of Minnesota Extension program heard about it and started a farm safety task force. I went all over Minnesota on their behalf – telling my story to FFA and 4-H clubs, and farm organizations. Knowing that someone's life may perhaps be saved telling my story is a wonderful feeling.
The same thing is true with my drug addiction. I should have never survived all the drugs I was taking. I really feel that God let me get so close to death and then said 'Ok enough is enough, I'm going to get you better and I want you to share your journey to help others.'
In your opinion, how can we change the stigma of addiction and mental illness so that more people will seek effective treatment?
I firmly believe the more we continue to talk about addiction and mental illness, the more the general public will understand it and the less of a stigma it will be. Unfortunately we still have a long way to go but we are heading in the right direction.
---
Follow Dick at dickbeardsley.com
Co-Author, Staying the Course, A Runner's Toughest Race
Dick Beardsley Foundation