"Somebody Will Make A Better Choice"
because of her sons' overdose deaths, Indiana mother says
In the summer of 2015, Becky Savage was blindsided by the cruelest discovery.  The Granger, Indiana, mother of four boys had popped into her son Jack's room while doing laundry.  Picking up dirty clothes, she chatted away at her teenager.  "Jack, it's time to get up, Dad needs your help today," Savage recalls saying.  She couldn't wake him.
Finding no pulse, Savage jolted into action.  She called 911 and pulled Jack to the floor, using her skill as a registered nurse to perform CPR.  She screamed to get help from her son Nick, who was home from college, in bed downstairs.  There was no reply.
A frenzy of sirens brought first responders to an astonishing scene.  Nick – like his younger brother Jack – was also lifeless.
Both boys were pronounced dead that day, June 14, 2015.  Nick, 19, and Jack, 18, were victims of an accidental overdose involving alcohol and oxycodone, which they had taken at a graduation party the night before.   
Nick and Jack were honor students and respected athletes who led their high school hockey teams to state victories.  They were, by many accounts, bright and kind-hearted young men at the gateway of their adult lives.
"They had never been in trouble for drugs or alcohol before," their mother says.  "It was so out of their character, that's why we were in such shock.  We talked to our kids about alcohol and drugs, but if never crossed our minds that they would be taking a prescription pill that didn't belong to them."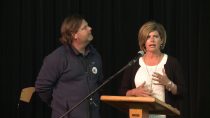 Mike and Becky Savage share their family's story at a town hall forum on underage drinking in Mishawaka, Indiana.  
Photo credit:  WNDU.

Reeling from grief, Becky Savage and her husband Mike retreated.  "It's so hard.  For a good year, we didn't talk about it publicly," she says.  That changed as America's opioid crisis worsened, and the couple was asked to speak at a local forum on substance abuse.  They considered how Nick and Jack's fate might save lives.
The couple launched the 525 Foundation (named after the boys' hockey numbers, 5 and 25) to spread urgent warnings:  you don't have to be a drug addict or frequent user to die from drug overdose.  Mixing booze and pills is extremely dangerous, sometimes fatal.  When you're offered a pill at a house party, you have no idea how your body will react, or how potent it could be.  Even one pill could end your life.
More than 13,000 people have heard Nick and Jack's story since the Savages began visiting high schools, civic clubs and parent groups in 2016.  
"The deaths shook our community to the bone," says Margaret Goldsmith, Director of Youth Services for the Alcohol & Addictions Resource Center (AARC), a nonprofit in South Bend, Indiana.   AARC co-sponsored a recent pill drop-off event with the 525 Foundation, and worked with area high schools to arrange the Savages' talks.
"Becky and Mike's story is powerful because they lost two sons and openly talked about it," Goldsmith says.  "Nick and Jack were great kids with great futures and they were not addicted.  They made a poor choice."
Teens falsely assume that prescription drugs cannot harm them because they come from a doctor, notes Goldsmith.
"Since opioid deaths and heroin addiction begin, in most cases, with the first pill being from a prescription, we need to change the culture of saving unused medications," she says.  "Parents need to make sure their medicine cabinets are clear of these drugs and explain to their children that prescriptions are meant for a specific purpose and not to be saved and used at the discretion of the patient." 
Abuse of opioids – including prescription painkillers, heroin and street fentanyl – is driving an unprecedented rise in drug overdose deaths.  In the United States, 33,091 people died from a drug overdose involving an opioid in 2015, according to the most recent data from the Centers for Disease Control and Prevention (CDC).  That's 91 deaths every day – an all-time high – and a 15.5 percent increase over opioid-related deaths in 2014.  

Opioids play a role in more than six out of ten drug overdose deaths, the CDC says.
"If we can just reach one kid in every crowd we talk to, that's a success story," Becky Savage says.  "I really feel like had Nick and Jack heard a story like theirs, they might have made a different decision that night."
The house party in Granger, Indiana, that Nick and Jack attended was hosted by a 17-year-old girl and her younger sister whose parents were out of town.  Teens celebrating recent graduations smuggled in alcohol and prescription narcotics.
One of the guests that night – an all-state linebacker who had earned a college scholarship – was revived by paramedics after having a drug overdose.  That same guest was later charged with felony drug possession for bringing a bottle of oxycodone to the party.  He lost his scholarship and was sentenced to 90 days in jail, plus probation.  But investigators could not prove who gave Nick and Jack the oxycodone they ingested.
"We have been told it was probably one pill that killed them," Becky Savage says.  "We don't know the strength."
St. Joseph County – which sits on the Indiana-Michigan border and includes Granger –
recorded 59 drug overdose deaths in 2016.  Authorities there currently respond to 2-3 overdoses each week, says Dave Yoder, Chief Deputy Coroner and EMS Division Chief.
"We work closely with the County Drug Unit to identify and track buyers and sellers," Yoder says.  "The vast majority of our cases involve illegal opioids, many in a mixed combination of heroin/fentanyl or methamphetamine."  
Yoder adds that carfentanil – the highly potent synthetic opioid used to sedate elephants – has been involved in several local overdose deaths.
"What kids and parents need to realize is that the potency of the opioids is stronger then ever and varies from one dealer to another," Yoder says.  "First-time experimentation may be the last, with death in minutes."

Becky and Mike Savage say they'll continue their quest to spare other families from the emotional earthquake they've endured.  "You have to focus on the things you can change, not on what you can't, or I would just be consumed by grief," Becky Savage says
When she speaks to students, "they're engaged, they're listening, asking great questions," she notes.  Some have asked for help for addicted parents, or a friend who's making poor choices.  One shared the anguish of a sibling's overdose.  Savage reminds teens that Good Samaritan laws save lives, and that it's okay to call 911 when someone is in trouble.
She's carrying that message beyond Indiana.  School districts in Pennsylvania, Ohio, Kentucky, Michigan and Illinois have asked to hear Nick and Jack's story.  The Savages also are planning to speak at several college campuses.
"I knew that Nick and Jack were going to do great things in this world," their mother says.  "They were both smart and outgoing and invested in their communities, and friends and family.  And to think that their story ended the way it did just doesn't sit well with me.
"I'm going to do my darndest to make sure their story has a happy ending," she says.  "They're going to save someone else's life.  Somebody will make a better choice because of Nick and Jack's story."
---
Source
The 525 Foundation
OPEN – How to Respond to an Opioid Overdose
OverdoseDay.com – Facts About Opioids