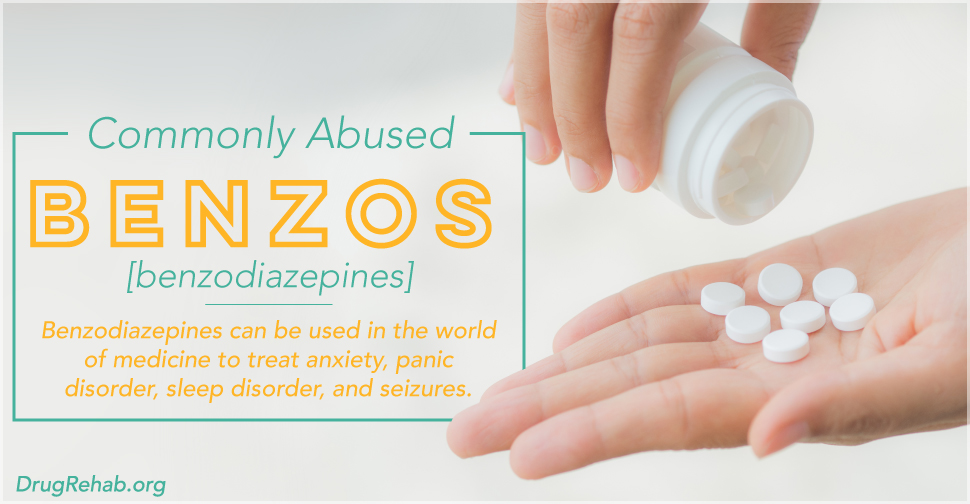 Like a lot of drugs, there is room for abuse of benzodiazepines—which is commonly referred to as "benzos." With drug seeking behavior often comes raiding the medicine cabinet or doctor shopping for drugs, because what treats one person's condition can often give another person the euphoric feeling of ease and comfort. Next to opioids, benzodiazepine has become one of the most highly sought after prescription pills for abuse.
Definition Of Drug Abuse
As mentioned before, benzodiazepines are used in medicine to help treat anxiety and panic disorder by essentially slowing down brain activity. This drug can be helpful for someone who can't stop feeling anxious or dismiss the feeling of impending doom, but some can people abuse benzos. Drug abuse is broadly defined as, "when people use illegal drugs or use legal drugs inappropriately…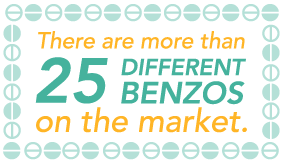 This includes the repeated use of drugs to produce pleasure, alleviate stress, and/or alter or avoid reality. It also includes using prescription drugs in ways other than prescribed or using someone else's prescription" (National Institute on Drug Abuse – NIDA).
List Of Most Commonly Abused Benzodiazepines
There are more than 25 different benzodiazepines on the market, but not all of them are as widely abused or even known about. Some are more potent than others, and therefore most likely to be abused. When a person starts abusing benzodiazepines, they might only use it a few times here and there. Over time they can build up a tolerance to the drug, and start seeking a more potent dosage. They can potentially experience withdrawal symptoms when they stop using the drug.
Maybe they're self-medicating for a self-diagnosed panic disorder—which certainly could require medication, but self-medicating can be extremely dangerous and is illegal. Some of the most commonly abused benzodiazepines are Xanax, Klonopin, Valium, Ativan, and Restoril.
Withdrawal Symptoms Of Benzodiazepines
Abusing benzodiazepines can often lead to dependence accompanied by serious withdrawal symptoms when a person tries to stop abusing them. Some of the most common withdrawal symptoms related to benzodiazepine abuse and dependence are:
Sleep Disturbance and Insomnia
Irritability
Increased Tension and Anxiety
Hand Tremor
Sweating
Difficulty Concentrating
Dry Heaving and Nausea
Weight Loss
Palpitations
Headache
Muscular Pain and Stiffness
Perceptual Changes
Can I Overdose On Benzodiazepines?
Yes, especially when the drug is mixed with other substances like alcohol or opioids. From the Food and Drug Administration, overdose symptoms "include somnolence, confusion, impaired coordination, diminished reflexes and coma. Death has been reported in association with overdoses of alprazolam by itself, as it has with other benzodiazepines. In addition, fatalities have been reported in patients who have overdosed with a combination of a single benzodiazepine."
Xanax Abuse
Abusing Xanax can be more than just buying it on the street, crushing it up and snorting it. Prescription drug abuse can be anything from using someone else's prescription to continuing use of your own prescription after a doctor advises you to stop—which can be a result of dependence or addiction.

According to the Food and Drug Administration (FDA), "withdrawal symptoms similar in character to those noted with sedative/hypnotics and alcohol have occurred following discontinuance of benzodiazepines, including Xanax. The symptoms can range from mild dysphoria and insomnia to a major syndrome that may include abdominal and muscle cramps, vomiting, sweating, tremors and convulsions."
Klonopin Abuse
From the drug's description by the FDA, Klonopin can pass into breast milk and cause dependence. Dependence to Klonopin can end in withdrawals and further cravings, and furthermore "stopping Klonopin suddenly can cause seizures that do not stop, hearing or seeing things that are not there (hallucinations), shaking, and stomach and muscle cramps."
Valium Abuse
Valium is considered a schedule IV drug by the Drug Enforcement Administration, because of it's lower potential abuse; however when mixed with opioids it can lead to sedation, respiratory depression, coma, and death. From the FDA's description of Valium, "abuse and dependence of benzodiazepines (Valium) have been reported. Addiction-prone individuals should be under careful surveillance when receiving diazepam or other psychotropic agents because of the predisposition of such patients to habituation and dependence."
Valium can be used to help treat acute alcoholism withdrawal symptoms, but on the other hand can lead to withdrawals of its own when dosage is increased or when the drug is abused.
Ativan Abuse
Like other benzodiazepines, Ativan can lead to dependence but it can also lead to worsening conditions of depression for someone who was previously diagnosed with a depression disorder; therefore it is highly discouraged to use Ativan if you suffer from depression or psychosis. Also similar to other benzodiazepines, "the risk of dependence increases with higher doses and longer term use and is further increased in patients with a history of alcoholism or drug abuse or in patients with significant personality disorders. The dependence potential is reduced when lorazepam (Ativan) is used at the appropriate dose for short-term treatment" (FDA).
Even in the realm of drug abuse, Ativan should be slowly tapered off of. According to the FDA, "withdrawal symptoms can appear following cessation of recommended doses after as little as one week of therapy. Abrupt discontinuation of product should be avoided and a gradual dosage-tapering schedule followed after extended therapy."
Restoril Abuse
From Xanax to Restoril, benzodiazepines have a common theme, do not mix with opioids or alcohol—it's dangerous and can lead to overdose and death. Some of the best ways to avoid these risks is to avoid mixing drugs; however avoiding the negative consequences of benzodiazepines can work on both sides of the pharmacy window, and from a professional aspect doctors must:
Reserve concomitant prescribing of these drugs for use in patients for whom alternative treatment options are inadequate.
Limit dosages and durations to the minimum required.
Follow patients for signs and symptoms of respiratory depression and sedation.
(FDA)
More About Benzodiazepine Dependence
As is true with most mood altering drugs, dependence to benzodiazepines is possible but not certain. From the Drug Enforcement Administration, "there is the potential for dependence on and abuse of benzodiazepines particularly by individuals with a history of multi-substance abuse." So what exactly is the relationship between abuse, dependence, tolerance, and addiction?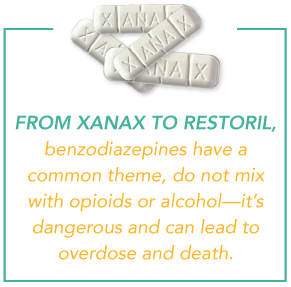 The FDA sums it up perfectly, "abuse is characterized by misuse of the drug for nonmedical purposes, often in combination with other psychoactive substances. Physical dependence is a state of adaptation that is manifested by a specific withdrawal syndrome that can be produced by abrupt cessation, rapid dose reduction, decreasing blood level of the drug and/or administration of an antagonist…Tolerance is a state of adaptation in which exposure to a drug induces changes that result in a diminution of one or more of the drug's effects over time."
"Addiction is a primary, chronic, neurobiological disease with genetic, psychosocial, and environmental factors influencing its development and manifestations." It can be hard to stop using drugs once you've become dependent or addicted, and sometimes the best way to start recovery is to ask for help.
How To Find Treatment For Addiction And Substance Abuse
Benzodiazepine abuse isn't always a death sentence, but there is no guarantee for a good life either. "More than 22,000 people die every year from prescription drug abuse, more than heroin and cocaine combined" (NIDA). If you are suffering with an addiction to prescription drugs, getting into treatment today can be one of the best things you can do for yourself. With a detoxification, behavioral therapy, peer and family support and more you will be back on your feet and on the road to recovery in no time.
Contact us today to speak to one of our addiction specialists about getting the treatment you deserve. Recovery starts with addiction treatment, and we can find it for you.
For More Information Related to "Commonly Abused Benzodiazepines" Be Sure To Check Out These Additional Resources From DrugRehab.org:
---
Sources
Drug Enforcement Administration – Benzodiazepines
Food and Drug Administration – Ativan
Food and Drug Administration – Klonopin
Food and Drug Administration – Restoral
Food and Drug Administration – Valium
Food and Drug Administration – Xanax