What is the Combat Methamphetamine Epidemic Act (CMEA) of 2005? In short, it's an act that was implemented by our nation's government to do just what the name implies: combat abuse of methamphetamine and meth derivatives.
The Drug Enforcement Administration (DEA) explains that the Act was intended to regulate "retail, over-the-counter sales of ephedrine, pseudoephedrine, phenylpropanolamine products." These three drugs, among others, are ones that have either methamphetamine chemical structures, or structures similar to it.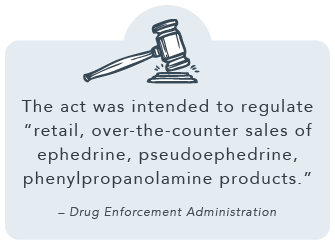 Each is used to treat conditions like asthma, congestion, narcolepsy, and cold symptoms. In higher doses, these medications can be used as stimulants for increased alertness. Because of this, these types of medication are often targets for abuse.
In response to high numbers of abuse, the CMEA is supposed to impose limitations to daily sales, monthly purchases, limits to customer access, and more strict enforcement of customer ID practices, sales logs, staff training, and regular certification for sellers.
Why Is The CMEA Important?
According to the DEA, ephedrine, pseudoephedrine, and phenylpropanolamine are all "precursor" products used in the illicit manufacture and sale of methamphetamine. In other words, theses drugs are bought, processed to extract methamphetamine, and abused.
Methamphetamine is a highly addictive drug that comes with a whole range of side effects and can lead to a number of consequences, including high risk of overdose. People abuse meth by smoking it (crystal meth) or by crushing and snorting the tablet forms, or by dissolving it with liquid and taking the oral solution.
Meth affects the body by releasing extremely high levels of dopamine, a chemical that naturally occurs in the brain. When meth releases larger doses of dopamine than the brain is used to, you feel a rush of pleasure—the brain's response to this feeling of reward. However, the brain also changes its chemistry to this new experience; it makes you crave this feeling again and again.
Because of this, people fall easily into abuse of meth, and shortly into addiction. Side effects of meth abuse can cause a number of health issues and personal consequences, some of the most dangerous of which can be fatal overdose or coma.
The U.S. government implemented the CMEA to help regulate sales of products containing meth in hopes of decreasing numbers of abuse in the nation. While meth abuse may not be gone, regulating sales and use of prescription drugs is always an effective way to fight addiction.
For those who are already struggling with methamphetamine abuse or addiction, treatment can help them before it's too late. At DrugRehab.org, our experts can help you find a rehab center that best suits your needs, and design a treatment plan that addresses all aspects of your health.
How Does The CMEA Work?
As previously mentioned, the CMEA regulates sale and purchase limitations for drugs that contain methamphetamine chemical properties. How does it do this?
As the U.S. Food and Drug Administration (FDA) explains, sellers of these medications must:
Limit the amount of these medications sold daily and monthly to any one person
Require to see photo ID for each medication purchased
Keep personal information records for people who buy these products for minimum two years after purchase
Make sure customers don't have direct access to these medications (i.e. keep them behind the counter and only sell after first going through all proper ID, personal information, and sales logs procedures)
Keep a detailed sales log for these products, including: product name, amount sold, name and address of person who bought it, date and time of sale
Essentially, the CMEA made the medications containing ephedrine, pseudoephedrine, and phenylpropanolamine "behind-the-counter" products. This means the medications are kept out of direct customer access, whether behind a pharmacy or sale counter, or in another part of the building.

Those who sell these products must also submit proof of certification to the Attorney General to sell these products. The Act does not change the requirements for these medications; you still don't need a prescription to buy them, but sale and use of them are regulated.
Who Is Affected By Methamphetamine Abuse?
The National Institute on Drug Abuse (NIDA) states that approximately 1.2 million people in 2012 reported use of methamphetamine in the past year. Of that number, 440,000 had used it in the past month, and 133,000 of those who reported abuse were aged 12 and above.
Meth abuse is increasing among youth and young adults, ages 12 to 20, and is seen most among white (non-hispanic) males. According to the National Survey on Drug Use and Health, meth abuse has decreased since first being added to the survey in 2004. This means meth abuse has decreased since the CMEA was enacted.
But the NIDA also explains that while the number of emergency room visits associated with meth have gone down, meth is still quite popular as a drug of abuse, and abuse rates are still high. This is especially true in western and Midwestern parts of the nation, and increasingly in rural areas.
Effects Of Meth Abuse
What happens when you abuse meth? The immediate effects produce the rush that many people seek when they abuse it, but some of the side effects, even after a short time, can range from uncomfortable to extreme or even dangerous.
Though some of the short-term effects may seem harmless, when you begin taking meth frequently and taking larger doses due to tolerance, you enhance the short-term effects which can contribute to risk of overdose.
The following are possible short-term effects of meth abuse:
Decrease in appetite
High blood pressure and body temperature
Increase in alertness and activity
Rapid breathing
Rapid or irregular heartbeat
In addition to increased risk of overdose which can be fatal, prolonged methamphetamine abuse can lead to a number of damaging effects to your health. These are just some of the possible effects meth can have on your health, mood, and behavior:
Anxiety
Confusion
Dental problems: "meth mouth" or severe mouth sores and tooth decay
Extreme itching problems, leading to severe scratching, sores, lesions, and infections
Paranoia, or extreme issues with trust of others and fear of certain situations
Hallucinations, or hearing or seeing things that aren't happening
Consequences Of Meth Abuse
Aside from all the possible health effects, meth abuse can and does infect many aspects of your life. When you become addicted, no part of your life goes untouched. To start, abuse of meth not only hurts your health, it can also cause alterations to your brain that are permanent.
The NIDA explains, "continued methamphetamine use causes changes in the brain's dopamine system that are associated with reduced coordination and impaired verbal learning." It can also alter the parts of the brain responsible for emotion and memory.
Some changes to the brain may be reversed after quitting use of meth, with treatment, but others may be permanent. Prolonged meth abuse may also contribute to development of Parkinson's disease.
Addiction to meth brings consequences of its own. Having an addiction can take a toll on finances. Even if making meth is cheap in the beginning, abusing it can alter the way your brain works, make your life change to seek meth, which could result in troubles at work or loss of job.
When you start abusing meth, your family and others close to you may not understand. This can strain your personal relationships, or cause you to lose touch with those you love. Addiction can make you do things you normally wouldn't, like risking your reputation or doing something illegal to get the drug.
There are so many adverse consequences possible when you abuse meth, and it really isn't worth the risk of trying the drug. But if you're suffering with meth addiction, then you know how hard it can be to stop. We can help you put meth abuse behind you, and move forward to a new phase of life with substance abuse treatment.
How To Treat Methamphetamine Abuse
How do you treat abuse of a drug that is so potent? You treat it with a multidisciplinary method, integrating several types of treatment modalities to ensure holistic healing.
Our rehab centers offer healing in a supportive, welcoming environment far from the triggers of abuse. We also provide licensed and trained professional staff, who have experience treating abuse of substances, including meth. For those coming to us with more than one substance abuse problem, or who also struggle with mental health issues, we've got you covered with excellent dual diagnosis care.
Meth addiction can result in some severe withdrawal symptoms, but medication assisted treatment (MAT) can ease these symptoms. With MAT, you receive medication to help you manage withdrawal symptoms, taper off use of drugs, and are monitored closely to ensure safe levels of withdrawal.
Addiction also affects mood and behavior, which is why behavioral therapy and counseling are important components to any addiction treatment program. We offer both at our rehab centers, including Cognitive Behavioral Therapy (CBT), Dialectical Behavioral Therapy, and counseling at the family, group, and individual level.
These are just some of the research-supported methods we utilize at our rehab centers. We also work closely with you to design a treatment plan that addresses all your needs and aspects of your health. Comprehensive healing is necessary with meth abuse and addiction—they affect much more than just your physical being, and we work to ensure overall wellness.
Combat Methamphetamine Abuse: Find Treatment Today
Our government has implemented measures to combat meth abuse and addiction. While this helps the fight, it isn't enough to stop meth abuse. The only real way to stop meth abuse and addiction is to treat the cause of addiction, and help you find a way to deal with triggers as they come.
We'd like to help you get out of meth addiction, and heal today. Contact us today at DrugRehab.org to speak with a specialist and learn more about treatment, our rehab centers, and more.

For More Information Related to "Understanding The Combat Methamphetamine Act" Be Sure To Check Out These Additional Resources From DrugRehab.org:
---
Sources
National Institute On Drug Abuse—DrugFacts: Methamphetamine
U.S. National Library Of Medicine—Methamphetamine