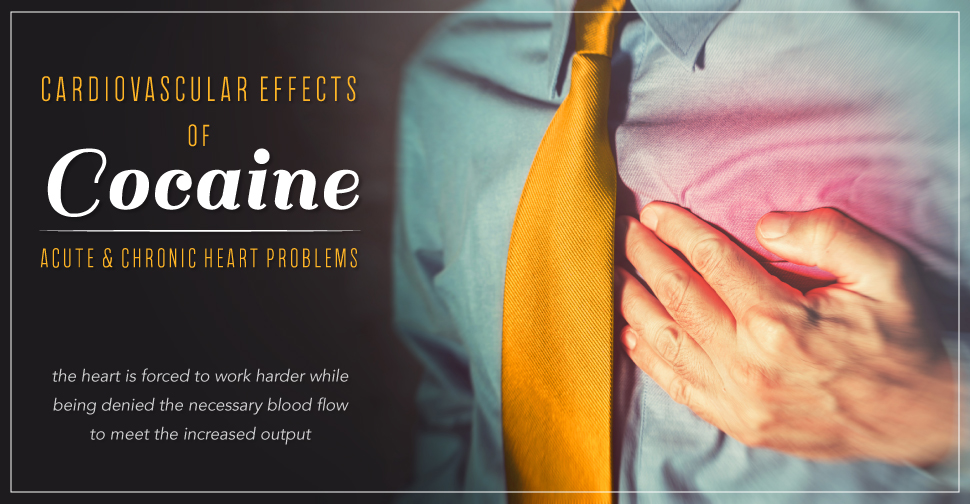 Like most drugs—legal or illicit—cocaine can have detrimental physical effects on the human body, especially the cardiovascular system. A powerful stimulant, cocaine has long been used by healthcare professionals for legitimate medical purposes, but its popularity as a street drug has revealed the often devastating results of its abuse and even occasional use.
History Of Cocaine
Long before cocaine's explosive popularity as a recreational drug in the 1970s and 1980s, South American indigenous people knew well the powerful stimulant properties of the drug derived from the native coca plant. As long ago as 5,000 years, the Incas in the region of the Andes Mountains chewed on raw coca leaves to derive short-term cardiovascular benefits such as increased heart rate and rapid breathing—distinct advantages in the high altitudes of the Andes. Spanish conquerors later forced native laborers to chew coca leaves to increase their productivity in silver mines.
German scientist Albert Niemann is credited with successfully extracting and isolating cocaine from the coca plant and spurring the medical use of the drug beginning in the late 1800s. Perhaps the most famous—some would argue "notorious"—promoter of cocaine (for both medical and recreational use) was Sigmund Freud. Freud promoted cocaine use for a myriad of maladies and downplayed its dangers, even stating, "For humans the toxic dose (of cocaine) is very high, and there seems to be no lethal dose," according to The Foundation for a Drug-Free World.
The widening use of cocaine during the early 20th century, in everything from Coca Cola to snake-oil elixirs, gave rise to a reported death toll of more than 5,000 individuals in 1912. The drug legally was outlawed in 1922 for anything but medicinal purposes.
How Cocaine Affects The Heart
Modern cocaine use and abuse is an attempt to replicate the results that those South American ancients achieved, but via more intense and dangerous methods. Rather than chewing relatively low-dose raw leaves, cocaine today is ingested in much more pure, and dangerous, forms through snorting, smoking, and injecting, allowing it to impact your system in a wider range of ways.

The greatest danger to the heart in someone who uses cocaine results when the heart is simultaneously forced to work harder while being denied the necessary blood flow to meet the increased output. The seeming irony of this medical condition is created because cocaine inhibits the absorption of norepinephrine within the body's neurons. By blocking or inhibiting norepinephrine, the force of contractions in the heart increases, raising the pulse or heart rate and, thus, blood pressure levels. All of these factors result in an increased workload for the heart muscle and a corresponding need for more oxygen.
But, as mentioned, cocaine also causes a blood flow reduction by constricting capillaries and reducing blood flow to the heart. So cocaine is at the same time restricting blood flow (and needed oxygen) to the heart while forcing the heart to work much harder.
Problems Caused By Increased Heart Work And Blood Flow Restriction
Several serious heart conditions can result from a heart that's working too hard and at the same time being denied required oxygen, including:
Myocardial infarction — Often simply called a heart attack, myocardial infarctions are common among cocaine users of all ages and no matter the history of abuse. First-time users may suffer a heart attack as easily as a seasoned user. Even ex-users are at risk due to past damage done to the heart. But young users are more likely to suffer an attack; in as many as 25 percent of heart attack victims under age 45, cocaine is a factor.
Coronary artery aneurysm — The enlarging of coronary arteries typically is due to balloon-shaped distensions and are often precursors to a heart attack.
Stroke — Usually caused by lack of blood flow, stroke for cocaine users may be up to seven times the rate than for nonusers.
Cardiac arrhythmia — These heart rhythm problems are common among active cocaine users and may cause cardiac arrest.
Aortic dissection or acute aortic dissection — Another condition that greatly affects younger victims, an aortic dissection is a tear or rupture of the aortic wall.
Myocarditis and cardiomyopathy — Myocarditis is an inflammation of the heart and can lead to heart muscle damage and cardiomyopathy. With cardiomyopathy, the heart muscle can become thick or rigid, or, occasionally, damaged muscle tissue is replaced with scar tissue. This can lead to heart failure, usually in older users and even among former users.
Short-Term Vs. Long-Term Cardiovascular Problems
As already evidenced, many heart problems caused by cocaine use can be both acute and chronic. While some conditions favor younger users—heart attack, for instance—others can occur more often in older users or ex-users. These older users usually are, or were, chronic users and their heart problems reflect that long-term abuse—an enlarged heart or damaged heart muscle tissue. Of course, older and long-term users may also suffer acute or sudden conditions, such as a heart attack. But these episodes often are the result of an already damaged heart due to chronic use.
Most cocaine-related deaths occur in young people between the ages of 18 and 29. As many as 47 percent of all chronic cocaine users of all ages have enlarged hearts, many without being aware of it according to study findings presented by Medical News Today. The acute dangers of cocaine use became widely reported in 1986, when 22-year-old basketball star Len Bias died of cardiac arrest after a night of what many witnesses called "normal" cocaine use. Although Bias' death was attributed to various cocaine-related factors, including cardiac arrest, cardiac arrhythmia, and cocaine intoxication, the consensus was that the superbly conditioned athlete suffered from electrical abnormalities of the heart induced by cocaine consumption.

There is a relationship between acute and chronic heart problems and acute and chronic cocaine use. Sudden and acute heart problems, especially among younger users, often are the results of high, or acute, levels of cocaine ingestion. Among long-time users of cocaine, chronic heart problems are more common than among younger users.
Many of the acute problems in young cocaine users become chronic problems in older users or older ex-users. This is especially true of cardiovascular problems. While a young user is more likely to die from a cocaine-induced heart attack, an older user is more likely to develop long-term problems such as contracted blood vessels and capillaries, myocarditis and cardiac necrosis (damaged heart muscle).
One problem in determining conclusively the effects of cocaine on the heart, especially in older users, is demographic and lifestyle challenges for medical professionals. While many younger users may present with heart-related problems during an emergency room visit (making a diagnosis easier), older users frequently have led unhealthy lives apart from cocaine use. They often suffer from various maladies that can make direct correlation between cocaine and heart problems difficult.
Death Is A Real Danger
According to the National Institute on Drug Abuse, drug overdoses attributable to cocaine use showed a steady rise from 2012 through 2014, after a general downward trend over the previous seven years. Nearly 7,500 cocaine-related deaths were reported in the peak year of 2006. Males accounted for more than three times the death totals of women.

It's Not Too Late To Get Help

If you or someone close to you is experiencing problems, we're here to help. We can help you protect yourself and your heart, so that you may live a healthier, drug-free life. Drugrehab.org can offer assistance in directing you to resources and treatment options. We can also help you discuss various financial options. Contact us today.
For More Information Related to "Cardiovascular Effects of Cocaine: Acute and Chronic Heart Problems" Be Sure To Check Out These Additional Resources From DrugRehab.org:
---
Sources
National Institute on Drug Abuse — What is cocaine?
National Institute on Drug Abuse — Cocaine: Research Report Series
Circulation — The effects of acute and chronic cocaine use on the heart
U.S. National Library of Medicine — Myocardial necrosis and cocaine. A quantitative morphologic study in 26 cocaine-associated deaths
Circulation — Cardiovascular Effects of Cocaine