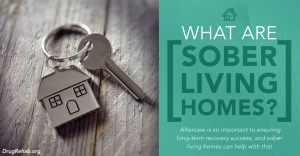 So much of substance abuse treatment is focused on getting through recovery—an important step in building a sober life. But after the initial treatment stay at a rehab facility, some individuals may need to continue living in an environment that is geared for sober living. Aftercare is so important to ensuring long-term recovery success, and sober living homes can help with that.
Sober Living Homes Defined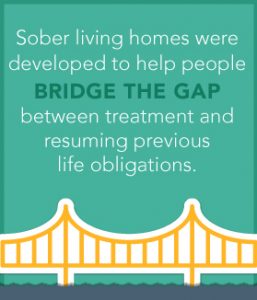 Sober living homes, also called sober homes or sober living houses, are facilities people may enter after undergoing treatment at rehab facilities and before integrating back into their communities. Sober living homes were developed to help people bridge the gap between treatment and resuming previous life obligations. For many, their current lifestyle may be heavily laden with substance abuse. Attempting to re-enter that lifestyle may cause immediate relapse due to triggers. Sober living homes may allow a person to begin their old lifestyle while still keeping true to their recovery goals.
How Do Sober Living Homes Work?
In an attempt to keep recovering individuals on track, sober living homes may utilize 12-step programs and/or treatment methods similar to those in rehab centers. Twelve-step programs are used by many treatment facilities, support groups, and in counseling which provide a set of principles for individuals to follow. Principles differ among programs, but usually outline guidelines for all parts of recovery, including addiction, how to handle urges and cravings, and dealing with behavioral issues. These programs typically involve admitting that the substance abuse is bigger than the recovering individual, recognizing mistakes made in the past, finding solutions for avoiding future mistakes, finding a way to atone for mistakes, developing new lifestyle habits, and helping others to also recover.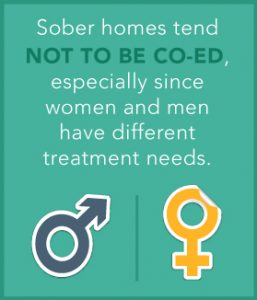 Just like in treatment facilities, participants in sober living homes may be required to take part in the 12-step programs, undergo substance testing to ensure sobriety, and make daily progress toward their recovery goals. These homes tend not to be co-ed, especially since women and men have different treatment needs. Gender-specific homes also allow for a safe, welcoming environment that allow women or men to heal in a place that is geared to their needs.
While different sober living homes will have different required criteria, each may be loosely structured around the following rules:
Mandatory abstinence from drugs and alcohol.
No violence allowed.
No guests allowed overnight.
Mandatory participation in recovery meetings.
Mandatory participation in 12-step groups.
Timely payment of fees.
Participation in school, work, or an outpatient program.
Sober living homes are staffed with supportive professionals, much like rehab centers. Round-the-clock care helps ensure that participants can focus on recovery and their lifestyle behavioral goals. However, most sober living homes allow participants to leave the home as they please, as long as they are following house rules.
Why Are Sober Living Homes Important?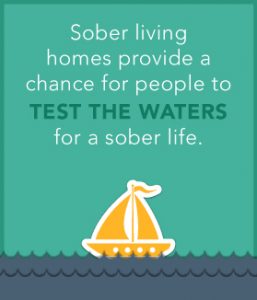 The biggest difference between rehab centers and sober living homes is that the homes provide the first instance for recovering individuals to begin taking on responsibility again. While attending treatment at residential treatment centers, individuals may focus solely on recovery. Sober living homes provide a chance for people to test the waters for sober life.
Living with others in sober living homes may also forge the first friendships of a sober life, another important step. Recovery is often fraught with relapse, and having people around who understand your struggles (often because they have experienced them, too) may be reassuring in the months and years ahead. Further, a feeling of isolation can be dangerous for those recovering, and living in a group home helps avoid isolation.
Those who have suffered from prolonged abuse, or who have concerns about staying sober after leaving a rehab facility may benefit most from sober living homes. However, anyone who has been through treatment and wants time to make sure he or she can stay dedicated to sobriety may also benefit.
How To Get Help With Treatment And Beyond

Entering treatment is not a simple commitment, but one that requires full dedication. Staying the path of sobriety may also mean entering a program that helps a person stay true to recovery goals. Sober living houses can help a person continue sobriety, just as rehab treatment centers can help a person begin to recover from drug and alcohol abuse. If you are looking for help for a loved one, we can help. To speak to one of our experts about your concerns, learn more about entering rehab centers for treatment, or to discuss treatment options, contact us today at DrugRehab.org.