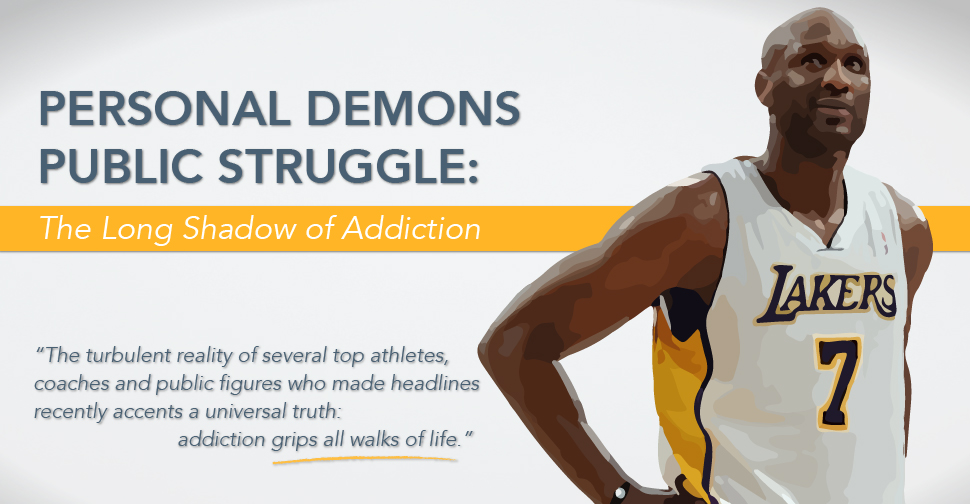 The turbulent reality of several top athletes, coaches and public figures who made headlines recently accents a universal truth: addiction grips all walks of life.
Former NBA star Lamar Odom is fighting for his life after being found unconscious in Nevada on Oct. 13. Employees at the brothel where he was staying told 911 operators that Odom had binged on cocaine and herbal supplements. He regained consciousness three days later but is facing a long road to recovery.
USC Football Coach Steve Sarkisian was fired Oct. 12, following a string of incidents involving public intoxication. He has entered an alcohol treatment facility.
"This is a very difficult time for my family and me," Sarkisian tweeted. "I am facing these challenges the best I can and your support helps immensely."
Earlier this month, New York Yankees pitcher CC Sabathia – a Cy Young Award recipient and six-time All-Star player – announced he was entering alcohol rehab and would miss the playoffs.
"It hurts me deeply to do this now, but I owe it to myself and to my family to get myself right," Sabathia said in a statement. "I want to take control of my disease, and I want to be a better man, father and player."
Sabathia spoke of being accountable and said he didn't want to "run and hide" from his struggles with substance abuse.
"Being a baseball player means that others look up to you. I want my kids – and others who may have become fans of mine over the years – to know that I am not too big of a man to ask for help," Sabathia said.
Other public figures who recently entered treatment for drug or alcohol dependence include NFL quarterback Johnny Manziel, actor Jon Hamm, Houston Rockets' point guard Ty Lawson, reality TV personality Scott Disick and Olympic gold medalist Michael Phelps.
A NATIONAL EPIDEMIC
Addiction reaches far beyond luminaries and VIPs, as many American families can attest. An estimated 23.2 million people need help for drug or alcohol dependence in the United States, according to the National Institute on Drug Abuse.
"In reality, we know that drug addiction can touch anyone — our children, neighbors, grandparents, mothers," says Patty McCarthy Metcalf, Executive Director of Faces & Voices of Recovery, a national advocacy movement. "I think that it is critical to put more of a human face on the struggles with drug addiction."
Every day, approximately 120 Americans die from drug overdoses, according to the Drug Enforcement Administration (DEA). Drug overdoses are now the leading cause of injury death in America – responsible for more deaths among people ages 25-64 than motor vehicle accidents.
An especially alarming concern is the resurgence of heroin, which has reached epidemic levels, according to the Centers for Disease Control and Prevention (CDC).
"Heroin use is increasing at an alarming rate in many parts of society, driven by both the prescription opioid epidemic and cheaper, more available heroin," CDC Director Tom Frieden said in a recent statement. Heroin overdose deaths nearly quadrupled from 2002 through 2013 (more than 8,200 deaths involved heroin in 2013).
Losing a loved one to addiction was illuminated during the recent GOP presidential debate. Republican candidate Carly Fiorina shared her family's painful journey as she spoke of the nation's epidemic of drug and alcohol abuse.
"I very much hope that I am the only person on this stage who can say this, but I know there are millions of Americans out there who will say the same thing: My husband, Frank, and I buried a child to drug addiction," Fiorina said. Her step-daughter, Lori Ann Fiorina, whom the candidate had known and raised since Lori was six years old, died after years of battling alcohol, bulimia and prescription drug abuse.
Fiorina's personal revelation puts a real face on this public health crisis, experts say, and may reduce the deep stigma that surrounds addiction.
More recently, actor Tom Hanks came forward to support his son Chet, who has struggled with addiction.
"As a parent, you love your kids unconditionally. You support them every step of the way," the elder Hanks told Entertainment Tonight earlier this month.
Chet Hanks posted Instagram videos about his battle with cocaine, saying "there's nothing glorious about bringing yourself closer to death and prison." He entered treatment over the summer and is in recovery.
"If I can change, you can change," Chet said. "There is a solution."
Metcalf, of Faces & Voices of Recovery, says it's critical that we end the stereotypes and stigma of addiction so that people get the help they need.
"As a society, we must work together in an organized movement to eliminate the stigma associated with addiction," Metcalf says. "We envision a day when the public and policymakers will accord individuals and families affected by addiction dignity, and that they will receive respectful, nondiscriminatory care on the same basis as people with other health conditions."
RESOURCES
If you or a loved one struggle with addiction, help is available. There are more treatment options available today – including newer medications such as naltrexone to help reduce heavy drinking or buprenorphine to treat heroin/opiate addiction.
Psychotherapy treatments such as Cognitive Behavioral Therapy (CBT) and incentive- based motivations can also help people reclaim their lives and overcome addiction.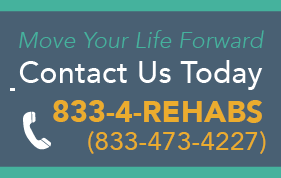 Here are some resources to help you find the right treatment:
FREE HELP HOTLINES
1-800-NCA-CALL
24-hour helpline sponsored by the National Council on Alcoholism and Drug Dependence
Al-Anon
for families/loved ones of problem drinkers
NIDA
24-hour National Drug and Alcohol Abuse Hotline offering information and referral services to people seeking treatment and other assistance; sponsored by the Center for Substance Abuse Treatment (CSAT)
DrugRehab.org
24-hour hotline providing free, confidential referrals to treatment programs and rehab clinics nationwide. Sponsored by drugrehab.org; counselors available 24/7.
TREATMENT GUIDE Q&A
http://www.drugabuse.gov/publications/seeking-drug-abuse-treatment-know-what-to-ask/introduction
Reviews questions to ask when searching for a rehabilitation program. A free publication from the National Institute on Drug Abuse (NIDA).
MUTUAL AID/SUPPORT GROUPS
These websites provide an extensive list of mutual aid organizations, 12-step programs and other support resources for people with addiction:
http://www.facesandvoicesofrecovery.org/guide/support/
https://ncadd.org/recovery-support/mutual-aid-support