Today more Americans are embracing a new social scene: the sober night out.
Happy hour can be just as spirited for nondrinkers, with plenty of options besides club soda and Shirley Temples. And with the growing popularity of "dry" bars and sober events, you can revel into the wee hours without regret.
Hosting a party? Try crafting a "mocktail" that mimics the kick of a mojito or the sweet and sour notes of a perfect highball. Whatever your pleasure, you don't have to lose the flavor when you skip the liquor.
Here's a roundup of our favorite, easy-to-follow recipes that deliver a fresh take on cocktails – without the booze. Cheers!
---
15 Classic Bar Drinks with an Alcohol-Free Twist: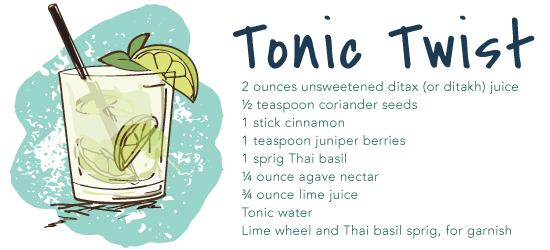 Harlem's acclaimed restaurant, The Cecil, makes a "mind-blowing" alternative to gin and tonic, according to Food & Wine Magazine. The secret ingredient is Ditakh juice, a tart drink that hails from the West African Ditakh fruit. You can buy Ditakh juice (also known as ditax) at African markets and some large chain grocery stores such as H-E-B based in Texas.
Get the recipe from Food & Wine here.
Other zero-proof options for gin and tonic lovers include this enticing grapefruit-and-juniper berry infused drink from Eat Drink Paleo: get the recipe here. Or turn up the heat with the Turmeric-Ginger Tonic With Chia Seeds from Bon Appétit. Get the recipe here.

Skip the hangover and satisfy your craving for a Bloody Mary with a savory, alcohol-free version of the quintessential cocktail. V8 Juice offers up the super easy "Bloody Mary Mocktail." Just stir together vegetable juice, horseradish, Worcestershire sauce and hot chili sauce, then pour over ice and garnish with lemon.
Get the recipe from V8 Juice here.
If your palate is thirsty for a fresher, more complex taste, try the Virgin Marys from Food Network goddess Ina Garten.
Get the recipe from Food Network here.
Or make a "Tricky Mary" from Heads Up, a responsible drinking research project at Loyola Marymount University (LMU) in Los Angeles. Get all the LMU mocktail recipes here.

The smoky, caramel taste of bourbon is captured in this booze-free take on the classic Old-Fashioned, from professional photographer James Freeman.
For his "Bold-Fashioned," Freeman roasts and chills barley tea, then muddles an orange slice and two cherries in the bottom of a bourbon glass, adding a splash of aromatic bitters.
"A great Old Fashioned is won and lost in the muddling. Yes, muddling," Freeman says. "I've drunk many an Old Fashioned where the ingredients were just slapped together like a fast-food burger. Respect the beverage man!"
To finish the Bold-Fashioned, add chilled barley tea and bourbon caramel syrup to the glass – then top with a splash of club soda, orange peel and bitters.
Get Freeman's recipe, which appears on tattooedmartha.com, here.

The iconic drink sported by James Bond and Don Draper is hard to clone without the liquor. But there are plenty of delicious, fruitful alternatives to the martini. Try, for example, the festive Cran-Raspberry Martini that swaps the olive and a twist for a skewered raspberry garnish.
Get the recipe from delish.com here.
The sparkling Virgin Apple Martini is a breeze to make. Just blend a bit of Granny Smith apple with four common ingredients and pour into a martini glass. Get the recipe from S. Martinelli & Company here.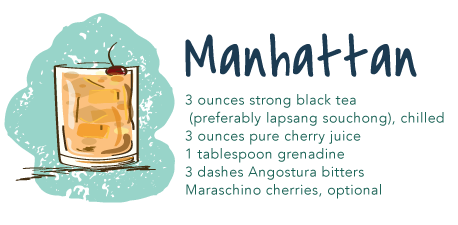 Another retro cocktail, the Manhattan inspires several bittersweet imitations.
"I'll Fake Manhattan" is a simple mocktail made with orange bitters, juices and grenadine; get the recipe from CookLime here.
The Cherry Manhattan owes its complex, smoky flavors to strong black tea mixed with pure cherry juice and a triple dash of Angostura bitters. Get the recipe from Real Simple here.
For another tangy alternative with no cloying sweetness, try this Upper Manhattan mocktail from Not The Settling Kind.

Jimmy Buffett would approve of these tasty virgin Margaritas. The popular cocktail comes in endless combinations that are quick to adapt without alcohol.
Macayo's Mexican Table, a historic restaurant chain in Arizona and Nevada, gives a primer on how to craft a Margarita mocktail (with recipes).
Get helpful tips from Macayo's here.
Or make the sexy Virgin Mango Margarita, garnished with blackberries, from Latin Times Magazine. Get the recipe here.
Short on time? Try this frothy mock Margarita from Kraft, which uses prepared strawberry-kiwi drink mix. Get the recipe from Kraft here.

A sweet union of peach nectar and sparkling Italian wine makes the bellini a classic brunch cocktail. Nondrinkers can enjoy this balmy, faux version created with fresh strawberries and sparkling apple cider:
Get the recipe for the Virgin Strawberry Bellini (created by Del Posto in Manhattan) on delish.com here.
Bellini buffs can also raise a glass to the "Baby Bellini Mocktail" from Viva La Vegan; you can even use canned peaches as a shortcut.
Get the recipe, and other mocktail formulas from Viva La Vegan here.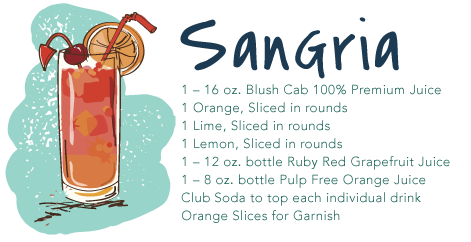 Fresh citrus fruits and premium, natural juices are the base for a refreshing non-alcoholic sangria from The Intoxicologist. Get the recipe for Sangria Faux You here.
As The Intoxicologist advises, "Don't skimp on presentation. Serve non-alcoholic cocktails in beautiful stemware with proper garnishes just as you would any other cocktail." You'll also want to go easy on the sugar when you make a mocktail, lest you end up with a syrupy kiddie drink.
The simple Virgin White Sangria is one of four "can't miss mocktails" from sheknows.com. Get the recipe here.
And for a restorative, nutrient-rich Mock Sangria, try this recipe from Cook For Your Life: get it here.

Toast any occasion with these enticing mock champagne and mimosa drinks.
Just three ingredients and – voilà! – these fizzy faux champagnes are ready to serve. Get the recipes from allrecipes.com here.
Introduce a frothy Orange Cream Mimosa Mocktail to your next holiday brunch. Get the recipe from A Sprinkle of This and That here.
For a lighter alternative, try this Skinny Mimosa Mocktail, simply made with orange juice and lemon Dasani Sparkling Water: get the recipe from The Pinning Mama here.

This Hurricane Mocktail packs a punch, thanks to its tart fruit juices and amaretto syrup. Serve it Big Easy-style in a curved glass, like they do at Pat Obrien's in New Orleans, birthplace of the Hurricane. Get the recipe from Mix That Drink here.

An aromatic mix of coffee and cocoa powder give this Mock White Russian its bold taste. Get the recipe from livingsober.org here.

You won't miss the rum with these cool stand-ins for the Mojito, a Cuban highball. Don't crush the mint leaves, or you'll end up with a grassy-tasting mocktail. You can check out this primer on how to properly muddle mint and other herbs, from Serious Eats.

Torani, the syrup maker, concocts a Virgin Coco Mojito; get the recipe here.
Or try the "Nojito," which adds a bit of brown sugar to replace the sweetness of the rum. Get the recipe from Mix That Drink here.

The lush summertime concoction loved by Ernest Hemingway (with its original simplicity of rum, lime and sugar) is easy to adapt for nondrinkers.
Fresh passionfruit, added to a shaker with lime and sparkling water, is the secret to the LaCroix Passionfruit Faux Daiquiri; get the recipe here.
Food Network combines pineapple, strawberry and lime for a fruity Virgin Daiquiri; get the recipe here.
And this simple, Virgin Strawberry Daiquiri "will make your tastebuds sing," according to the site lovetoknow.com. Find the recipe here.

Get the party started with a mock Cosmopolitan, or cosmo, the contemporary drink popularized on Sex and the City. Williams-Sonoma replaces the vodka with fresh tangerine juice in its Virgin Cosmopolitan. Get the recipe here. Or try this Faux Cosmo that gets its kick from Red Bull: find the recipe at The Intoxicologist here.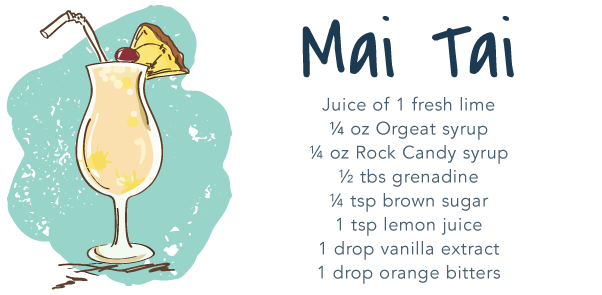 Spiced apple cider and ginger syrup add some heat to this non-alcoholic "Morning Mai Tai." Get the recipe from Food and Wine here. Tiki King uses exotic syrups, grenadine and bitters for its bracing Virgin Mai Tai; get the recipe from Tiki King here.
Cheers!