Grieving Families Break Taboos, Humanize Drug Addiction Crisis
She spoke candidly at James' funeral in Brockton, Mass., recounting how a high school football injury led to her son's prescription opioid addiction. An honor student and gifted athlete, James progressed to heroin and fatally overdosed on July 31, 2013 at age 26.
Two years later, Patrick relapsed and died. Avitabile invited the local media to attend the funeral, hoping to educate others and change public attitudes about addiction. Patrick's obituary honored him as a kind and gentle man with a great sense of humor, who loved street bikes and motorcycles, and spending time with his son and fiancée. The notice also reflected the cruel reality of Patrick's departure on August 17, 2015:
"After a successful year of recovery, he lost his battle to the disease of addiction."
"I wanted people to hear the truth. It needs to be talked about," Avitabile says. "People just want to believe this is all about behavior – parents who did right or did wrong – and I'm telling you, it's a disease. I saw it."
Enge Murray's family battled the disease for years. Her son Carl "lit up a room," she says. "He had that charm. He played hockey, football, baseball. He had everything going for him and then OxyContin and heroin took his life." Murray chose not to hide the cause of death in her son's obituary:
"Carl D. Giannelli, age 31, of Tewksbury, passed away from Chemical Dependency on December 6, 2014."
"I never want another family to feel what I'm feeling," Murray says. "It's raw pain, it never leaves the front of your brain. All day you think of it, and it wakes you in the middle of the night."
An Urgent Wake-Up Call
Murray and Avitabile exemplify a budding movement that's facing down the stigma of addiction. Increasingly, families are stepping out of the shadows, sharing their stories, and putting a human face on one of the largest public health crises in America.
Drug overdoses are now the leading cause of injury death – responsible for more deaths among people ages 25-64 than motor vehicle accidents, according to the U.S. Centers for Disease Control. Every day, an estimated 114 Americans die from drug overdoses, and 61 of those deaths (53%) are due to prescription medications.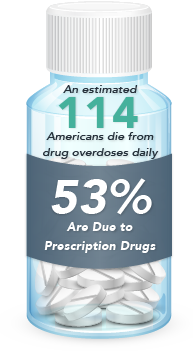 The Murray and Avitabile families fought the ravages of addiction in Massachusetts, where the epidemic is especially dire. The state health department reports 1,089 overdose deaths in Massachusetts in 2014 – up 20 percent over the previous year. At a recent community forum in Wilmington, officials revealed that the Merrimack Valley region leads the nation in heroin sales and usage, The Lowell Sun newspaper reported.
"In our area, there were 40 overdoses and six fatalities last week," notes Murray. "It's a state health crisis and no one wants to say that heroin kills."
Rev. Phillip Earley told the Wilmington crowd: "Tonight, I hope we will dispel the myth that it cannot happen in your family, or the flipside of that myth, that it only happens in problem families. Such a myth is not only false, but also very dangerous to the health and well-being of your child," The Lowell Sun reported.
Nationwide, loved ones are sharing their pain on Facebook and in tributes on legacy.com and other online obituary sites. Some are unflinchingly candid, such as this obituary written by the parents of Molly Parks, who died April 16, 2015 from a heroin overdose in New Hampshire:
She enjoyed theater, fashion, reading – especially Harry Potter, and will always be remembered for her fearless personality and her trademark red lipstick.

Along Molly's journey through life, she made a lot of bad decisions including experimenting with drugs. She fought her addiction to heroin for at least five years and had experienced a near fatal overdose before. Molly's family truly loved her and tried to be as supportive as possible as she struggled with the heroin epidemic that has been so destructive to individuals and families in her age bracket . . .
Molly's obituary ends with an emotional plea to other families:
If you have any loved ones who are fighting addiction, Molly's family asks that you do everything possible to be supportive, and guide them to rehabilitation before it is too late.
A Disease, Not a Moral Failing
An estimated 23.5 million Americans are addicted to alcohol or drugs, yet only 11.2 percent get the treatment they need, according to the Substance Abuse and Mental Health Services Administration. The trend persists despite major advances in neuroscience that regard addiction as a chronic, relapsing brain disease – requiring long-term care strategies like any other chronic illness.
One reason more people don't seek help, experts say, is fear of the deep stigma that still surrounds addiction.
For example, a recent survey of 709 Americans reveals that 64 percent of respondents say companies should be able to deny employment to people with a drug addiction.
The survey also shows that 43 percent of respondents think people with a drug addiction should be denied health insurance benefits, and only 22 percent would be willing to work closely on a job with a person with drug addiction.
"Our research suggests that the public tends to think about addiction as a moral failing as opposed to a chronic medical condition that can be responsive to treatment," says Colleen L. Barry, Ph.D., who conducted the survey in 2014 as associate professor in the Department of Health Policy and Management at Johns Hopkins University.
"That high level of stigma is really damaging in terms of getting people the treatment they need to get well," Barry says. "They may blame themselves and also potentially get a lot less support from those around them."
Avitabile recalls how the stigma affected her family.
"We were very upstanding members of society, I taught CCD (religious education for children), my husband Louie volunteered as a coach for children's basketball and football. We went to church every Sunday," she says. "Then your children start having trouble and the rumors start. And one by one, you start losing your friends."
Avitabile describes how relationships transform in the grip of addiction.
"People who know you and love you, they stand by you," she says. "People who didn't really care for you to begin with, that just reinforces why they didn't like you. And everybody in between, they just lean on the side of staying away because there must be something wrong. It's a very lonely, sad path."
Both Avitabile and Murray emphasize that their children did not want to die, but struggled mightily with addiction.
Murray went to court five times to force her son into treatment. When Carl achieved short-term recovery, he struggled to find work – unable to drive because his license had been revoked. He relapsed often and was so desperate to get help, he used jail as a detox, Murray says.
"He would offend and then get warrants and hope they would give him three months or six months so that would give him time to get clean – healthy and ready to start a new life," Murray says. "He called it (addiction) the 'bully at the corner store.'"
Carl expressed his disdain for drugs in a Mother's Day letter he wrote from jail in 2012:
"I'm thinking about how I had good things going for me last year and how quickly they get snatched away by just getting high and living that lifestyle. And it brings nothing but a miserable lifestyle. . . I just can't seem to get it ever. Ten steps forward and 20 steps backward. It's (expletive) torture. It's like a life sentence, this addiction."

". . . hopefully something breaks for me. I just don't want to go back to getting high. I am tired, just worn . . . out. I'm totally powerless and on my knees with it."
---
Getting Help
FREE HOTLINES
1-833-473-4227 24-hour hotline providing free, confidential referrals to treatment programs and rehab clinics nationwide. Sponsored by DrugRehab.org; counselors available 24/7.
1-800-NCA-CALL (800-622-2255) 24-hour helpline sponsored by the National Council on Alcoholism and Drug Dependence.
1-800-662-HELP (4357) 24-hour National Drug and Alcohol Abuse Hotline offering information and referral services to people seeking treatment and other assistance; sponsored by the Center for Substance Abuse Treatment (CSAT)
---
SUPPORT & MUTUAL AID
These websites include online forums, mutual aid organizations, 12-step programs and other support resources for people with addiction:
http://www.heroinanonymous.org/HAwhatis.html (Heroin Anonymous 12-step Fellowship)
http://www.mdjunction.com/heroin-addiction (Heroin Addiction Online Support Group)
http://heroin.supportgroups.com/(Heroin Addiction Online Support Group)
http://www.facesandvoicesofrecovery.org/guide/support/
https://ncadd.org/recovery-support/mutual-aid-support
http://www.addictionsurvivors.org/
FREE INFORMATION ON OPIOID ADDICTION TREATMENT
Medication-Assisted Treatment for Opioid Addiction
This free brochure from the Substance Abuse and Mental Health Services Administration gives families and friends information on medication-assisted treatment. To order or download a copy, click here:
http://store.samhsa.gov/product/Medication-Assisted-Treatment-for-Opioid-Addiction-Facts-for-Families-and-Friends/SMA14-4443
The Facts about Naltrexone for Treatment of Opioid Addiction
To order or download this free brochure on Naltrexone, click here:
http://store.samhsa.gov/product/The-Facts-about-Naltrexone-for-Treatment-of-Opioid-Addiction/SMA14-4444
The Facts about Buprenorphine for Treatment of Opioid Addiction
To order or download this free brochure on Buprenorphine, click here:
http://store.samhsa.gov/product/The-Facts-about-Buprenorphine-for-Treatment-of-Opioid-Addiction/SMA14-4442
TREATMENT GUIDE Q&A
http://www.drugabuse.gov/publications/seeking-drug-abuse-treatment-know-what-to-ask/introduction
Reviews questions to ask when searching for a rehabilitation program. A free publication from the National Institute on Drug Abuse (NIDA).