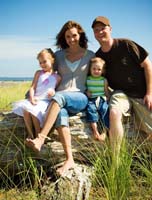 I thought I was going to lose everything in my life that really mattered. With every day that passed I felt myself losing my relationship with my wife and kids. The kids seem to distance themselves from me and looked uncomfortable when we talked. My wife, well she was barely hanging on. She cried seemingly all the time and we argued daily about bills or unfinished projects or my drug use in general. I thought everything was going to just fall apart.
Luckily my parents stepped in to help my wife, unbeknownst to be, and they did an intervention with me. It was a very emotional situation to say the least but they got me to see that the drugs were leading me down a path I desperately wanted to avoid. This was enough to get me to check into a really strong rehab program and handle the problem.
That was 3 years ago although sometimes now it seems like a life time ago. I was fortunate enough to be able to keep my relationship with my wife and kids. It took a lot of hard work but I feel like I truly have my family back. I am the head of the house again and I am so proud to just be a dad and a husband. It's amazing now to me how important the drugs and the life style had become when all the while the most important things in life were slipping away because of the drugs. Thank God I had a loving family who helped me see the light.