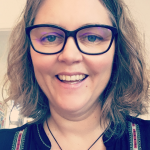 Profiles in Recovery
Lotta Dann
About:
Dann blogged her way to sobriety as the woman behind the popular site, "Mrs. D Is Going Without." The happily married New Zealander – and mother of three boys – never thought her anonymous diary in cyberspace would resonate with so many people (reaching over 4,000 daily visitors).
Here's an entry from Dann's first month of sobriety (Sept. 2011), as she illuminates a 24-year drinking problem:
"My body clock is amazing – 5 p.m. on the dot, or about 4:45 I'll look at the clock and think 'almost wine time!'. Wrestle with myself about whether to get any during the day. Pick up a bottle during the course of the day. Pop the top at 5 p.m. and it's gone by 7. But lately one bottle just hasn't been enough. I needed one bottle and 2 glasses more just for myself to feel 'full'."
Dann credits the support and wisdom of her online "tribe" with helping her recover from alcohol addiction. Today, she's five years sober and a best-selling author. Dann has also teamed up with the New Zealand Drug Foundation and other experts to launch livingsober.org.nz, a non-profit that provides free educational resources for people in recovery.
What I lost to addiction:
Wine had reduced me to a quivering mess of a woman. Confused, guilty, furtive, and utterly miserable. . . my story doesn't contain any police cells, hospital beds, or car crashes. My story is one of widespread emotional deficiencies due to a lifetime of alcohol abuse. Twenty-plus years of drinking (from the ages of 15 to 39) left me completely disconnected to my emotional self. Only now am I starting to develop authentic and robust tools and techniques to help me when the going gets tough. Booze was my only coping mechanism for most of my adult life. Sad but true.
My rock bottom moment:
Came after a particularly miserable Monday night binge at home during which I hid an empty bottle of wine from my husband to conceal how much I'd had while he'd been out (something I'd never done before). I couldn't gain control, and it all finally came to a head this night when I hid the bottle. The following morning I woke (at 3 a.m.) full of despair and guilt and frustration and desperation. This was me at my lowest ebb, a miserable, teary mess.
What worked for me:
Externalizing my thoughts and feelings in an anonymous blog and building up an incredibly powerful support community through the internet.
Advice to my younger self:
Hang in there, you're going to be ok.
Rules I live by:
Staying honest in my relationship with myself, always.
When cravings come:
Delay, distract, and drink lots of water. And for me – clean the house!
Best advice for newbies:
Be honest with yourself, only you know the truth and the truth will set you free. Believe that change is possible. Form a very clear image in your mind of the person you want to become – sober, calm, together – you can be that person! Hang in there, it gets much, much easier the more time that goes on. Find your tribe. In person, or online. It's vital that you connect with people who understand what you're going through.
What I value most in recovery:
All of my relationships have improved out of sight.
Proudest moment:
Getting sober! Publishing a memoir. Launching a recovery community website that helps other people get sober.
Follow Dann: on her blog; or at livingsober.org.nz; on Twitter @MrsDalcoholfree
Shed the Stigma:
If you're a person in long-term recovery who wants to share your
insights, please contact us at [email protected].
Previous
Next