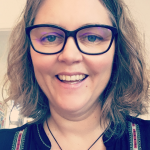 Profiles in Recovery
Lotta Dann (AKA Mrs. D)
About:
Recovery Date: September 9, 2011
Mrs. D is the pseudonym Lotta Dann gave herself when she began writing, blogging and helping others get and stay sober. She told the story of her recovery when she published her best-selling memoir in 2014. Several years later, in 2017, she published her second memoir, Mrs. D Is Going Within. She lives in Wellington, New Zealand with her husband and three sons, and is currently working on her third book.

When did you first accept that you needed to make a change?
The crippling guilt at 3 am and worsening hangovers. Also the hunger for booze growing greater as the months & years went on, and finally hiding empty bottles from my husband. All clear pointers that I had a problem.
What would you say to others who are struggling?
You are a legend for recognizing that things might need to change and trying to do something about it. Trust that your strength and self-worth will grow stronger the further away you get from your last drink. Hang in there…
What's new that works for your recovery program?
I'm constantly amazed at how each new year of my sobriety brings something new, and surprising. The past year has all been about deep, growth in my career and in family relationships. Growth that never would have taken place if I wasn't sober, because it took a lot of focus and drive.  My advice to anyone newly sober right now is KEEP GOING! Sobriety honestly just keeps on giving, and it's really worth the hard work.
Do you struggle with chasing perfectionism?
No, I don't. I'm very happy to be imperfect, thankfully, because I am!
How has life changed in ways you never imagined?
Where do I start? I'm so much more grounded and connected to myself. I feel like I was only experiencing life at 50% before (which I was because I was numbing the other 50%). I'm SO HAPPY to be fully alive now.
How do you celebrate now?
Wholeheartedly! Feeling the joy of the celebration and the joy of all of those around me. It doesn't have anything to do with what food or drink I'm putting in my mouth. Before sobriety celebrating was all about booze, booze, booze.
Life's simple pleasures once overlooked:
That blissful moment when you climb into bed (sober). That blissful moment when you are singing at the top of your lungs and feeling free. That blissful moment when you recognize you're feeling truly calm and content.
What you are grateful for?
My sobriety, my family, my health. Part of my gratitude practice happens at night when I put my kids to bed. We each list three things that we're grateful for or have been good about the day.
SHED THE STIGMA:
If you're a person in long-term recovery who wants to share your insights, please contact us at [email protected].
Previous
Next