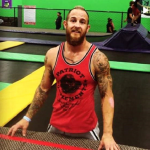 Profiles in Recovery
Stephen G. Seiver
About:
Extreme fitness buffs may recognize Seiver as a competitor on this year's "American Ninja Warrior," the NBC reality show with an insanely tough obstacle course.
Seiver pushed his physical limits as he climbed a 75-foot rope above water and tackled the perilous "Floating Steps" and giant swinging "Tick Tock" pendulum. The Air Force vet and father of three was chosen from more than 70,000 applicants in 2016 to compete for the show's $1 million prize.
Although he didn't make it to the national finals, Seiver is in peak form. It was his greatest personal obstacle – recovery from alcoholism – that motivated Seiver to reboot his body and his life. He trained for Ninja Warrior in recovery and dedicated himself to fitness and inspiring others.
Day Jobs:
Idaho Fence fabricator, personal trainer, yoga teacher, ninja warrior, veteran
What I lost to addiction:
I lost my wife, my house, my job, and many years spent drinking and gaming instead of spending time with my kids or doing something productive with my life.
At my worst, I was:
Homeless, jobless, suicidal, and on a path down a dark road.
What worked for me:
Simply making the conscious decision to change my life. Realizing that alcohol had ruined many things in my life and would continue to do so if I didn't control it. That was enough to make a change, but it's something I must confront every day.
On my bucket list:
Squirrel suit dive, handstand on the Great Wall of China, travel to as many countries as possible, own my own ninja training facility, compete on Sasuke (the Japanese show that inspired American Ninja Warrior).
My rock bottom moment:
Having to go to the ER the day after taking a pill while out drinking, running from the police after a fight and almost crashing my car.
Rules I live by:
Never make someone a priority if you are only an option, live your life to your fullest capacity, do your very best to leave this Earth a better place.
When cravings come:
I look to friends for support, I focus my energy on training if possible, take inventory of what alcohol has ruined in my life.
On my schedule today:
I am an eclectic-natured individual and keep very busy. Most days after a hard day of working with my hands fabricating, I spend at least a couple hours either rock climbing, hand balancing or ninja warrior training.
Best advice for newbies:
You have to take things one day, one step at a time. Thinking about sobriety for life is a huge task to tackle. Thinking about sobriety just for today isn't so bad.
What I value most in recovery:
The mental and physical strength that I have found since getting sober. The drive and ambition that I've developed from being able to conquer my biggest hurdle in life.
I get inspired by:
My girlfriend who survived an airplane crash almost 14 years ago and is currently in a wheelchair. Her outlook on life and what is important is nothing short of amazing. I get inspired by humans who constantly push the limits of their bodies and find new and exciting ways to be fit and healthy.
Proudest moment:
Other than sobriety, competing on American Ninja Warrior Season 8. It was a long road full of sacrifice but I would do it again in a heartbeat knowing what my journey has done for others.
Follow Seiver on Twitter: @tatdfitfanatic
Shed the Stigma:
If you're a person in long-term recovery who wants to share your
insights, please contact us at [email protected].
Previous
Next