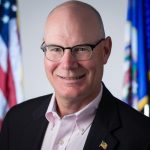 Profiles in Recovery
John Donovan
About:
John Donovan is a person in long-term recovery with more than four decades of sobriety. Since 1986 he has lectured and taught classes in the U.S. and overseas on recovery from substance use disorder.
Donovan has an undergraduate degree from St. Cloud State University and a graduate degree from Boston University. He has worked as a military drug and alcohol counselor and as a counselor for at-risk teens in a Department of Defense high school. Additionally, John founded the Recovery Community Network (RCN) in 2014 in St. Cloud, MN. The RCN is a Recovery Community Organization devoted to strengthening the recovery community in Central Minnesota. He is currently working as the Project Director for Central Minnesota Remembers Vietnam.
Donovan is a U.S. Army Major whose service included tours in Iraq and Bosnia. He loves his country and is also devoted to his recovery.
Looking Back:
I couldn't predict the outcomes anymore. I would make promises to myself that I would only do a little, I wouldn't get into trouble, I'd stay away from this person or that group of people and every promise, vow, and solemn resolve would end up getting broken.
I was experiencing negative consequences in every aspect of my life. My family, my education, my employment, my friendships, my legal standing, my social relationships, my self-esteem and mental health all were negatively impacted by my use of drugs and alcohol.
Finally, in a fit of utter despair and divine intervention, I realized that my life would be a lot less complicated if I stopped drinking and drugging.
Advice to Others Seeking Sobriety:
Get in the middle of a recovery community. Surround yourself with people who are successfully dealing with the same problem you have. Learn from them, recreate with them, talk with them. You don't have to do this alone.
What Helped Me the Most?
I remember how my recovery community accepted me unconditionally. They knew me and they accepted me anyway. There was no judgment. There were no conditions. They just accepted me. Even when my first attempts at sobriety were unsuccessful, they would welcome me back with open arms. I like to say they loved me into sobriety.
Sobriety and Perfectionism:
I try to remember that many times "good is good enough." I don't have to achieve perfection. I simply have to try and give my best effort. Perfect and exact is often times too costly, too time-consuming and ultimately impossible to achieve.
Family Traditions Now:
I grew up in an alcoholic family where I would see my parents drunk on a nightly basis. Alcoholism runs in my family and many of my relatives engaged in the same kinds of behaviors.
Today, recovery and sobriety are part of my family tradition. Neither my wife, daughter nor any of my three adorable grandchildren have ever seen me drunk a day in my life.
Try Sobriety:
If you don't like the life you have right now – give us and give sobriety a try. What do you have to lose? You don't have to do it forever – just give it a trial run. If you don't like the results after the first 30 days, we'll refund your pain and misery.
What Works Now:
Today I focus more on helping others. In my early days of sobriety, I was focused a lot on cleaning up the wreckage from my past. I went to a lot of meetings, therapy, seminars, and conferences. Today I focus on giving away that which was freely given to me.
Celebrations Today:
I have more fun now than I ever did when I was using. Today I go to concerts, sporting events, vacations and they are all drug and alcohol-free. Not once do I worry about going through customs or getting picked up by the police or what my credit card bill is going to look like after the event. Perhaps best of all, I actually remember the event when it is over, and I don't have a hangover.
SHED THE STIGMA:   
If you're a person in long-term recovery who wants to share your insights, please contact us at [email protected].
Previous
Next