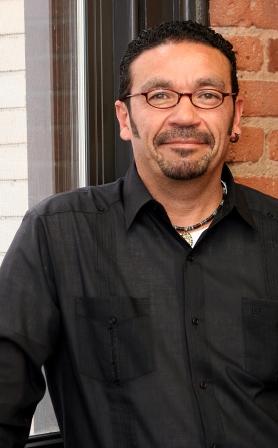 Profiles in Recovery
Haner Hernandez
About:
A distinguished scholar, Dr. Hernandez is known for improving addiction recovery services for America's Latino and Hispanic populations. It was his own triumph over heroin and cocaine addiction – and a dangerous past as a street gang leader– that drove Hernandez to empower others.
He dropped out of middle school, but Hernandez embraced learning in recovery and now holds a doctorate in Community Health Education from the University of Massachusetts. He's a national consultant on health disparities that hinder access to treatment, and oversees professional training and support for Massachusetts agencies that help Latinos and Hispanics recover.
"We have to believe in people more than they believe in themselves!," Hernandez says. "This can be scary for some, yet rewarding at the same time. I believe everyone has the potential to recover and no one does it on their own. My role is to be of help in that process or to get out of the way."
Day Job:
Director of Workforce Development and Cultural Competency & Senior Consultant with the Massachusetts Department of Public Health – Bureau of Substance Abuse Services. Certified Prevention Specialist (CPS), certified and licensed alcohol and drug counselor (CADCII, LADCI).
What I lost to addiction:
I went to prison! My first arrest was when I was 11 and my last arrest was in 1986. This experience impacted all of my relationships, including family, friends, and relationship with community.
At my worst, I was:
Living on the streets (homeless), desperate and wanted to die. During my youth I was a gang leader and a very dangerous individual. I didn't care about myself or others, I was out of control . . . I was injecting approximately 30 bags of heroin a day, with a lot of cocaine. I was in and out of jails.
What worked for me:
I went to a Therapeutic Community, Casa Don Pedro Albizu Campos, in Boston. The program was designed for Latino males. All the staff were Latino and understood addiction and recovery very well. I was in individual counseling, groups, and engaged in the recovery community. Having great mentors has worked for me. These include people in recovery and allies.
Advice to my younger self:
Listen to family!!! These are people who have your best interests in mind. Seek relationships that are based on trust, respect, and common good. Friends are hard to come by.
Favorite recovery quote:
"The most potent weapon in the hands of the oppressor is the mind of the oppressed." ~ Steve Biko
Rules I live by:
Recovery requires every day work. I seek out mentors and provide mentoring to others. Treat people with dignity and respect.
Education is not about degrees or credentials; education is about how you treat yourself and others. Some of the most educated people I know don't have any degrees or credentials, yet they have the ability to connect with others utilizing respect, empathy, and a sense of humanity.
Best advice for newbies:
Identify key people who will tell you the truth. Keep in touch with folks who are about recovery.
Stigma I faced:
I have experienced many forms of discrimination. For me the stigma of addiction is interconnected with racism and other forms of oppression. Many people have gone out of their way to tell me what is not possible, from recovery to employment to education. I think I have proven them wrong, while helping others succeed.
What I value most in recovery:
Family, friends, home, freedom and sense of self.
I get inspired by:
The thousands of people in recovery and their families whom I have met across the country and other parts of the world. I am most inspired by Latinos and Hispanics who serve as role models to me on a daily basis. This includes people in short and long term recovery.
Proudest moment:
When my mom realized that my commitment to recovery and family were real.
SHED THE STIGMA:
If you're a person in long-term recovery who wants to share your
insights, please contact us at [email protected].
Previous
Next