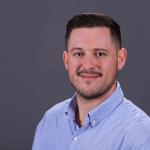 Profiles in Recovery
Elliot Bokman
About:
Persistence paid off for Bokman – who went through five inpatient stays and multiple relapses before achieving healthy, long-term recovery.
Sober for nearly seven years, Bokman still attends several 12-step meetings each week, and finds purpose in mentoring others. He serves as program director for a men's sober living community in Los Angeles, where he helps clients rebuild their lives and explore new passions such as surfing and boxing.
"I find boxing to be a great outlet for most of life's stresses," he says. "We try to get the guys involved with it a few times a week, with the opportunity to do some very light sparring down the line if they show interest. Mostly, we do it for a great workout."
Day Job:
Program Director for Transcend Recovery in Greater Los Angeles
What I lost to addiction:
Myself, my identity, and what I was passionate about.  I lost my morals and values.  I lost relationships with my family and friends.  At one point, I lost hope and the willingness to live.
What worked for me:
I went through five inpatient, four outpatient treatments and two sober livings in two years.
Finally, during my fifth inpatient stay, I found the willingness to give the 12 steps an honest and thorough shot. I ended up doing four months in that treatment and then another eight in sober living.  For me, finding a community of people I looked up to and respected was super important as well.
Advice to my younger self:
Always keep an open mind and stay teachable.
Favorite recovery quote:
"And acceptance is the answer to all of my problems today.  When I am disturbed, it is because I find some person, place, thing, or situation – some fact of my life – unacceptable to me, and I can find no serenity until I accept that person, place, thing, or situation as being exactly the way it is supposed to be at this moment.
Nothing, absolutely nothing, happens in God's world by mistake. Until I could accept my alcoholism, I could not stay sober; unless I accept life completely on life's terms, I cannot be happy. I need to concentrate not so much on what needs to be changed in the world as on what needs to be changed in me and in my attitudes"  ~ Alcoholics Anonymous
On my schedule today:
I still exercise and meditate daily, attend a few AA meetings a week, and I try to be of service wherever I can.
What I value most in recovery:
I'm so grateful for everything in my life today.  Each day is such a blessing. I have real relationships with my family and friends.
Seven years ago, my family wanted nothing to do with me. I didn't have real friends, just "using"buddies. Today, I spend time with my family every week and get to be a part of my nieces and nephews' lives. I have the privilege to work with other young men struggling with this disease and help guide them on their journeys in recovery.
What saves me from myself:
Working with others and being of service saves me from myself.
Thoughts on relapse:
I relapsed several times before achieving long-term recovery. I would say don't give up and get honest. Keep an open mind and keep it one day at a time.
Shed the Stigma:   
If you're a person in long-term recovery who wants to share your insights, please contact us at [email protected].
Previous
Next