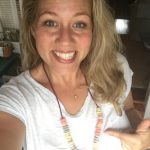 Profiles in Recovery
Abby Foster
About:
Foster wears a hoodie that says "Keep Calm and Sober Mom." It's one of the simple ways that she spreads her message of recovery – and chips away at the stigma of addiction.
"Finding my voice has been one of the greatest gifts I have received from joining the recovery movement," Foster writes on her blog for Heroes in Recovery. Once addicted to alcohol and other drugs, the single mother now advocates on Capitol Hill and in local communities for families struggling with addiction. "As a teenager, I fancied myself a rebel, but recovery enabled me to be a rebel with a cause," she says.
Foster knows the striking changes that can follow sobriety. "Recovery has brought stability to my life and my family, allowed me to return to school to pursue my master's degree in social work, and given me a voice as a recovery advocate, which allows me to help others and strengthen my community."
Day Job:
Lead Advocate for Heroes in Recovery; single mother
What I lost to addiction:
My sanity. I was completely out of touch with reality. My view of the world and my life was hopeless. 15+ years of active addiction placed a great strain on my relationships with my family and friends . . . I reached a place where I had accepted the fact that my addiction would kill me one way or another – and I welcomed it. I saw that as my only way out.
On being young and homeless:
As a teenager, my parents set a hard boundary. If I didn't live by their rules, I couldn't live in their house. I chose drugs and alcohol over a loving home and spent months homeless – bouncing from couch to couch, hiding in people's basements.
My rock bottom moment:
My whole life, I wanted to be a mother. One morning, I had locked myself in my newborn son's room – I was playing with him, having not slept from the night before, and continuing to drink to ward off the pain. This particular morning I was able to see the truth: I was failing as a mother.
I decided I needed to quit. But the next time someone offered me a drink, with all the resolve in my head I couldn't stop my hand from reaching for it and I couldn't get the word "no" to come out of my mouth. That was the moment I conceded to myself that I was addicted and needed help.
Rules I live by:
Above all be honest! I must have at least one person in my life whom I can tell everything to, no matter what. For me, that is my mentor who is my guide through recovery.
Do it anyway! My brain is constantly telling me that I don't need to do something that I know is good for me – working out, service work, meditation, attending recovery meetings etc. Today my mantra is "Do it Anyway."
Show up and be present – Pay attention to what has heart and meaning.
Speak the truth without blame or judgment. Be open to the outcome, not attached to it.
Favorite recovery quote:
"Life is very interesting . . . in the end, some of your greatest pains become your greatest strengths." ~ Drew Barrymore
What I value most in recovery:
That I have become a person I can be proud of. I am still a work in progress, but I can hold my head up and look people in the eye today. For the first time in my life, I embrace all of who I am. I no longer have secrets or hide behind a mask. And the beautiful thing is, by sharing my story I get to help others begin their journey. Today I am a hope dealer!
What I learned about myself:
I learned that I am a person who suffered from substance use disorder. I was a sick person who needed help. I was not the awful person I believed myself to be. I was doing the best I could at the time with the tools I had.
Thoughts on relapse:
I went to rehab four times and lived in a recovery house. I used again after each one. I had to be convinced that I wasn't in control – that I was powerless. To me, relapse doesn't have to mean failure. The only thing lost is the abstinence streak. So, reflect on what led up to the moment you chose to use. What can you learn about yourself and the situation? And then, begin again.
SHED THE STIGMA:
If you're a person in long-term recovery who wants to share your insights, please contact us at [email protected].
Previous
Next