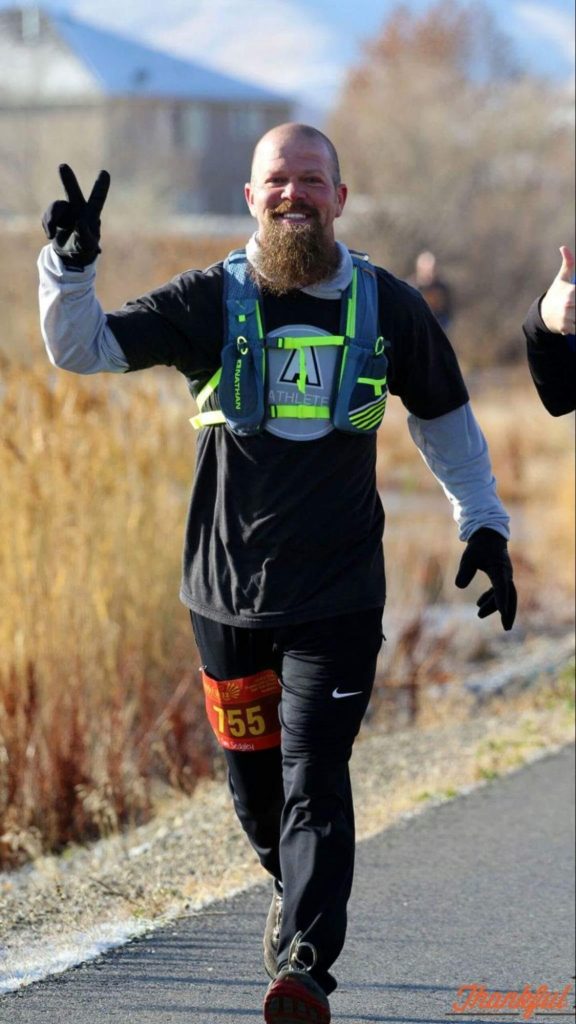 Profiles in Recovery
Tim Sedgley
About:
It took grit – and grueling practice – for Sedgley to ascend from the depths of drug addiction to the life he knows today. He is an ultra-marathoner who could barely run a mile in early recovery. A former convict who ditched all his negative influences and found a higher purpose. A devoted father who has worked hard to regain the trust of his family.
"I learned that pain is a part of life. I learned to push though pain and welcome it," Sedgley says. "I run. I hurt sometimes when I run. But I feel it. I process it, I am stronger because of it. I learned that I am so much more than I ever thought I could be."
Day Job:
Welder in Utah
What I lost to addiction:
I lost myself, my jobs, my pride, my integrity.  Since recovery, I've gained all of these back.
At my worst, I was:
Stealing from people. I was pawning my most prized possessions including my wedding ring . . . I was riding on the brink of becoming homeless with no family.  I was incarcerated for my addictions linked to my crimes.
What worked for me:
Becoming incarcerated at the right time. Getting my life back together by joining Addict II Athlete (a Utah nonprofit that promotes physical fitness and provides support in recovery).
My wife and kids' commitment to my recovery through hope of success. My commitment to myself. Going on to further my education. Getting back to my personal connection with God and my savior Jesus Christ.
Advice to my younger self:
Please respect your body. Get a degree. Surround yourself with people you admire for the right reasons. Forgive yourself and others. Accept that things will happen and don't try to control that which is out of your control.
Rules I live by:
I live by the Erase and Replace philosophy. Erase the negative and replace with the positive. Learn through service. Treat others with respect. Get up out of bed every day and thank God, genuinely for the day. Exercise my mind and body continuously. Be thankful for every lesson in the day.
On my bucket list:
Save a life, then do it again!  Watch my grandchildren grow up. Achieve true acceptance of myself and happiness for the life I have lived.
Favorite quote:
"It's supposed to be hard. If it wasn't hard, everyone would do it. The hard is what makes it great" ~ from the movie "A League of Their Own"
When cravings come:
I surrender myself to something greater, whether it be a call to my wife, and quick run, even just a sigh and thought back to where I used to be.
Best advice for newbies:
Things will get hard, then easy, then hard. Understand this. Accept this. Find something healthy to replace the void left behind from the drugs. Nutrition is vital to a healthy recovery. Take care of your body and mind. Ditch ALL of your negative influences. You can't survive with them around.
On finding purpose:
I want to help others get out of the jungle and teach them about healthy lifestyle choices so that they can become successful in their journey of recovery. I want the world to join forces. To stop pretending that they, their family, their friends don't really have a problem. Wake up and let's get to work, this epidemic exists and it needs to be addressed.
Proudest moment:
One of them is my wife finishing her first half marathon. My boy finishing his first 10k. Waking up knowing I'm not still using.
I get inspired by:
Others' strength. Grit. Seeing other people get through something they never thought possible. My wife's undying ability to do everything with passion, commitment and strength. I get inspired by my team Addict II Athlete.
SHED THE STIGMA:   
If you're a person in long-term recovery who wants to share your insights, please contact us at [email protected].
Previous
Next