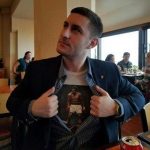 Profiles in Recovery
Rob Schilder
About:
"Scarlet Gray and Sober." That badge of honor adorns a t-shirt worn by Schilder and his peers in the collegiate recovery program at The Ohio State University (OSU).
Drug and alcohol addiction derailed Schilder's lifelong goal of attending Ohio State. But thanks to inpatient treatment and 12-step fellowship, Schilder was able to create the life he wanted. He got sober, began taking classes at a community college, and improved his GPA. Schilder is now a junior at OSU, majoring in psychology.
"My proudest moment (so far), has been receiving my acceptance letter into Ohio State," Schilder says. "It has always been a dream of mine to become a Buckeye, and recovery has made that possible."
Day Job:
Student Assistant for The Ohio State University Collegiate Recovery Community
What worked for me:
I work a program of recovery through a 12-step fellowship. Along with working a 12 step-based recovery, I am a member of a collegiate recovery program, I advocate for students seeking recovery, and I am open about being in long-term recovery today.
Best advice for newbies:
Do the work. Is it easy? No. Is it worth it? Absolutely.
Rules I live by:
I try not to take myself too seriously. I understand that recovery is my number one priority in life, and a constant pursuit of continuing my education. I want to show the world what people in recovery are capable of in order to help reduce stigma surrounding substance use disorder.
On my schedule today:
My routine consists of prayer, going to class, working with students in recovery, sponsorship, and attending a recovery meeting.
Favorite recovery quote:
"Serenity isn't freedom from the storm, it's peace within it" ~ Anonymous
It means that I am not going to be without chaos in my life, but I will be equipped to walk through it with dignity and grace.
What I value most in recovery:
The tools of recovery I have been given. The ability to pause. The tool of awareness. I am most grateful for my family today. They stuck by me through it all and it fills me with gratitude to know they can sleep at night. Their lives have gone back to normal.
What I learned about myself:
I've learned my self-worth. I have learned that I deserve to be happy, healthy and successful. I have learned that recovery is possible and beautiful. I have learned I am capable of doing anything I set my heart on as long as I continue working my program on a daily basis.
I get inspired by:
Recovery. There is nothing like seeing someone walk into a meeting broken, and a year later see their life back together. I get inspired by seeing their family getting put back together.
SHED THE STIGMA:
If you're a person in long-term recovery who wants to share your insights, please contact us at [email protected].
Previous
Next