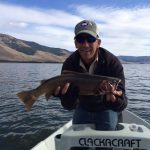 Profiles in Recovery
Matt Redwine
About:
Redwine is a local leader in Jackson Hole, Wyoming – serving as Fire/EMS Battalion Chief. He's also a person in long-term recovery from alcoholism, with a dozen years of sobriety to date.
"I stay sober by grace," Redwine says. "I work a program, help others and do the steps to say thanks to my Higher Power for the grace."
Redwine finds spiritual rewards in his fire/EMS service, and the work he renders to boost others in recovery.
"Every community in the world has people that are struggling from hunger, mental health, chemical addiction – you name it," he says. "Find an outlet by serving your fellow human."
Day Job:
Fire/EMS Battalion Chief in Jackson Hole, Wyoming
At my worst, I was:
Jailed several times.  But worse than that, I lost my housing and found my belongings sifted through by so-called 'friends.'
What worked for me:
Recognizing that I was living in victim stance. I was begging for attention from the wrong types of people (i.e., judges, cops).  It is my responsibility to protect society from my alcohol addiction.
When cravings come:
Actions count, thoughts are just for entertainment! Cravings are no big deal if I don't act on them.  Crazy thoughts are simply for my entertainment (so I laugh instead).
Favorite recovery quote:
When you change the way you look at things, the things you look at change! ~ Tom Carter
My rock bottom moment:
Realizing I was acting like a victim when truly I knew I was the one being abusive.
On my schedule today:
Today I start with the 3 step prayer- this reminds me that I'm not driving the bus.
Stigma I faced:
Living an honesty program doesn't mean I'm better than anyone else. I don't need or want praise for living the way I always should have.
Thoughts on relapse:
I was taught that you can't call it a relapse if you were not truly in recovery to begin with! So . . . if early recovery is considered 3-5 years, are you relapsing? Are you truly in recovery?
Best advice for newbies:
You may run into some a-holes in meetings! You also ran into a few a-holes at bars but you kept going back there.
What I learned about myself:
After applying the steps in my life I have integrity. I want to be like me when I grow up.
SHED THE STIGMA:
If you're a person in long-term recovery who wants to share your insights, please contact us at [email protected]
Previous
Next