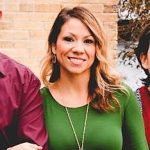 Profiles in Recovery
Kristien Hatchett
About:
What is on the schedule today? For Kristien Hatchett the answer is simple, making it a priority to feed her spirit through meetings, devotionals, meditation and prayer. The life of this busy wife and mother of 2 is vastly different now that she found her motto- "my mess is my message".
"At my worst I was arrested 3 times for DWI, was in an alcohol-fueled head-on collision, facing divorce and losing my family". Hatchett knew she had to make a drastic change for both herself and her young family. After a failed rehab attempt in her early twenties, she turned to the 12-Step process. "I learned that I am worthy of love and happiness. I can do mighty things with my full focus. I still have so much to learn." She channeled that focus into her education, receiving a Bachelor of Science degree from in 2016.
Today Hatchett has the honor of leading others through Celebrate Recovery, a program at her local church that uses a Biblical 12-Step recovery process to face addiction challenges. She is inspired by "seeing spiritual breakthroughs; families changing because of recovery. Everyday men and women doing this recovery thing, those are my true heroes." Dedicated to a healthy lifestyle she became a certified personal trainer and nutritionist. Still married to her high school sweetheart you will find the adventurous, fun-loving Hatchett family staying active and eating well. Sunday night weekly meal prep is a family affair here!
Day Job:
Celebrate Recovery Ministry Leader
Certified Personal Trainer & Nutritionist
Network Marketer
What I lost to addiction:
First and foremost, I lost my integrity. I lost jobs, friends and even my freedom a few times. But none compared to losing the respect from the people I loved.
What worked for me:
I tried rehab in my early twenties, it didn't work. What worked was the old fashioned 12-Step meetings, long term accountability and consistency. Above all, a reliance on a power greater than myself to restore my sanity.
Best advice for newbies:
"Don't quit before the miracle happens"-Trust the process that leads to freedom!
Advice to my younger self:
Reach out for help; there is no shame in admitting the need. Seek counseling, learn coping skills and surround yourself with healthy positive people. Start the journey of self-love and self-awareness rather than numbing or avoiding life's issues.
Rules I live by:
Progress not Perfection.
Seek to take care of myself first before others.
Embrace gratitude daily.
Trust God & Clean house.
Try to be of service, where I can.
What I value most in recovery:
I'm most thankful for the opportunity to be present for my family and a good role model. I love who I have become because I fought to become her.
Proudest moment:
Graduating from college with my Bachelor of Science was pretty stellar. It was the first thing I did when I got sober. School helped me keep my brain focused on positive things. It was an electric moment, full of pride and accomplishment.
Stigma I faced:
I have faced contempt prior to investigation. Meaning, folks who have no clue what recovery is assume things that are untrue. I don't really worry about that anymore; my life is proof. I'm changed and made new. I can rest my head at night happy and in serenity. I stay focused on my own life.
Rock bottom moment:
I was sick and tired of being sick and tired. My spirit was weary, but I lacked healthy coping tools. My rock bottom came when my husband could no longer be married to someone so self-destructive.
On my bucket list:
Ultimately, I wish to seek a firm foundation that my future generations can stand on. One of health, love and progress. To break the cycle of addition and dysfunction for my grandchildren and great grandchildren.
Favorite recovery quote:
"Let Go, Let God" -shown on the walls of Alcoholics Anonymous
When cravings come:
I learned to "think through the drink". To envision what happens should I ever indulge again. Thinking through my actions and surrendering to my Higher power helps every time.
Thoughts on relapse:
It took 7 years to finally get and stay sober. I had to stomach the idea that I could ever responsibly drink again. I had to stop white knuckling on my own will and surrender. Relapse is always a healthy fear I have but I know I have built up a network of people who help keep me accountable, honest and progressing.
SHED THE STIGMA:
If you're a person in long-term recovery who wants to share your insights, please contact us at [email protected].
Previous
Next