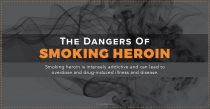 Heroin is a potent opioid drug derived from the opium poppy. It comes in several forms, including as a powder or sticky, tar-like substance called "black tar" heroin. Either of these forms can be smoked. Drug abusers smoke heroin out of pipes or inhale the vapors off of foil through a straw ("chasing the dragon"). Smoking heroin is extremely addictive and can lead to overdose and drug-induced illness and disease.
What Is Heroin?
Heroin is a derivative from morphine, another potent and addictive opioid extracted from the opium poppy. Like all opioids, heroin creates a sense of euphoria and relaxation. Also like other drugs within this class, heroin causes central nervous system depression, which is why this drug poses such a threat of overdose.
Why Do People Abuse Heroin?
Every user has their own reasons for abusing a drug, though the two most common are for self-medication and recreational use. In situations of the former, a person may be going through a tough spot in their life, or be struggling with a mental health problem, and desire to escape. Recreational users take heroin to create the intense, pleasurable states the drug produces, as well as to promote a sense of extreme relaxation.
How Do People Smoke Heroin?
Heroin is smoked in ways similar to other drugs. Some people may use a crack or meth pipe, which is most typically made from glass. Other individuals sprinkle the drug on top of tobacco or marijuana before smoking it in a bowl or joint.

Many people consider vaporizing heroin a form of smoking. Because of this, we will also discuss how people vaporize the drug. One of the most well known and pervasive is "chasing the dragon." During this practice the user places the heroin on tin foil which is heated from below by a lighter.
As the heroin runs down the foil, and as the smoke rolls off of it, the smoke is said to resemble a dragon. To inhale it, a person may just breathe it in, but many people use straws or hollowed out pens.
Heroin drug abusers can be very inventive in their desperation. The drug may be:
Heated on top of a pop or beer can.
Heated and inhaled off the tip of a paper clip (in the case of black tar).
Smoked in a foil "tooter" (rolled up piece of foil).
Smoked from the glass that comes with a "love rose" sold at gas stations.
Vaporized in a light bulb turned vaporizer.
As you can see, many of these implements are items found around the house. Heroin is stored and transported in small plastic baggies, balloons, or tiny foil squares. Being aware of the paraphernalia used during drug abuse can make it much easier to spot an addiction.
When heroin is heated up, it will leave a resin behind. If you see a substance resembling this in odd places, such as on pop cans, paperclips, or lightbulbs, you need to be concerned.
Do not touch drug paraphernalia with your bare hands, or if at all if you can help it. Heroin is becoming increasingly cut with other drugs, some of which can be fatal if they come into contact with your skin.
Why Do People Smoke Heroin?
Heroin abuse is becoming more popular (and dangerous) than ever. Experts witness rising trends in heroin abuse in certain demographics which did not previously abuse the drug so extensively. One reason is because of heroin's relatively cheap cost in comparison to prescription painkillers. A growing number of Americans have painkiller addictions, and when these drugs become too costly or hard to find, their habits frequently shift to heroin.

Injection drug use holds an intense stigma for some drug users, which leads many of these individuals to use heroin in other ways like smoking. These people may convince themselves that smoking the drug isn't as harmful, or as serious of drug use. Both of these perspectives are dangerously wrong.
Does Smoking Make A Drug More Or Less Addictive?
While the delivery of a drug can change how quickly and intensely a person feels the high or "rush" associated with heroin, it does not protect you from the drug's addictive potential. To compare, when heroin is injected directly into the vein (intravenously) these sensations peak at seven to eight seconds, whereas smoking elicits a euphoric state around ten to fifteen minutes, according to the Center for Substance Abuse Research.
Some people think that if they smoke the drug they're protecting themselves from heroin's addictive nature. No matter how you choose to administer a drug, whether it be by injection, snorting it, or smoking it, the cold truth is that heroin is highly addictive and deadly.
But the route of delivery does matter somewhat, according to the National Institute on Drug Abuse. "Heroin is extremely addictive no matter how it is administered, although routes of administration that allow it to reach the brain the fastest (i.e., injection and smoking) increase the risk of addiction."
What Are The Dangers Of Heroin Abuse?
Smoking heroin carries all the general risks which are associated with heroin abuse. These include a high potential for tolerance, addiction, severe withdrawal, and overdose. More and more, authorities are finding heroin cut with fentanyl, carfentanil, and other deadly opioid drugs. If you smoke a drug laced with any of these, you could die virtually instantly.
Heroin can also cause:
Antisocial personality disorder
Brain damage
Miscarriage
Nausea and vomiting
Respiratory depression
Sexual dysfunction
Unplanned pregnancies
A heroin addiction can happen quickly. When this occurs finding and using the drug will take precedence over any other task or responsibility in a person's life. Here, a person's physical and mental health, relationships, job, schooling, and social responsibilities all become endangered.
What Are The  Risks Of Smoking Heroin?
People who smoke heroin may think that they don't face the risk of infectious disease like HIV/AIDS and hepatitis B and C, since they're not injecting the drug. Heroin changes the way your brain functions. This impairs your judgement, reduces your inhibitions, and increases risky behaviors. Cumulatively, these things lead many people to engage in unsafe sexual practices and/or to share equipment, which can still expose them to these diseases.
Since you're smoking the drug, the organs and tissues exposed to the substance can be harmed, which can cause lung problems. Smoking heroin can cause an extreme cough and asthma, to the point a person may need a nebulizer, as cautioned by Livestrong. They continue, noting that a hoarse voice and coughing up blood may also accompany this dangerous practice.
When heroin is heated, it produces a vapor called pyrolysate. When drug users inhale this, they may be exposing themselves to leukoencephalopathy, a debilitating disease of the brain. Though rare, for over 30 years, scientists have been aware of the link between it and "chasing the dragon."
The pleasure found in heroin abuse fleeting. Using this drug isn't worth the risk of losing your health and life.
Don't Let Your Heroin Addiction Consume Your Life
If smoking heroin is a problem in your life, we can help. We can help you to find treatment options and support through our confidential assessment. Call DrugRehab.org today.

For More Information Related to "The Dangers of Smoking Heroin" Be Sure To Check Out These Additional Resources From DrugRehab.org:
---
Sources
Livestrong — Signs of Smoking Heroin
US National Library of Medicine — Chasing the dragon – characterizing cases of leukoencephalopathy associated with heroin inhalation in British Columbia